How to Make Mermaid Cookies with a Snowman Cutter
A few weeks ago I did something I thought I'd never do. I went through my cookie cutter collection and got rid of the ones that I rarely use.
Okay, before anyone faints, it wasn't quite that dramatic. I didn't actually get rid of them, I just put them into storage for awhile. We're preparing to move, and for some reason my realtor thought that a dining room was a better selling feature than a cookie cave.
I know, I know…who wouldn't want a cookie room? But he's the expert, so, I sorted through all of my boxes and picked out four-hundred of my very favorites.
Among the four-hundred (you can stop rolling your eyes now) were many Wilton cutters, old and new. The snowman cutter, a definite keeper, is included in the 101-Cookie Cutter set and has appeared in many of my creations over the years.
Besides being a snowman (in more ways than the obvious), its also been a hula dancer, polar pal, nerdy graduate, ballerina, football player, scarecrow, monkey, giraffe, potted flower and a leprechaun (that I can remember), and I'm sure there are many more to come.
Today, it's back, this time as a mermaid.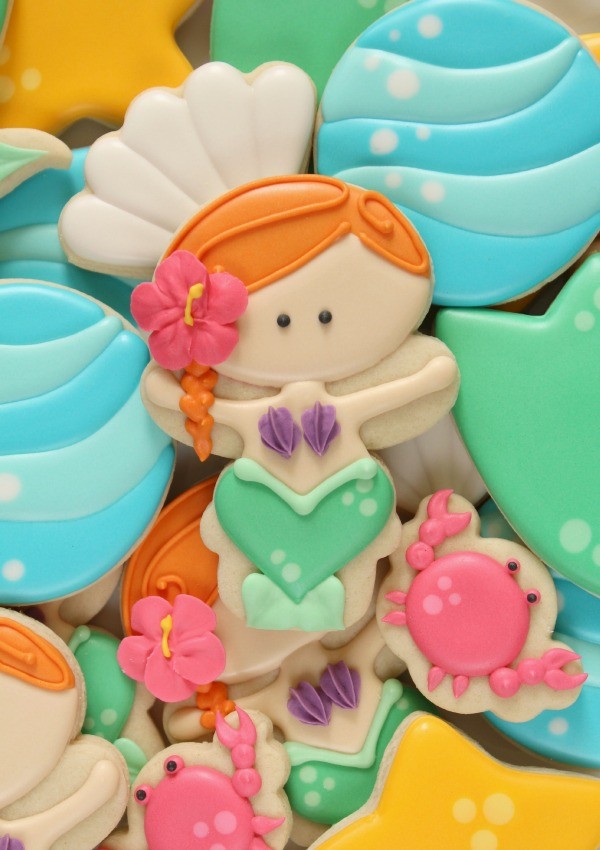 I've used this cutter to make a mermaid before, but after thinking about it for a year, there were a few design changes I wanted to make. So, this mermaid is actually the 2.0 version, but that's neither here nor there.
Before getting started, use plain white paper to make a template like the one below. You can always skip this step, but I'm a big fan of templates because they're a great way to create consistent cookies without a projector.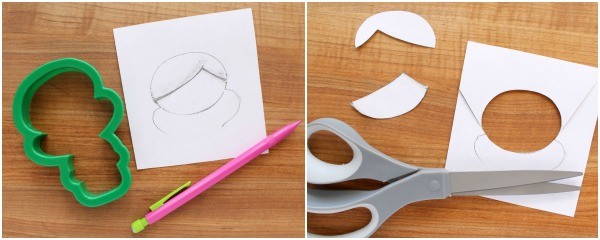 To decorate these cookies you will need:
Food color marker (I prefer yellow)
Flesh tone 20-second icing
Mermaid green piping and flood icing (mix teal+ electric green+a touch of sky blue)
Light mermaid green piping and flood icing
Orange piping and 20-second icing
Royal icing flowers (you can find a great written tutorial here but I highly recommend this class from Craftsy)
Yellow piping icing (a small amount)
Black piping icing (a small amount)
Stiff purple icing (a small amount)
Begin by mapping out the design with a yellow food color marker. Notice that I used the same template to mark the tail. I also added a dot at the bottom of the cookie to mark where the tail should end.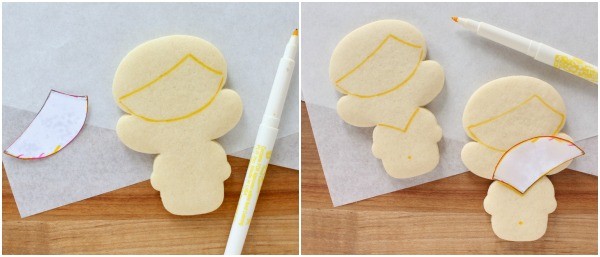 Now you're ready to decorate. First, use 20-second icing to flood the face.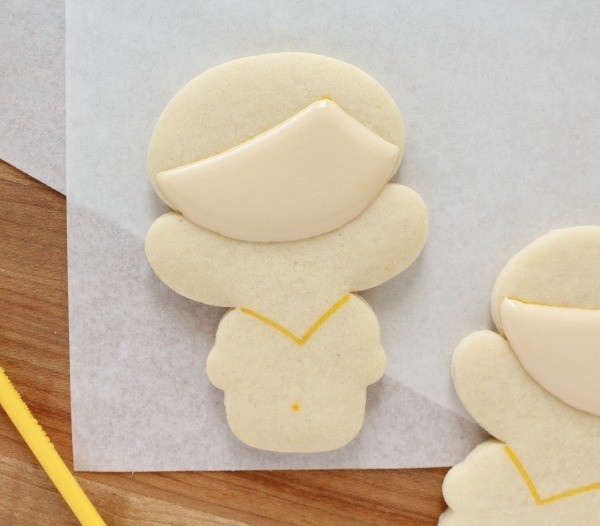 Next, outline and fill the tail with mermaid green icing.
While we're on the subject of tails, I've just gotta say, if Beyonce were a mermaid, she'd look like this. Baby got back.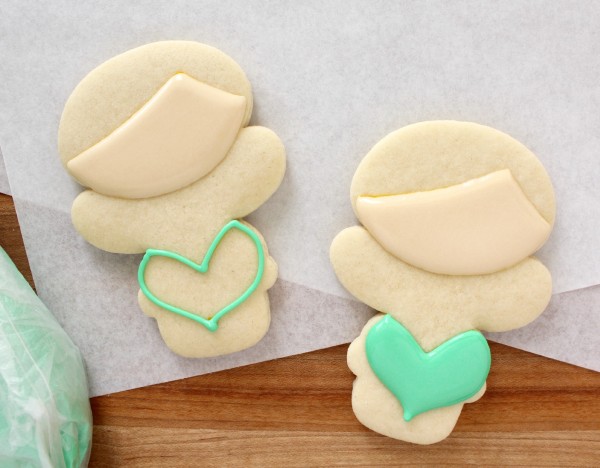 Immediately drop a few lighter dots into the dark green as accents.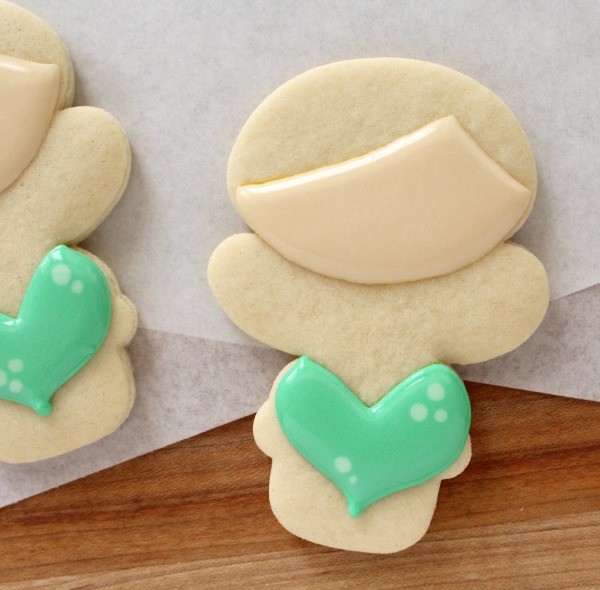 Next, use orange 20-second icing to make hair. A pointed tool like a toothpick or boo-boo stick is very useful for drawing icing out to the very edge of where the colors meet.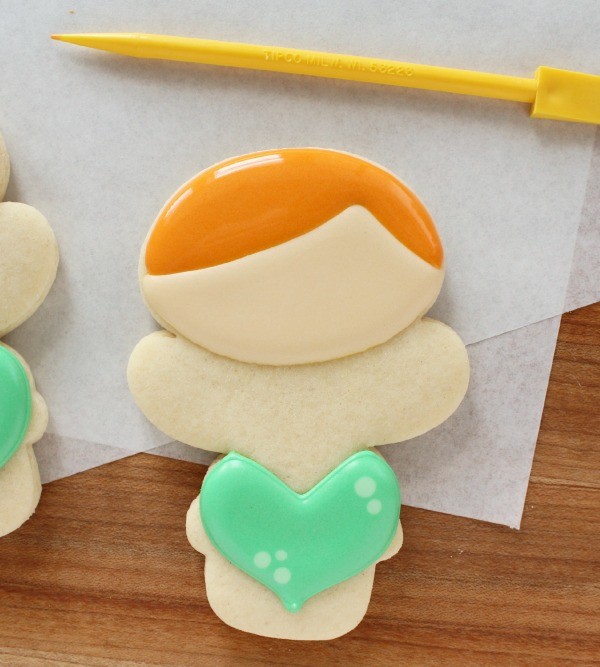 Give the face and hair a little time to set, then pipe the torso. At this point, it's best to wait until the cookie is completely dry before moving on.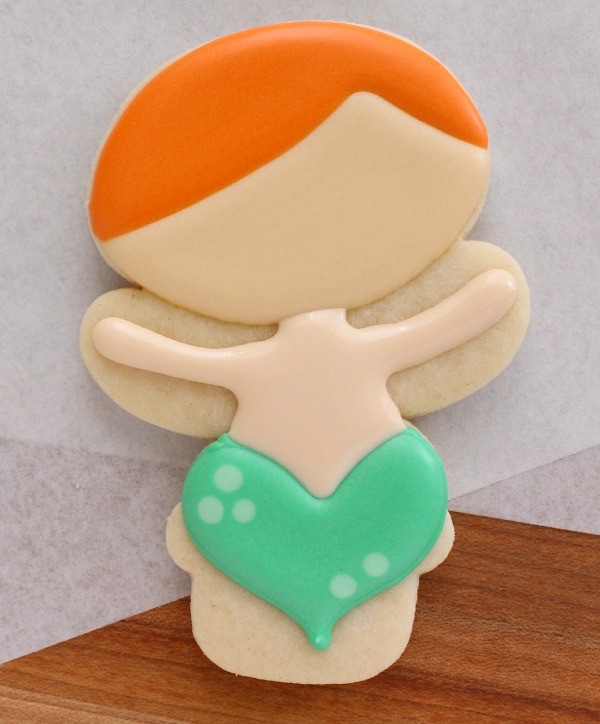 When the cookie is dry, use a #3 tip to pipe the top fin, and a #67 leaf tip to add tail fins.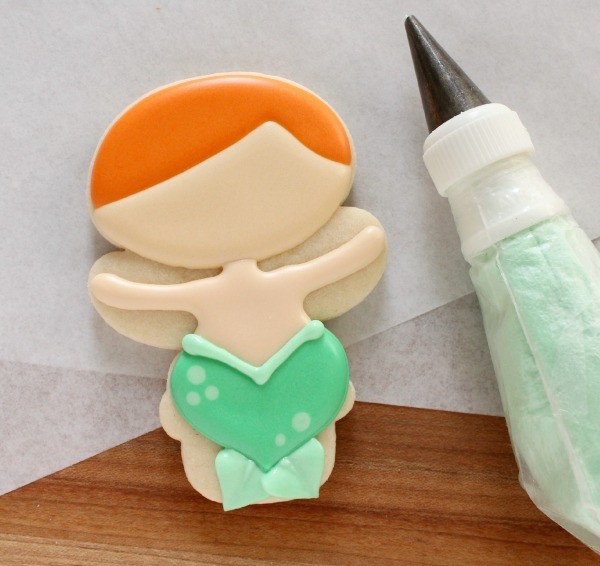 Next, use a small round tip to add a swirl of hair and to pipe a braid. A royal icing braid might sound complicated, but it's nothing more small hearts piped so that they are touching.
Complete this step by attaching a royal icing flower with a dot of orange icing. For more on how I made this flower, click here.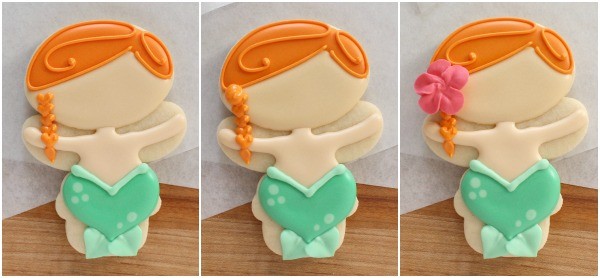 To finish up, add a few final details:
Pipe a pistil (the fancy name for that yellow thing) with a #1 tip
Add eyes
Use a #16-#18 tip to pipe a shell bikini top
If you really want to go all out, use a bit of petal dust to create rosy cheeks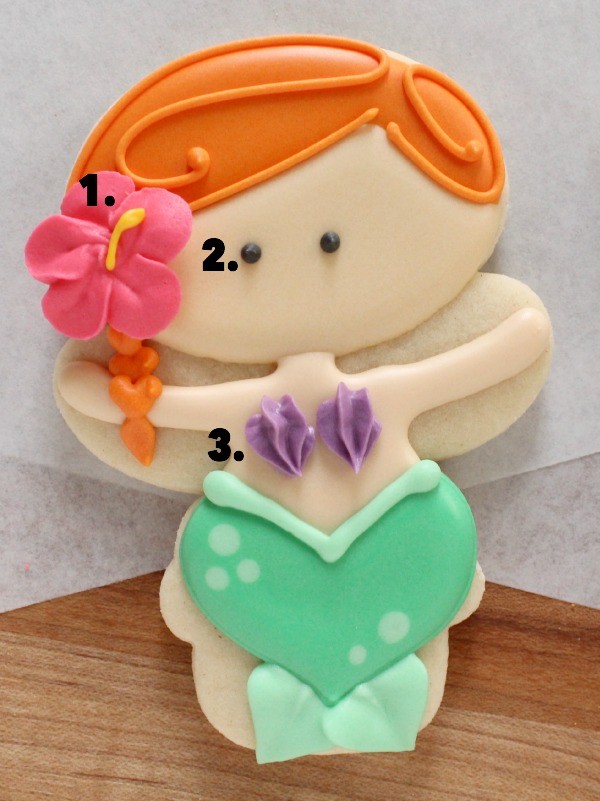 Use leftover icing to create coordinating accent cookies such as crabs, shells, starfish, and mermaid tails.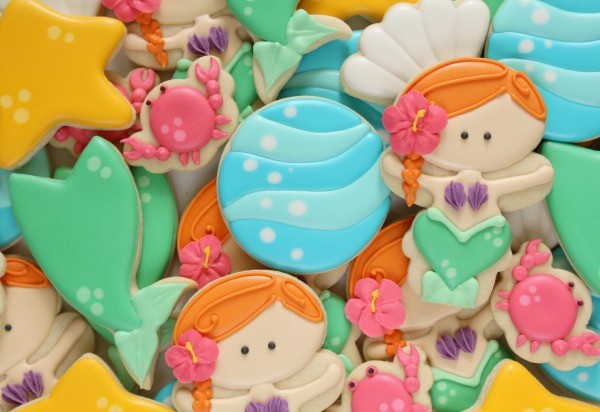 And remember, whether you're a beginner or experienced decorator, Wilton cookie cutters are a must have. For more inspirational ideas check out the following links: