How to Make Mexican Fiesta Dress Cookies
Growing up near the border has given me a lifelong love of the vibrant colors and patterns that are common in Mexico's art and culture. I especially love the beautiful, embroidered Mexican dresses that were a part of my childhood. I wore them as a girl, and now, my girls wear the same beautiful dresses.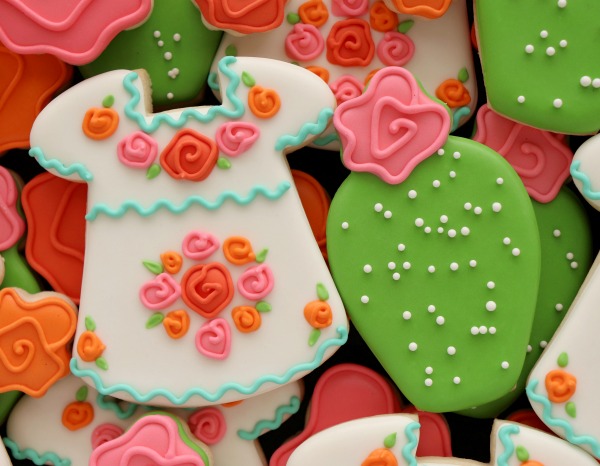 These cookies aren't quite as beautiful as the real thing, but they're definitely a close second. So, when planning your next fiesta, be sure to add these to the refreshment list!
To make these cookies you will need the following:
Supplies
Icing
White piping and flood icing
Turquoise piping icing
Red piping and flood icing
Pink piping and flood icing
Orange piping and flood icing
Green piping icing
Tip: You will only need a small amount of turquoise, red, pink, orange, and green icing. Plan ahead to avoid waste.
Step 1:  Trim the top hat cutter from my new Shape Shifters Two set with a small square to create a neckline. This square is part of a graduated fondant cutter set, found in most crafts stores.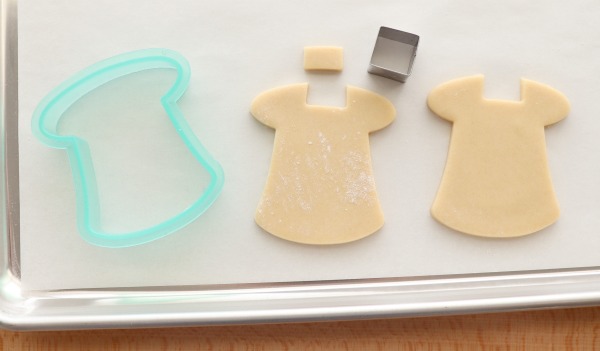 Tip: If you don't own a small square cutter, use a knife or repurpose another cutter to create a collar notch. The cutout can also be round if you have a small circle cutter.
Step 2:  Use white icing and a #2 tip to outline the cookie, then fill with flood icing once the border has set . At this point, let the cookie dry. This can take four to eight hours, depending on where you live.
Step 3: Use a #2 tip to add turquoise ruffles along the collar, sleeves, bodice, and hem.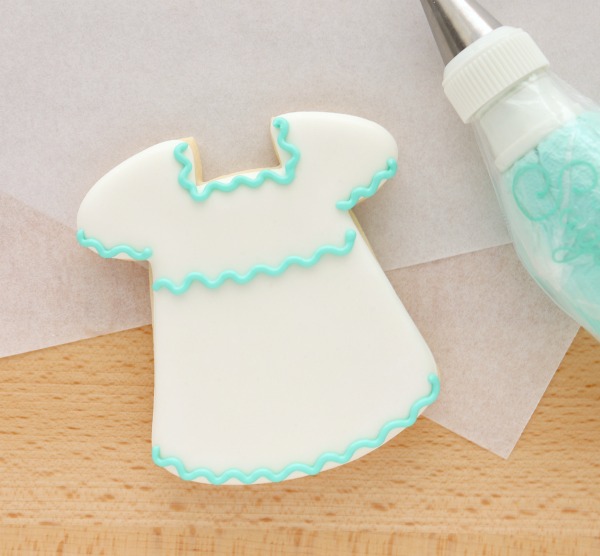 Step 4: From here on out, it's all about layering. You can use a variety of techniques to create any floral pattern you like. This time, I went with one of my favorites, simple squiggle roses, but the possibilities are endless. I especially like the floral pattern on this version by Little Sparks Cookies.
Begin by adding larger red dots. They will kind of serve as "anchor points." Next, add a little pink, then finish up with orange.
The first time I made these, I kept the flowers along the collar and hemline, but this time, I went with a cluster of roses in the center. Don't be afraid to try out a few designs to see what you like best.

Step 5: Step five is about the same as step four. When the colored dots have dried a bit, use a PME #1.5 tip, to create roses by adding a matching "squiggle" to each dot, one color at a time.

Tip: If you need a closer look at how to make squiggle roses, you can read more here or here. They can also be made ahead of time with leftover icing.
Step 6: Finish up by adding a few tiny leaves with a #1.5 tip.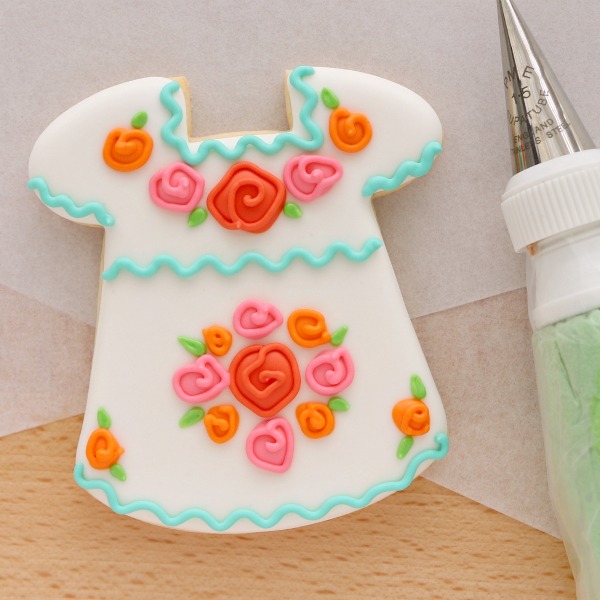 With a bit of imagination, this basic shape can also be used to create christening, baptism, Easter dress cookies, and more! The possibilities are endless!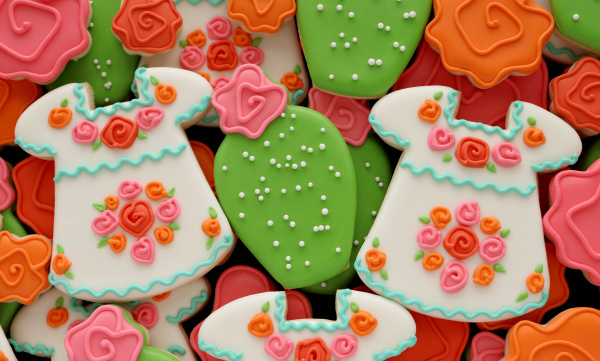 These cookies make great favors, but also look amazing mixed with other fiesta faves like cacti (this cutter can be purchased here,) margaritas, or chili peppers.
For more fiesta-themed cookie ideas, be sure to check out the following links:
SaveSave