Twelve Days of Christmas Cookie Project, Twelve Drummers Drumming
I was super excited when I first came up with the idea for the Twelve Days of Christmas Cookie Project.  What I didn't plan for was the sadness I would feel when it came to an end.
Now that the last day is finally here I am a little heavy hearted, but I think my final guest, Glory, of Glorious Treats is the perfect way to wrap things up.
Glory is another Flickr friendship that blossomed thanks to the Internet.  I have learned so much of what I know from Glory, and I will forever be grateful for all the times she's held my hand and taught me something new.
One of the things I admire about Glory is her ability to take the simplest of ideas and make it "Glorious".  She's done it again, today, with her very special interpretation of twelve drummers drumming.  Enjoy!
Hello Sweet Sugar Belle fans, I'm Glory, from Glorious Treats.
When Callye first asked me to be a part of her 12 days of Christmas Cookie Extravaganza I quickly said yes! When she asked which day I would like I quickly thought through my choices… doves, maybe I could do that… rings, maybe…. drummers drumming…. well, I bet I could make a drum, so let's go with that! Basically, I was looking for the easiest choice of the bunch! One problem… I didn't think through that choosing "drums" also meant I would be day 12… in other words my post would be the last in a long line of what I knew would be ridiculously amazing cookies! So as the cookies began showing up on Callye's site my heart sank a bit… then more were posted, and it sank a bit more! I guess the moral of the story is, the "easy way out" is never a smart choice!
Here is my best interpretation of 12 drummers drumming… Christmas gingerbread drums.
What's that you say… you only see three drums?
How about now….
Wait, you think that's just 4 photos pasted together? And I thought we were friends…
Fine, so maybe I didn't make 12 drums, but I have a way to make it better… candy anyone?
That's right… I can't compete with the artistry of any of the other 11 days of cookie masterpieces, but I have a secret weapon… chocolate! Each of these little drums has a hidden treasure inside!
I made some pumpkin cookies with candy inside earlier this year and thought it would be a fun idea to play with again.
Want to see how I made them?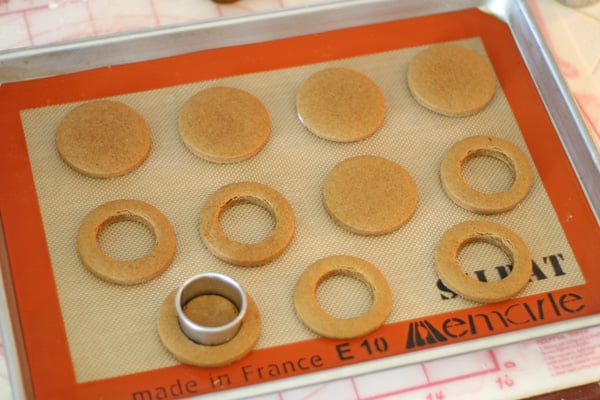 Bake up a batch of Gingerbread cookie circles. I made 2 1/2″ circles. Bake them all as whole circles, then when they are baked and fresh from the oven, use a smaller circle cutter (I used a 1 3/4″ cutter) to cut out the centers of half of the cookies. Baking the circles all whole will ensure they all bake up the same width. I tried to bake just "rings" and they spread more than the whole circles, and didn't match up with the tops and bottoms for the drum.
Once your cookies are baked and cool, prepare a batch of royal icing. I used brown icing to "glue" the drum together. For each drum you'll need four cookies total, two whole circles, and two "rings". Glue the rings to the base piece, but do not "glue" the top circle on, it will just sit on top.
Before you assemble the drums, outline the top cookie with dark red, allow that to set up a bit, then flood in with white or ivory, and allow to dry (this step is not pictured).
To assemble the drums, I used brown and white bakers twine. Cut small pieces of twine (for my drums I needed 1 1/2″ pieces), and attach each piece (one at a time) to the sides of the drum, using brown icing. When the twine is attached, add a bit more icing (if needed) and add a small gold dragee, or sprinkle of your choice.
Note- You have a design choice to make. If you attach the twine to the top and bottom cookie (as show above), the twine with have to be "broken" to open the drum and reveal the candy inside. Another option is to attch the string to the bottom cookie, and the top "ring" cookie (not the top whole cookie). This will allow the drum to be opened without breaking the strings. You can see in my finished photos I have one drum done this way, and two with the strings enclosing the full drum.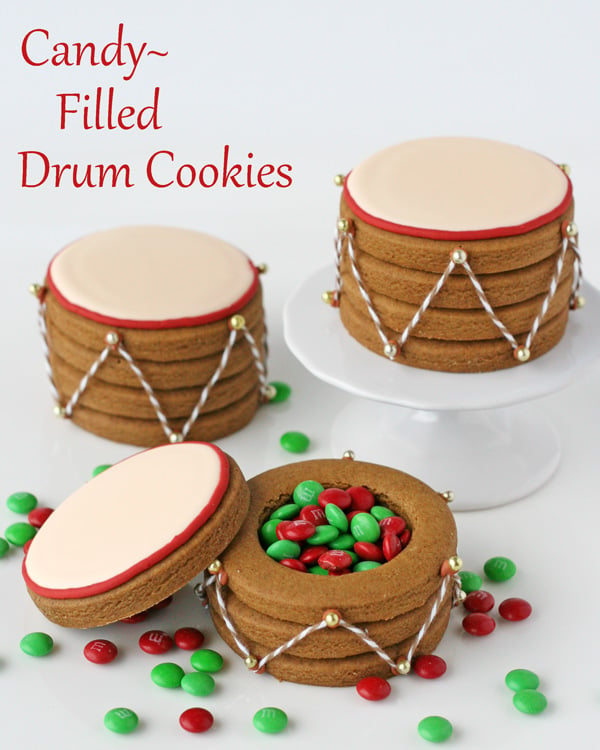 These cookies would be beautiful little gifts for children, or gorgeous place markers at a Christmas dinner table.
And if you are ever looking for something to bake while your decorated cookies dry… come visit me on my site, Glorious Treats.
Thanks Callye for allowing me to share these cookies with your readers!
For eleven more days of cookie treats, check out the following links: