The Twelve Days of Christmas Cookie Project, Ten Lords a Leaping
Today's guest, Susan, is a very special friend I met via Flickr.  A crafter turned cookier, Susan re-purposes  patterns that she originally designed  for other mediums such as soft sculpture textile painting to use as cookie templates.
Each and every one of Susan's designs are an intricate feast for the eyes.  For those of you who haven't yet met her, it's my honor to introduce you to her cookies and blog, Kimsmom76.
That said…you're not going to believe her lords a leaping!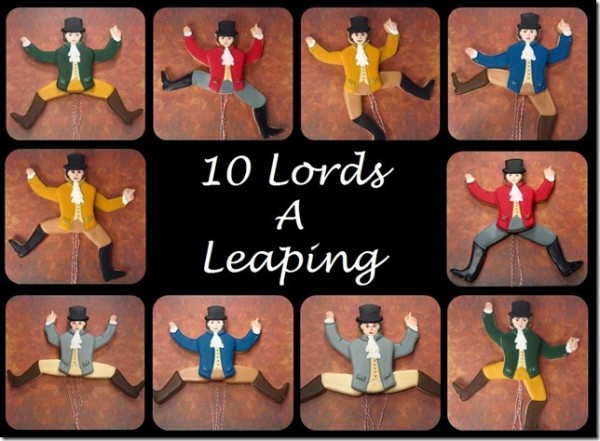 I was extremely honored when Callye asked if I would participate with her and several other cookie artist whose work I have admired for so long in her 12 Days of Christmas Cookies. I was given 10 Lords A Leaping as my part of Callye's 12 day vision.
I decided to try something  somewhat daring, at least for a cookie. I figured if it doesn't work I can eat the evidence and go to plan B. Well, as in most of my cookie design cases, I don't usually have a plan B, so it's a good thing I got plan A to work.
I wanted my Lords a Leaping cookies to really leap…..well, sort of.  Like the jumping jack ornaments I have for my Christmas tree. Kind of daring…..right?  Maybe more like crazy. I mean really, who in their right mind decides to animate a cookie?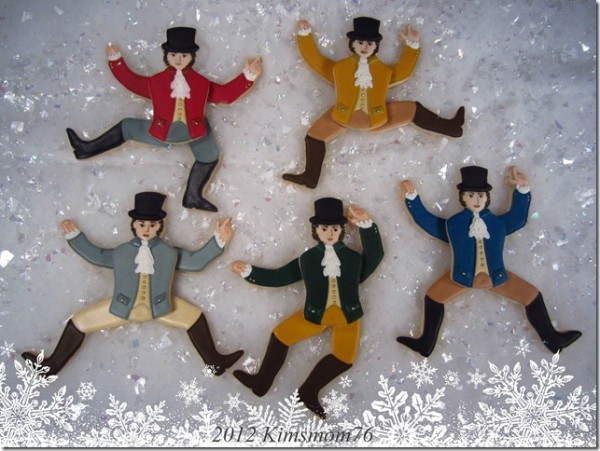 Okay this is only 5…. the others jumped out of camera range, or maybe they were too shy….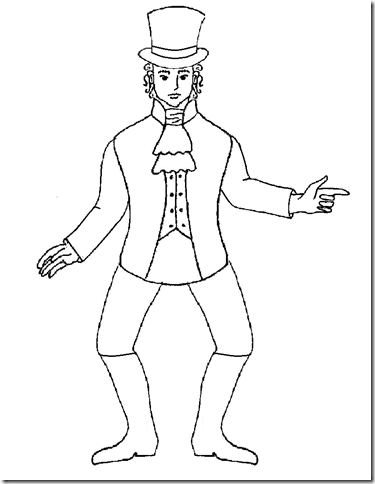 I don't really own any cookie cutter that remotely resembles a lord much less one taking a flying leap. I am also severely lacking the cookie cutter re-purposing gene that Callye seems to have in abundance, so I ended up designing this one from scratch.  I tried to keep the design simple yet still recognizable as lordly.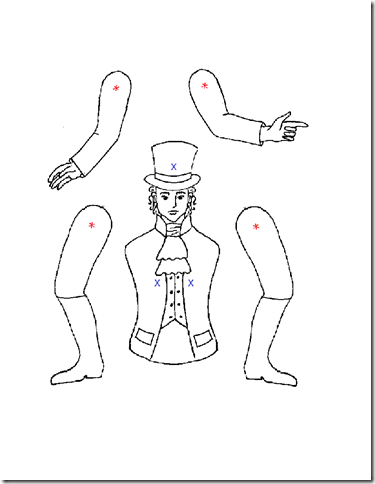 Then it was just a matter of reconfiguring the design into pieces so I could easily make it into a working jumping jack.  To print my pattern, click
HERE
.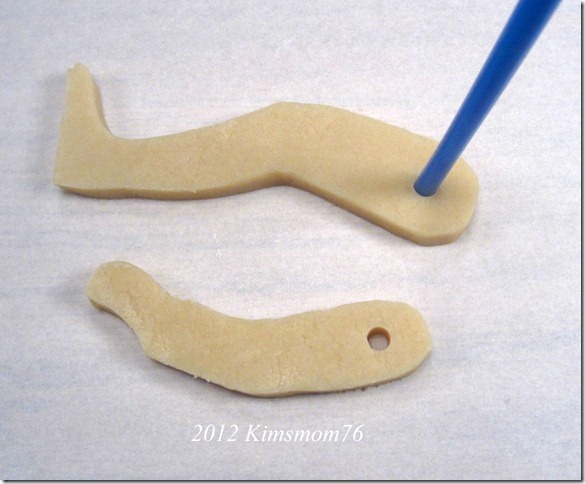 Using pattern pieces cut from my design I hand cut the parts out of cookie dough. I used a soda straw to cut holes in the arms and legs (red asterisk on the pattern) so that when I'm assembling them,  cookie sticks can go through the holes to create pivot points. (more on that later) When I had all the pieces I needed cut out of dough I put them in the oven to bake. When they're done baking I took them out and carefully recut any holes that had closed or distorted during baking, and let them cool.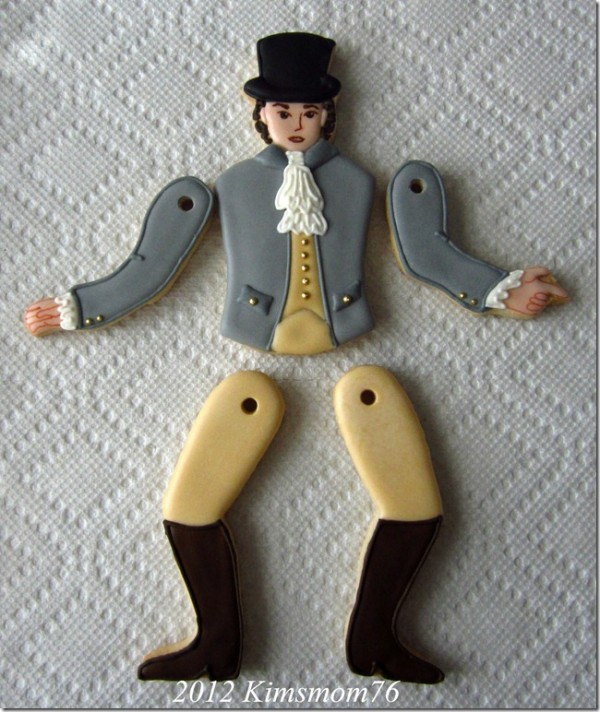 Using royal icing and following my design pattern I decorated my cookies in a kinda Mr. Darcy-ish sort of way, and let them dry. Basically outline and flood. Let dry, and add details.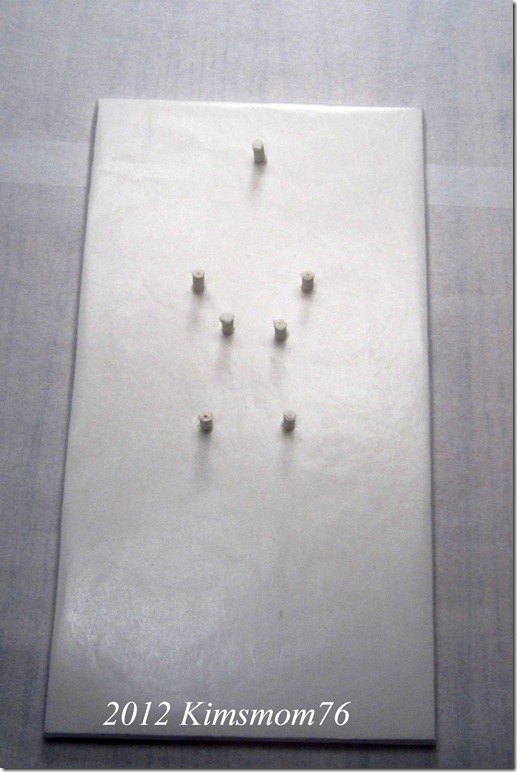 This strange looking thing is a piece of foam core board with waxed paper covering the front and secured to the back with tape. The board is cut to fit inside a candy box with a clear lid. The waxed paper helps in the movement of the arms and legs and the foam board was needed to secure the cookie stick pieces for both the 4 pivot points in the arms and legs, and 3 the support points for the torso. I marked where the holes will go with my pattern pieces using the red asterisks for the pivot points, and the blue Xs for the torso support points.
I cut enough cookie sticks so I have seven one inch pieces. I need four of them for the arm's and leg's pivot points. The other three will be used to support the torso so it doesn't lay directly on top of the limbs and prevent their movement.
I cut the support holes through the waxed paper and into to the foam board using a small sharp knife trying to keep the hole the same size as my cookie stick; being careful not to go all the way through the back of the foam board.
With royal icing I "glue" the inch long cookie sticks into each hole and let it dry.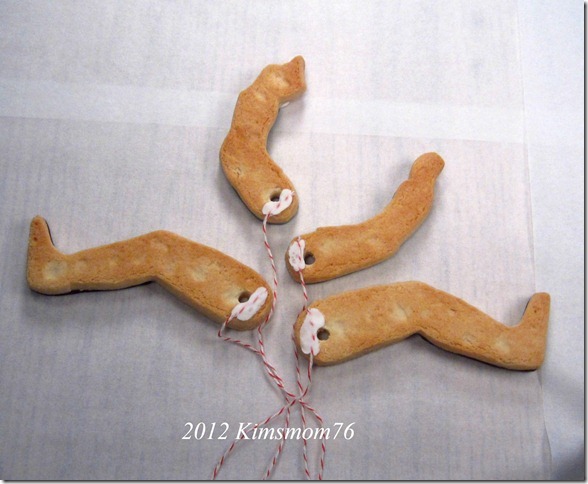 While the sticks are drying I use the same royal icing to "glue" a piece of ribbon or baker's twine to the backside of each of the arms and legs and let this dry completely.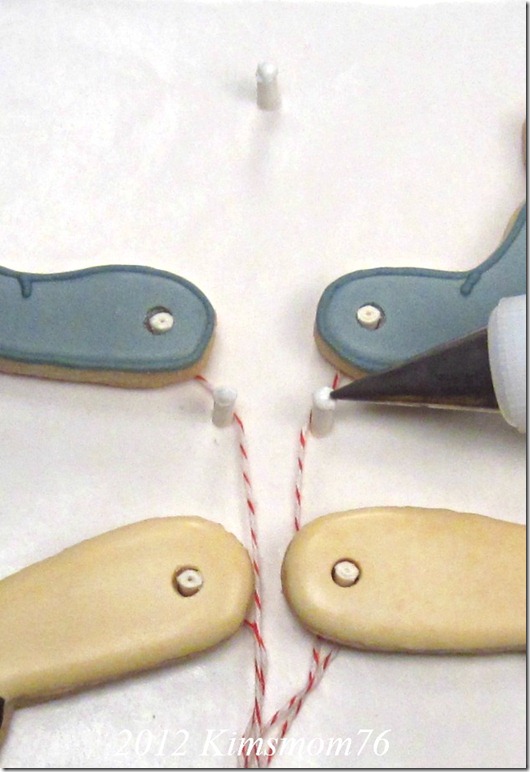 When the icing around the cookie sticks dries I cut them so they stand about 1/4 inch above the background, or about 1/8th of an inch higher than the thickness of the arms and legs. This of course will vary on how thick the arms and legs are.  After the sticks are cut, I place an arm and leg over each of the four pivot sticks, running the ribbon or twine down in between the two middle supporting cookie sticks.
Next, to support the torso over the arms and legs I add royal icing to the tops of just the 3 cookie support sticks, not the four pivot points as I don't want to get icing into the holes and prevent the arms and legs from moving.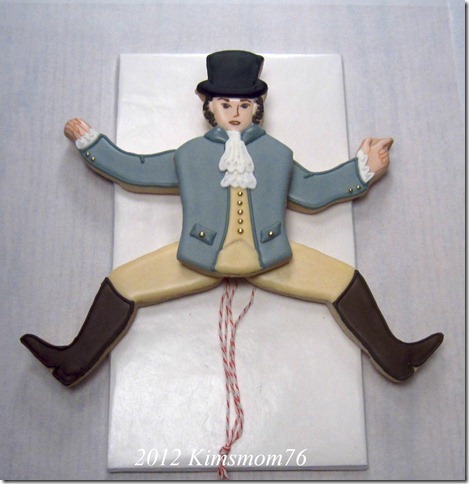 Place the torso cookie into place over the support sticks and let the icing dry completely. Gather the twine evenly and tie into a knot cutting any excess.
This one has a piece of scrapbooking paper under the waxed paper for better presentation. And yes they really work, but they need to be out of the box for more "leg" room so to speak.
Obviously, these cookies (because they ARE cookies) won't withstand too many vigorous jumping jacks, but I think they add a bit of a fun factor and should give the recipient some amusement for awhile before they're eaten. I've restrained myself while designing these from adding too many details so the focus could be the animation. You could also forgo the string altogether and just have the arms and legs move independently.
Thanks so much Callye for inviting me to play along with you and all the other incredibly talented cookie artists. I can't wait to see the rest of them.
Be sure the check out the other eleven days by following these links: