The Twelve Days of Christmas Cookie Project, Four Calling Birds
I first met Marielle on Flickr, and since the very beginning I have been completely in awe of her work.  We'd always been casual friends, but I reached out to her on a more personal level in autumn of 2010 after my brother moved to the Netherlands, which also happens to be where Marielle lives.
My original plan was to arrange for my brother to visit Marielle's shop, however, without a car it wasn't quite that simple.  So instead, Marielle mailed the most amazing, delicious, beautiful cookies to my homesick little brother  in the middle of her busiest season of the year.
For me to say I was touched is an understatement.  I was absolutely floored that someone who lives over six thousand miles away found it in their heart to do something so heartfelt and kind for my family.  It's a memory I will cherish ALWAYS.
Anywho, I don't want to make everyone all teary-eyed before this amazing tutorial, so without further ado I present four calling birds by Marielle de Vroome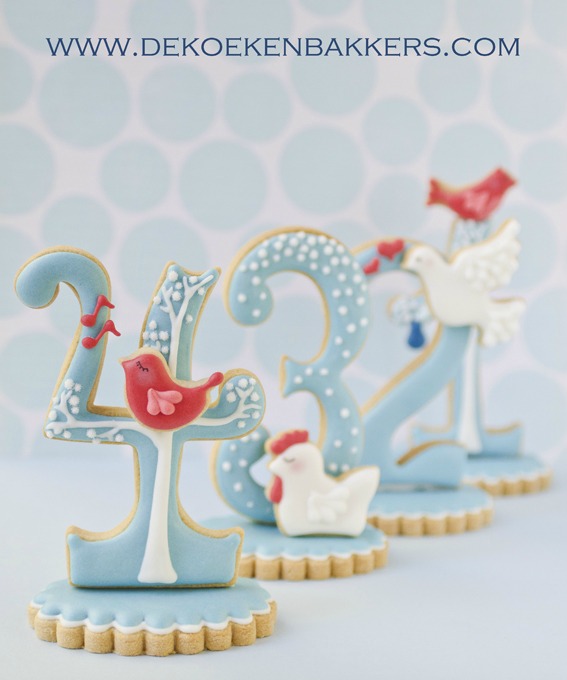 Hi, my name is Mariëlle and I am a cookie decorator from the Netherlands.
When Sweetsugarbelle asked me to take part in her 12 Days of Christmas project I was thrilled and honoured but there was one problem…
I had absolutely no idea what "12 Days of Christmas" was!
With the help of Wikipedia and Google I soon found out it is a very popular English Christmas song about a list of 12 gifts someone receives from their "true love" on the twelve days after Christmas.
After reading this list of gifts I finally understand what a bird and a pear tree have to do with Christmas. I've always wondered about that…
My design is for the "Four Calling Birds" but I wanted to come up with a design that could easily be used for all the 12 gifts mentioned in the song without needing too much extra equipment, icing colors or special cutters.
I also knew immediately I wanted to do something with 3D cookies (I can never resist…) and numbers yet keep it simple because Christmas is a very busy time for everyone and if you are planning to bake & decorate cookies for your family and friends I can imagine you would want something simple and fast.
Here is what you will need for these cookies:
number cutters (I used a set of number cutters from Cakes N'Supplies by Ximena)

a scalloped oval cutter

mini cutter(s) in the shape of a bird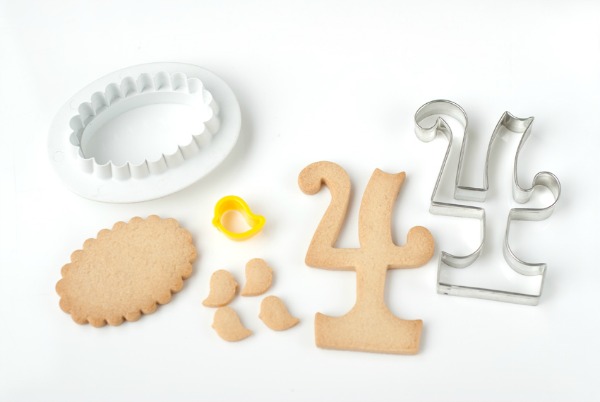 Outline and flood the number cookie with blue icing and tip # 3. To make this particular color I mixed Americolor Royal blue with a little black.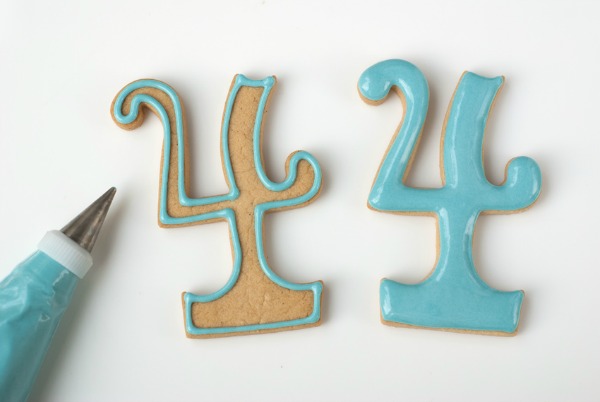 Outline the scalloped cookie with white icing and a tip # 2 and flood with the blue icing.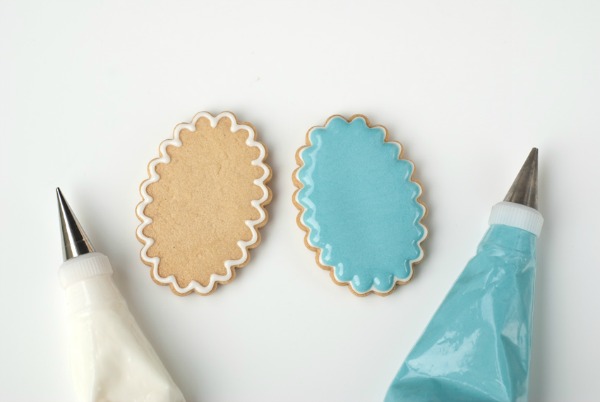 Outline and flood the bird cookies with red icing (I mixed Americolor Tulip Red with Dusty Rose) and dark pink icing (Dusty Rose).
  After the icing on the bird cookies is dry you can pipe the wings with the same icing and a tip #2. Start with one 'tear-shaped' dot and let it dry for a few minutes before you pipe the second (and third).  I used an edible writing pen for the eyelid and some dusting powder for the cheeks.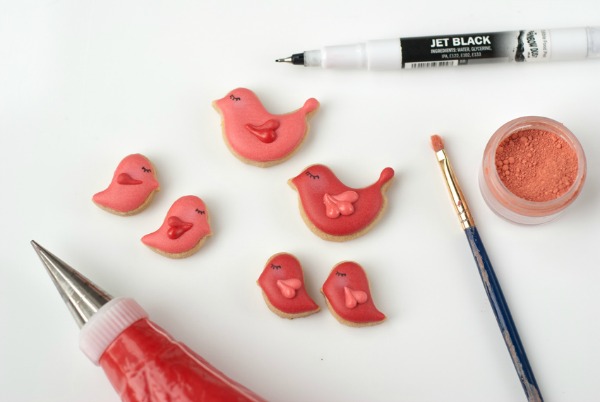 The music notes are RI transfers.  I piped the transfers on some baking paper (is that an English word?) with the same red icing I used for the birds and used a PME # 1.5 tip.   After they are dry you can lift them from the paper and attach them to a cookie with a tiny dot of icing.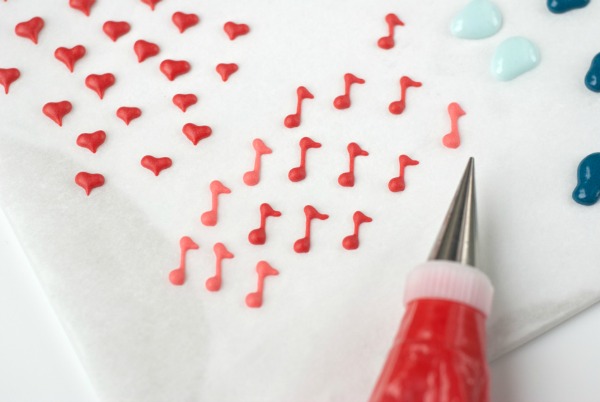 Pipe a tree on to the number cookie with white icing and a piping tip # 2. Let it dry and then pipe dots of white icing. Sprinkle sugar on the wet dots to give them a 'snow' effect.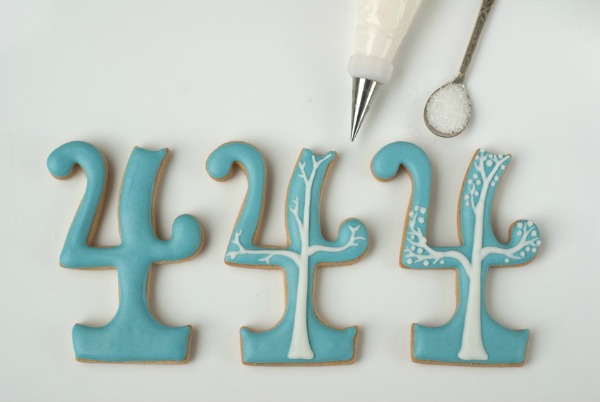 After all the cookies are dry you can assemble the 3D cookie using some stiff (white) icing.
  First attach the bird(s) to the number cookie and let it dry.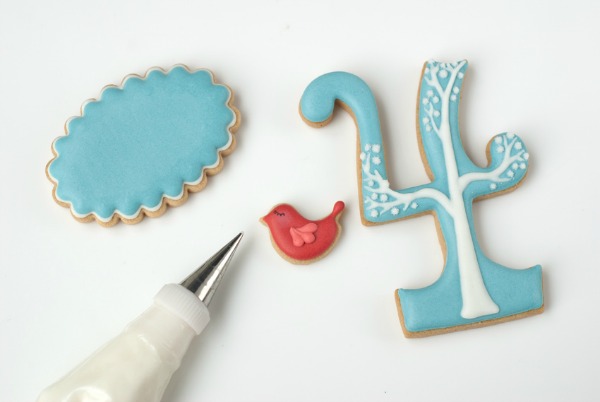 Place the scalloped bottom cookie on a towel, attach the number cookie with some stiff icing and hold it in place using some pencils or sticks.  After the icing is dry you can remove the sticks.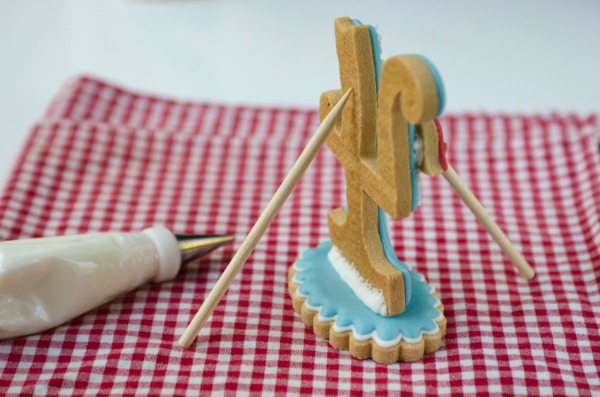 And here is my interpretation of "Four Calling Birds".
Here is another option, AKA "Plan B"
The design is very simple and easily adjustable and with only 4 piping bags of icing you can make a complete series of 3D cookies for all the 12 verses of the song.  You only need a set of number cookie cutters and mini cutters to match the 12 gifts.
Thank you so much Callye for inviting me to your "pre-Christmas cookie decorating party"!
I wish you all a very Merry Christmas and I hope you will have lots of fun singing Christmas songs with your family & friends!
PS-Marielle just published her first book,
Het Koekboek
, and it is AMAZING.  It is written in Dutch, so it's only available in Europe, but if you are able, GET THIS BOOK.  It is a treasure of beautiful and creative cookie ideas.
To check out the other eleven days of Christmas, click the following links: