The Twelve Days of Christmas Cookie Project, Five Golden Rings
I'm normally a busy busy girl.  When I am not baking cookies and taking care of my kidlets, I am a cookie stalker.  No kidding.  It takes a lot of time and energy to be a stalker, but somehow I manage.
Anyhow, now that the cat's out of the bag, I might as well tell you that the object of my creepy cookie obsession is today's guest, Alison, of
Ali-Bee's Bake Shop
.  I've probably examined her cookies a bazillion times  and I still like looking at them.
Seriously though, Ali is one of the most talented, creative, and inspiring people I know.  I hope you enjoy her interpretation of five golden rings as much as I do!
So Callye asked me if I would be part of her 12 days post line up and I was like REALLY??!  ME?!!  YAY!!!!!!!
Super excited.  Told her to give me any day I could take it!
So she gave me 5 golden rings…and I was like…pickles.
It's hard to get a juiced up about 5 golden rings…I mean it's just 5 golden rings.
But it is jewelry!  Which I'm always excited about.  So instead of focusing on the rings, I focused on the ring holder.  Oh yes, the jewelry box.
Now, I made my own design and template for this box….took a lot of math…and even then, it could use some tweaking.  So I can't tell you what cutters to use for this, but I can show you how I put it together.
Start out with your pieces.  (I know the pieces and the math are all the hardest part.  But really the most fun part to do.  Give designing one a shot, OR deconstruct a gingerbread house.  After you cut out the house sides, just chop off the large triangle bits.  You'll be left with the outline of a box.)
Base ice your pieces the color of your choosing.  I chose white.
See those little rounds?  Those will be your wreaths.  Because I am not brave enough to test out my spacing on these.  Took too long to cut and bake.  I'm not taking any chances…
So take those little rounds and decorate them like wreaths.
I used a leaf tip and just piped leaves on in a haphazard fashion.  Just go nuts.  It looks more like real foliage that way.  Then add your dragees and red berries if you want.  I used 3mm silver dragees for mine.
Once you have all your wreaths piped, go ahead and space them on your pieces.  This is why I did them separately   I can easily space them in an even manner.  🙂  My OCD likes this.
Glue them down with some thick icing and then pipe around the sides with your leaf tip to hide your cookie edge.
Looks all wreathy, no?
Anyway, continue to decorate your remaining pieces however you like.  I cut a large piece for a lid.  Felt like a decent jewelry box needed a lid.
Anyway, once they are all dry and ready.  Place your pieces together.  My pieces have "feet" on them so I turned them upside down to glue them together.
And I used cutters with squared off edges to help me keep my angles.
Just join them together with a really thick bead of icing down the inside seam.
Once it's all dry, cover the outside seam with some icing and some details of your choosing.  I used all these large pearls I picked up at the grocery store.  They taste like sweet tarts.  I've eaten a few…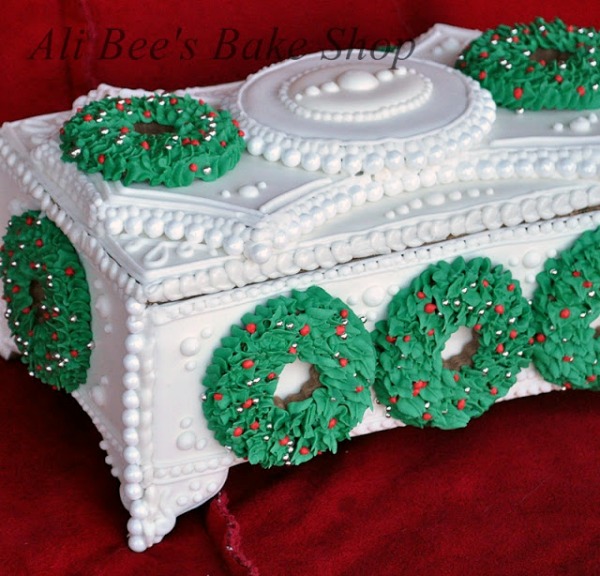 Anyway, when your done, and your pieces are set, you can glue on a bottom (if you made a lid, just make an extra piece of the same size and stick it on the bottom.  Cover the seams much like you did the sides).  I had to get all mathy and make a bottom that dropped down in there because my box had feet.
Curse those feet….made everything so much harder to assemble.
But they sure look pretty….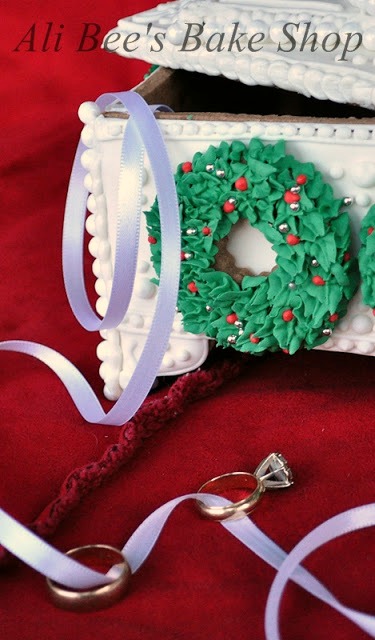 See I didn't forget the golden rings.  Those are real golden rings folks.  In fact, they're my parents wedding rings.  Sweet huh.  🙂
Thank you Callye for asking me to be a part of your 12 days lineup!  Everyone so far has been amazing and I'm sure the rest of the countdown will be awesome too!!
Be sure to check out the other eleven days of Christmas!