Christmas Pajama and Popcorn Bowl Cookies
I don't know if it's a symptom of my cookie craziness, but every July, I start thinking about Christmas cookies. Then I make glorious plans to share my ideas with the world, and suddenly, it's December 14th, and I've missed my window. So, this year my friend, Georgeanne, and I decided to get an early start.
I know people get crabby about early Christmas posts, so if you're reading this and thinking, "Christmas, ALREADY?!" My apologies. But I promise you'll be glad I shared. Even if you tuck it away for later, or change the colors to create sleep over cookies, this design is one you will come back to over and over again.
There's a little back story to this post, so before I jump into things, I wanted to explain how this idea came about.
For years, Lila Loa and I have had sort of a "mind-meld" thing going on. It's not unusual for us to favor the same cutters, publish similar cookie tutorials at almost exactly the same time, or even to have babies on the same day.
After all these years, it's become a joke, but if I'm being completely honest, in the early years, it brought all kinds of weird emotions to the surface.
There was the fear of not being first. Worry that she or other people might think I copied her. Insecurity, because I always like her cookies better than mine.
Then, as our friendship deepened and we both matured as bloggers, we realized something. Even if you gave us both the same exact piece of inspiration, we never ever come up with the same exact thing. Seriously. Even if it's exactly the same thing.
We talk about this a lot when we chat, and we are both grateful that we became friends instead of competitors, because it leads to  fun projects like this: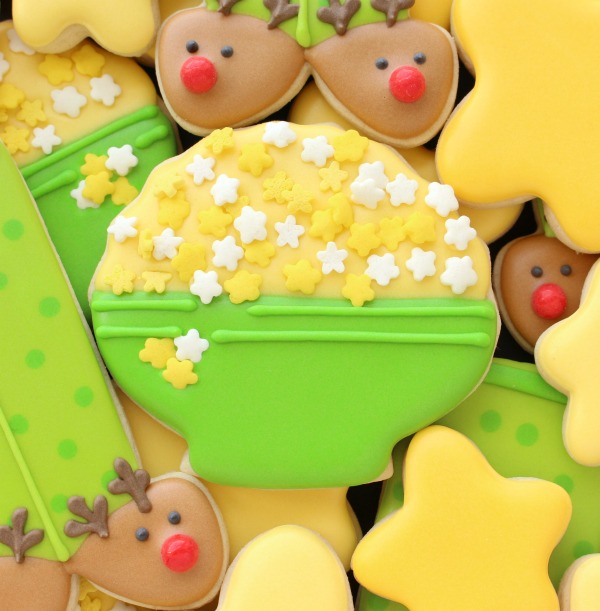 The actual inspiration for these cookies was brilliant nerd cookie set. When I saw them, I was so impressed, that I sent them over to Georganne, who loved them as much as I did. She mentioned wanting to make pajama cookies with her gift cutter, and we got so excited about the possibilities, we decided it was about time for a collaboration.
After sharing a few inspirational images and some basic instructions awe got to work. And as usual, we made completely different versions of the exact same thing!
So, now that you know the back story, let's get to work. I chose a popcorn bowl tutorial since I've already shared a pajama cookie design, which would also translate well to Georganne's gift cutter.
For some reason I have one million shell cutters, (I am only slightly exaggerating) all of which would work for this design. You can purchase the tutorial version here but, I've also successfully used an ice cream cone trimmed with a scalloped round. Don't be afraid to get creative.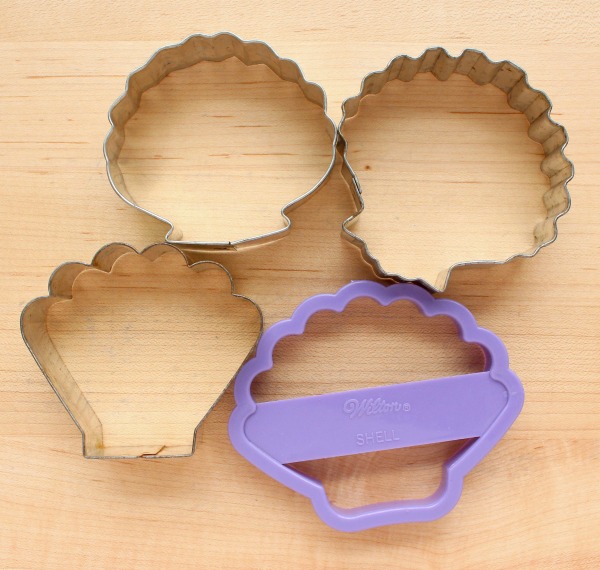 To decorate these cookies you will need:
Food marker
Ruler
Green piping and flood icing
Light yellow 20-second icing
Yellow and white flower sprinkles
Step 1 Use a ruler and food safe marker to draw a straight line along the middle of the cookie. This will be the top of the "bowl." I typically use brown or yellow food color markers to sketch on blank cookies, but since the icing was green, I wasn't worried about color bleed.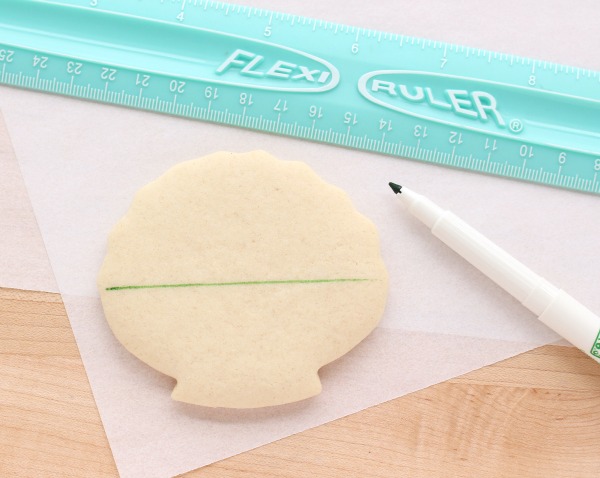 Step 2 Use green piping icing to outline the bowl with a #2 tip.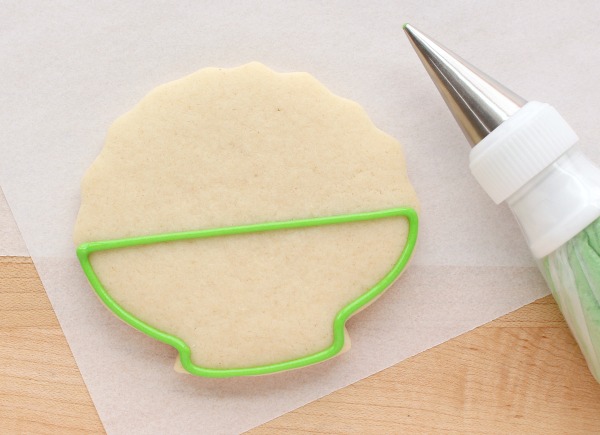 Step 3 Fill the outline with green flood icing. At this point, you can also add a few "popcorn" sprinkles to the wet icing. This gives the cookie a little character.

Step 4 Use 20-second icing to flood the top portion of the shell. Give it a couple of minutes to set and then sprinkle with yellow and white "popcorn." At this point, let the cookie dry. This can take anywhere from four to twenty-four hours, depending on where you live.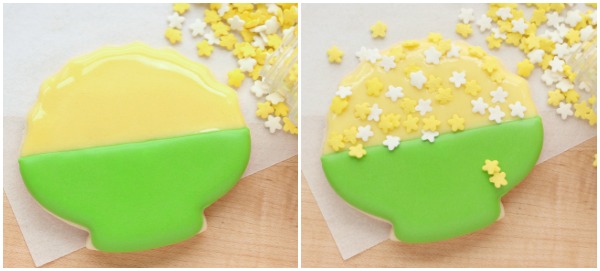 If any of you are wondering where I got yellow and white popcorn sprinkles, I picked them out of a multi-color mix. I can almost hear you thinking, "Who does that?" And the answer is, probably no one, except for me, and my poor children. So, if tedious sprinkle picking isn't your thing, you can either pipe the kernels, or make your own with this handy-dandy tutorial.
Step 5: Finish up by using green piping icing to add a little lip detail to the bowl.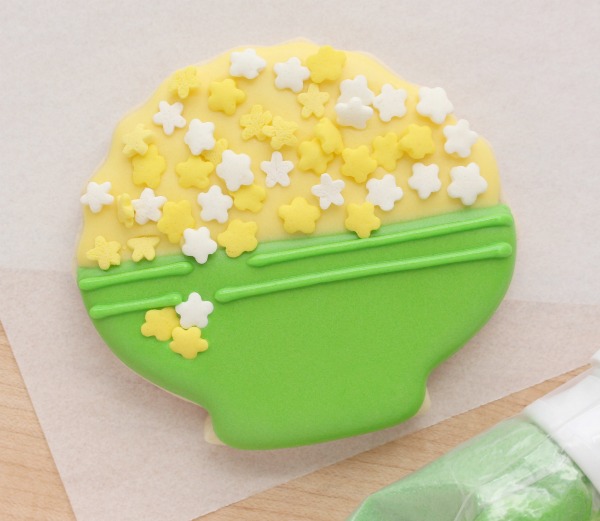 Most of my cookies work as stand alone designs, but in this case, I went simple, so they kind of needed to be mixed to get the full effect. I didn't plan it that way, but I eventually realized that it gave an even deeper meaning to this post.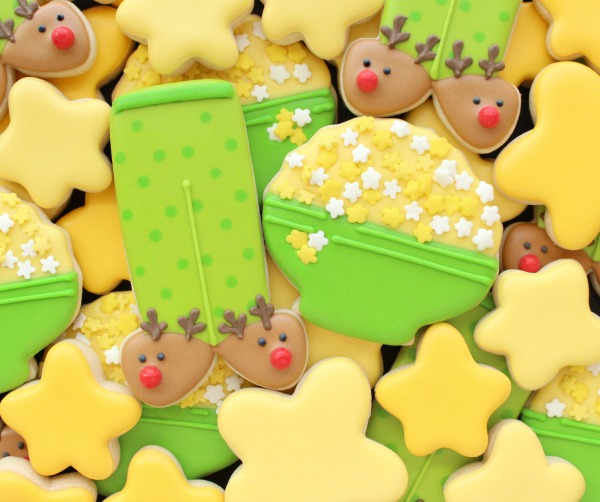 I really hope that you try this idea, along with Lila Loa's spin, which you can find here.
But most of all, I hope that you take away the most important thing I want to say. I am forever grateful that I chose friendship over competition. I've been rewarded with a relationship that has grown way beyond cookies and made me better artist, mother and a friend.
For more helpful information related to this post, be sure to check out the following links:
If you'd like to purchase the Lila Loa Cookie Companion Cutter Set, you can pick it up here.
Learn to make bunny slipper pajama cookies here.
Learn how to make Christmas pajama cookies here.
SaveSaveSaveSave
SaveSaveSaveSave