Decorated Cheerleader Cookies
In Texas, Friday is synonymous with football, which makes it the perfect day for decorated cheerleader cookies.  But before we get to the decorating, I want to share a little story about what I learned from these cookies.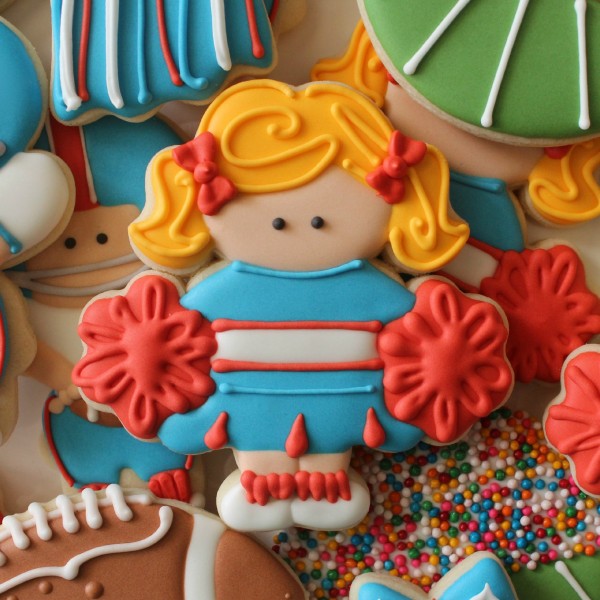 As some of you might have noticed, I'm kind of a perfectionist (that might be a gross understatement) and I really pride myself on ironing out the kinks in a design so the people using my tutorials don't have to.
Most of the time this works for me, except sometimes, I have an "off" week.  This turned out to be one of those weeks.
Just as I was about to complete this set, I got so hung up on a small detail that I could not move forward.  Want to take a guess at what almost caused me to scrap this post?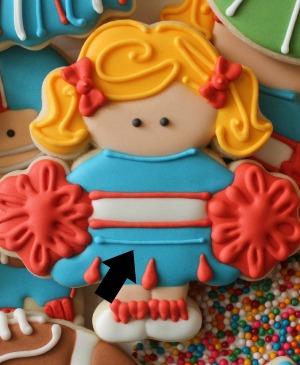 It's THAT line.  The one I had to point out with huge arrow, because otherwise you wouldn't know what I was talking about.
One little line that bugs me beyond belief.  I don't even know why it bothers me, it just doesn't look "right".  As soon as I piped it, I wanted to click undo, but it was too late.
Yes, I know I'm crazy, but I wanted to talk about my little problem…partly to help myself get past the issue, and to help others to avoid the same thing.
Left unchecked, being a slave to perfectionism can be cripple you!
In the end, I will probably never love these cookies, but in the grand scheme of things that little old line isn't really a big deal.  Maybe my idea will inspire someone to create an improved version, or keep them from wasting valuable time redoing something that was fine in the first place.
Lesson learned.  Now back to our regularly scheduled programming.
To make cheerleader cookies I used a small flower to add pom poms to a Wilton girl cutter.  If you don't own this cutter, you can find a similar one here.
If piecing isn't your thing, you can always bake the cookies separately and attach them later.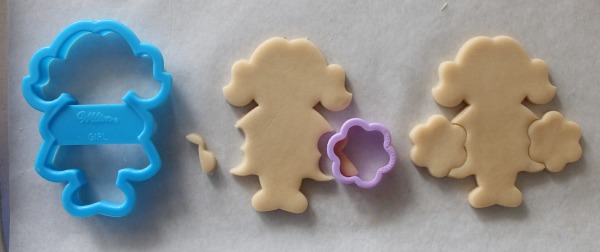 To make these cookies you will need:
Begin by mapping out the design with a food color marker.  This is a great way to make uniform cookies without using a projector.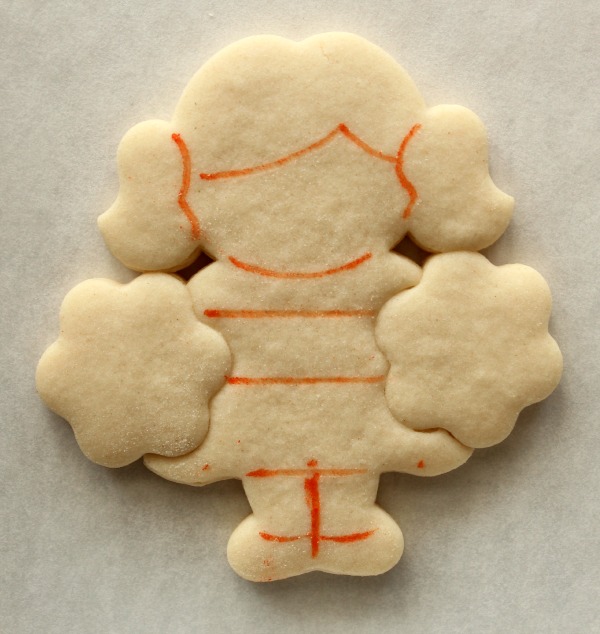 Next, ice the base in sections, allowing a few minutes (more if you have bleeding issues) of drying time between each area before moving to the next.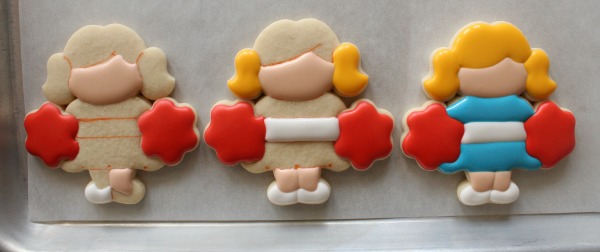 Let the base dry then add the details:
Pipe a swirl pattern over the hair.
Use black icing to pipe two dots for eyes.
Add blue lines to indicate a collar and the separation between the shirt and skirt (or not).
Use red icing to create hair bows, pop pom strings, stripes on the sweater, skirt pleats, and socks.  For instructions on making the bows, click here.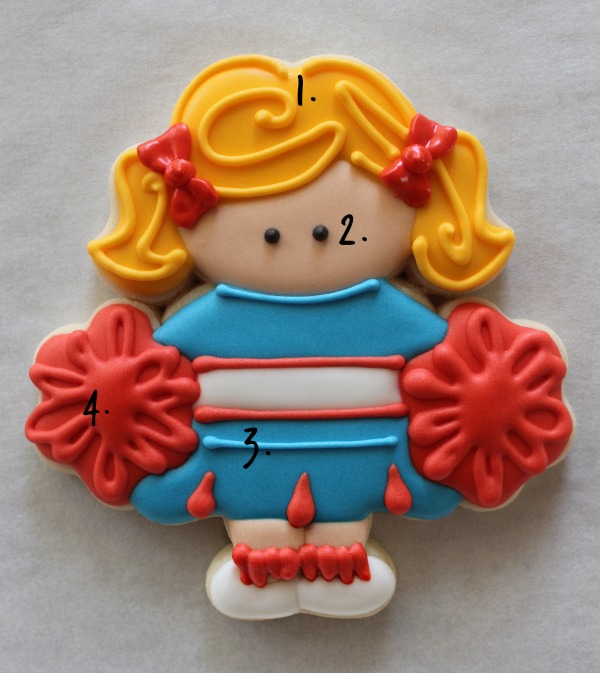 These cookies are the perfect size for favors, but I like to mix them with other designs to add color and interest.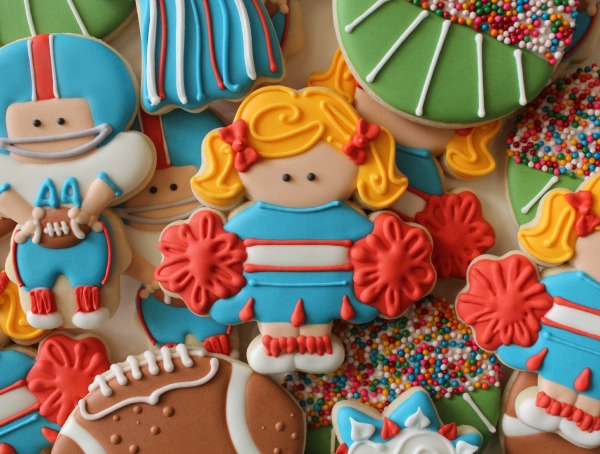 For more of my favorite football cookie ideas, check out the following posts: