Homecoming Mum Cookies
Homecoming mums are a Texas tradition.  They were so common where I grew up, I didn't realize that mums are almost strictly a Texas thing.
What is a mum, you ask?  Basically it's an artificial flower stapled onto cardboard backing with ribbon and trinkets attached.  In my case, a TON of ribbon and trinkets. Let me show you.
How about my date, er, I mean mum.  Talk about Texas-sized!  It was almost as big as me.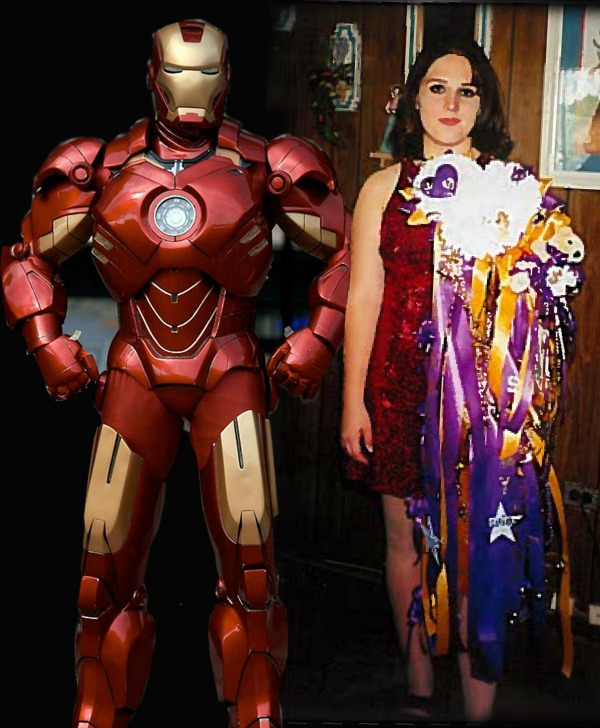 In Texas, homecoming is more than just an alumni-attended football game, it's an event.  There's a pep rally, a parade, then afterward, a dance.
Traditionally, boys give their date a mum and they wear a matching garter.  Unless you have no date, then your dad gets the mum…not that I know anything about not having a date.
Anywho, apparently, no one mentioned the garter thing to Tony, but since he's a foreigner and remembered my mum, I let it slide.  Here we are on our way to the dance.  He sure cleans up nice, right?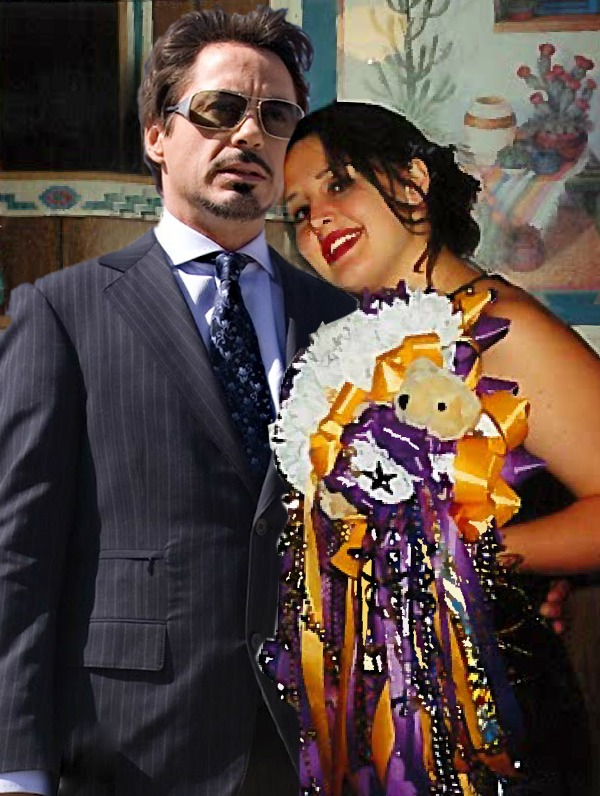 The whole Texas homecoming mum phenomenon is almost too much to explain all at once, so it you want to learn more, click here or here.  In the meantime, I made homecoming mum cookies.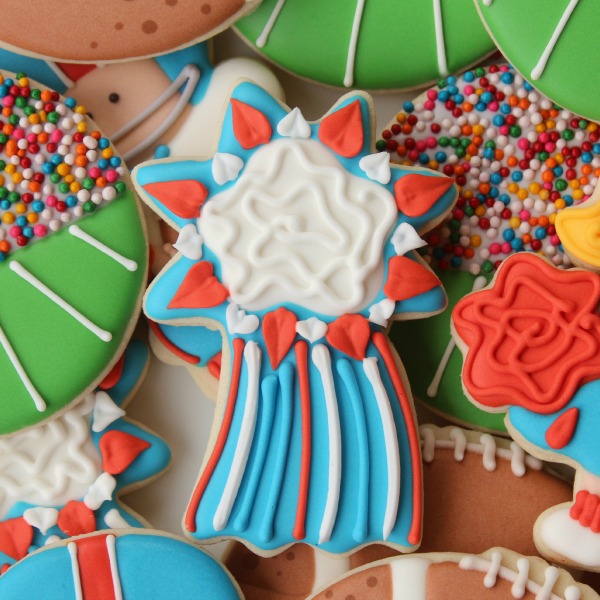 Honestly, I've never been really liked this shooting star cutter, because to me it has always looked like a mum.
But you know that old saying, "If it looks like a dog, walks like a dog, and barks like a dog, then…"
Yeah, it's a mum.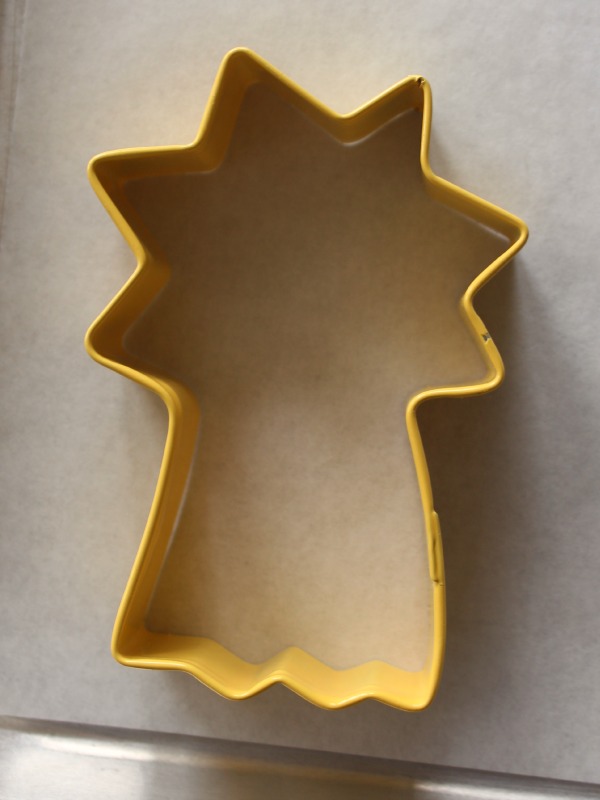 To make these cookies you will need:
Stiff white piping and 20-second icing
Blue piping and 20-second icing
Red piping icing
Begin by using white 20-second icing to create a flower in the center of the cookie.  Once it has set, use blue 20-second icing to flood the remainder of the cookie.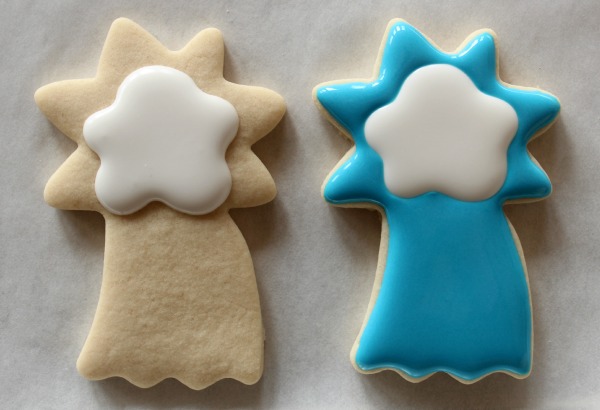 When the base is dry, add the details.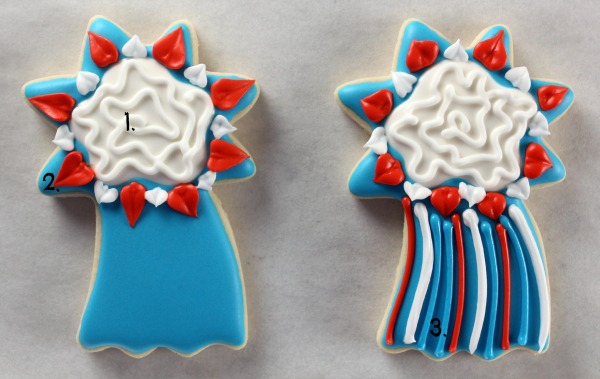 Use a #2 tip to pipe a squiggly line onto the flower.  Use a small leaf tip (#66) to pipe the white portion of the border then switch to a small star tip (#13) to add textured ribbons.
Next, repeating the steps above, use a small leaf tip (#66) to pipe the red portion of the border, then switch to a #2 tip and add ribbon.
Fill in the remaining space with blue ribbon.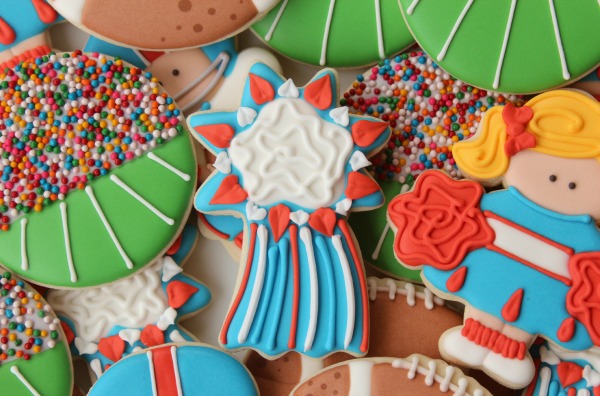 Mum cookies go great with all things homecoming.  For more festive cookie ideas, check out this post:
Oh, and if you have a million questions about this crazy Texas tradition (and I know you do), just leave a comment, and I'll do my best to answer!