Poinsettia Platter Cookie Cutter Set and Gift Certificate Giveaway with Whisked Away Cutters
The poinsettia platter has become a Cookielandia classic, with good reason. Although beautiful, decorated cookies can be very time consuming, and during the holiday season, time is always of the essence. This platter is the perfect way to make a lot of cookies in a short amount of time, with maximum impact. Beautiful, right?
I created the very first poinsettia platter four years ago, but last year I wanted to give it a little "facelift." So, in collaboration with Whisked Away Cutters, I designed an updated set of petals and leaves which I paired with my classic whimsical rose, to create a fresh, updated version of and old fave. Today, I am giving one reader a chance to win the updated set (5 cutters, total) plus a fifty dollar Whisked Away Cutters gift certificate.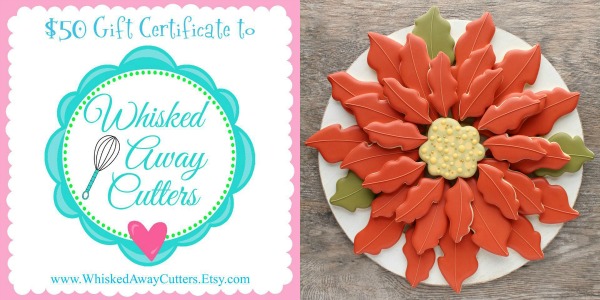 To enter, just follow the instructions below. a Rafflecopter giveaway  For instructions on decorating and arranging your own poinsettia platter, click here. PS-I'm also hosting a second giveaway of just the cutter set on Instagram, so, go check it out and double your chances to win.
I hope that no one is tired of giveaways, because I've got one more. After all, isn't that what Christmas is all about?