Adorable Christmas Yeti Cookies with Melissa Joy Fanciful Cookies and More
 really hit the nail on the head when she named her cookie business, because it perfectly describes her whimsical, imaginative designs. With each new cookie, I am equally delighted and inspired, and I think you will be too. Follow along as she teaches us how to make her adorable Christmas yeti cookies, with an owl cutter! Melissa Joy Fanciful Cookies
Thank you, Callye, for having me as a guest on your awesome blog. It's a thrill to be here, and I am so excited to finally share my Holiday Yeti Cookies with all of you!
I have been thinking about these guys for months and couldn't wait to give 'em a go. I wanted to create something a bit quirky this season, but maintain the Melissa Joy style of keeping it simple and cute. Always cute, right? 😉 Yeti cookies for this Christmas seemed to be just what I was looking for!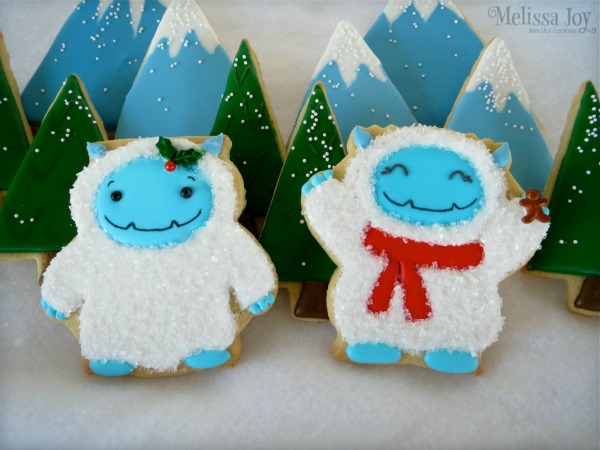 For this design, I used an owl cutter. It seemed to fit my sketch well, but dig around your stash of cookie cutters to find what will work best, like this one, or this.
Repurposing the shapes you already own will mean less cutters to buy and store. This is what I tell myself, but I tend to acquire more cutters regardless!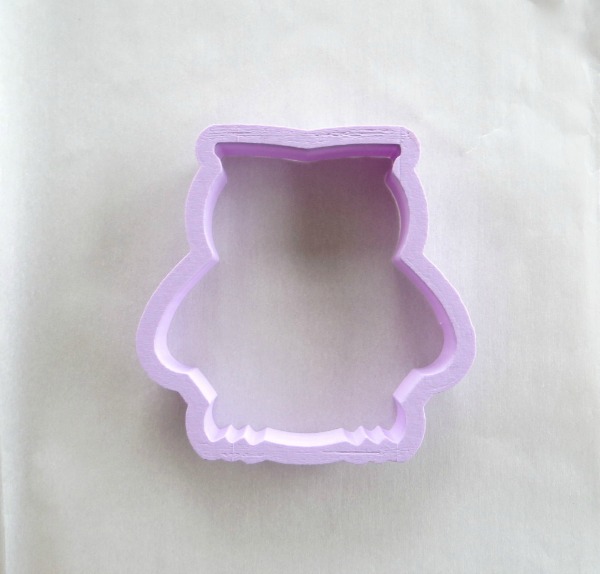 To decorate these cookies you will need:
I actually made two poses for the Yeti; one with the cookie right side up and the other flipped upside down. Here's the right side up version first…
With the light blue icing, create an oval shaped face. Immediately drop in black sugar pearls for eyes, if using (there is always the option to pipe black eyes or draw them on with a food writer later). Make horns, fingers and feet with the same blue icing. Let set for 10 to 20 minutes with the assistance of a small fan. It speeds up the dry time!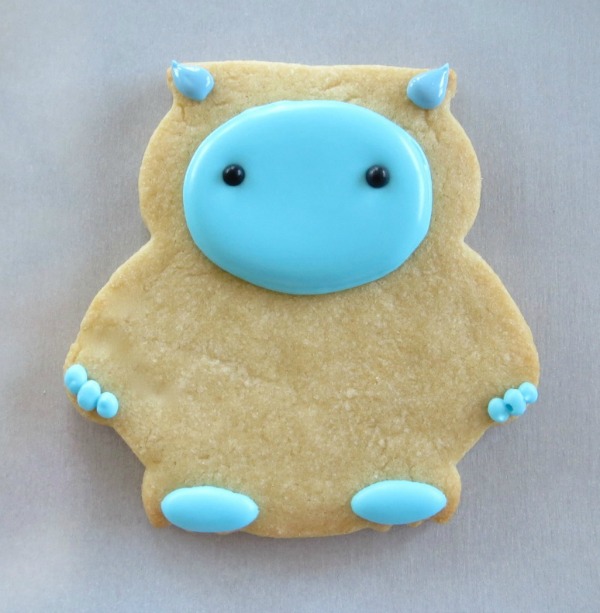 Fill in the rest of the Yeti with white icing, leaving a little space between arms and body. Add white jimmies (or sanding sugar) while the icing is still wet. Let dry completely, for several hours or over night.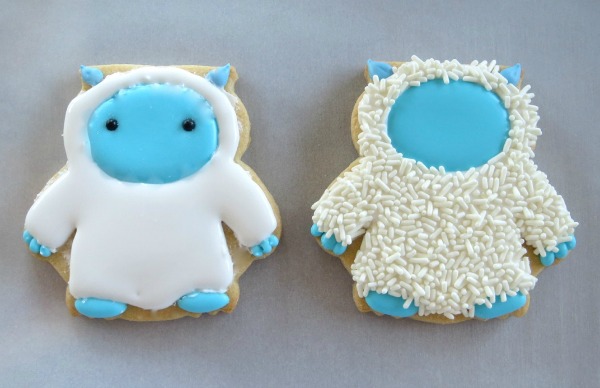 Before we add details to these, let's look at the the upside down cookie version…sort of like a Yeti giving a little cheer!
Again with the light blue icing, pipe horns, fingers, feet and face, dropping in black sugar pearls for eyes.
This guy wears a scarf, which you can sketch out on the cookie using a food writer first. Drawing a guide on the cookie helps me get the proportions right, in some cases! Pipe the scarf in segments with a 10 minute dry time after each section (neck, left tie, right tie), to create definition between each part.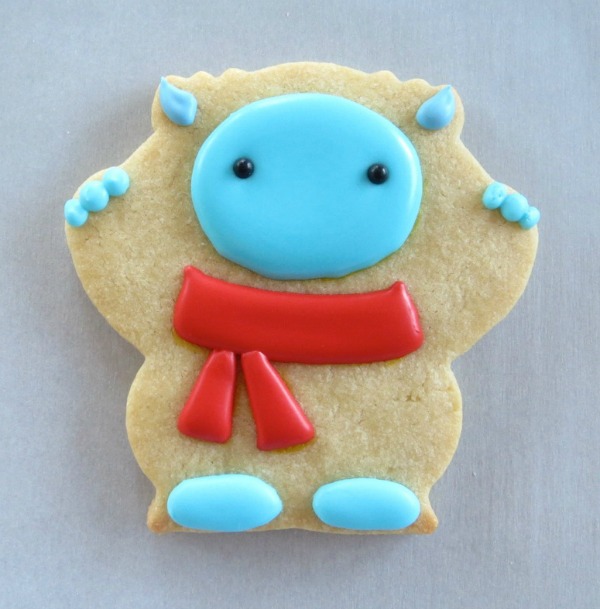 Fill in the body with white icing and add white jimmies or sanding sugar to make the Yeti look fuzzy. Let dry several hours or over night.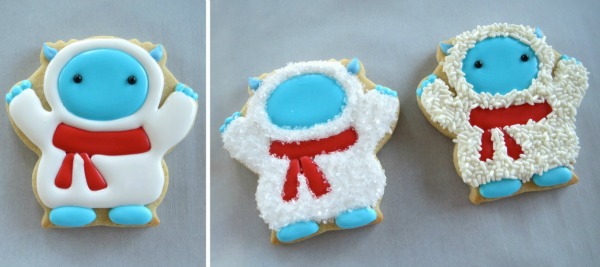 The next steps are my favorite part of decorating, because the designs really come to life!
With a black food writer or black stiff icing, create a smile, eyebrows and/or lashes on the faces. So sweet!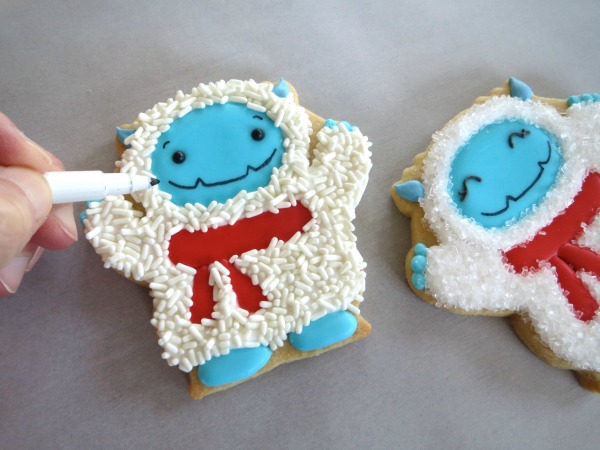 Now gather up your holiday sprinkles or royal icing transfers for embellishing the Yetis. I pre-made the santa hat transfers with left over red icing from my scarves the day before, but Wilton's holiday sprinkles makes adding details even easier. They have a great selection of candies this year, and I may or may not have bought one of each container they offer…eek!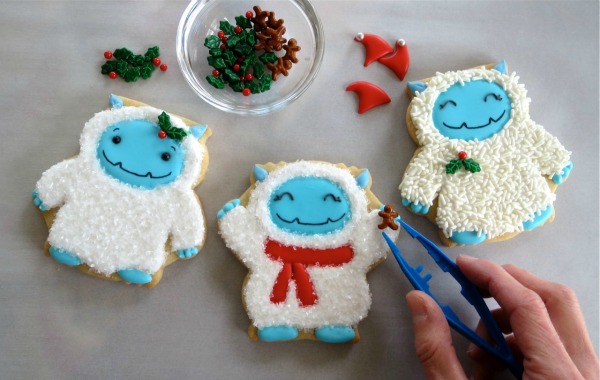 Arrange and add all the sprinkles you like, adhering them to the cookie with a touch of white icing. It's so fun and the possibilities are endless!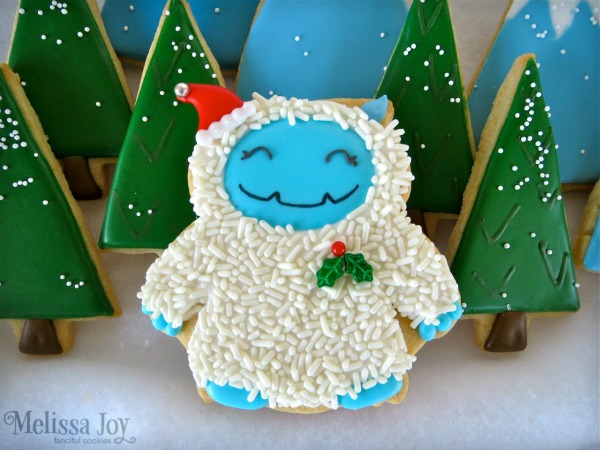 I rounded out this holiday Yeti set with the addition of simple mountain and evergreen tree cookies. Snowflake cookies would also be a great compliment!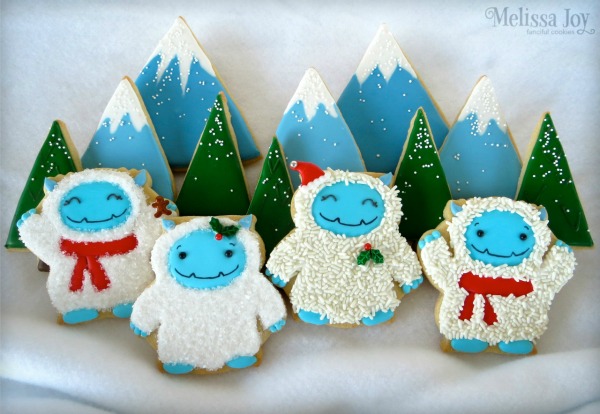 I'm thinking that Yetis would be pretty versatile for any winter month…like swapping out the Christmas sprinkles for hearts on Valentine's Day, or placing snowflake candies in their hands or on their bellies. Maybe giving them party hats for birthday treats? For whatever reason, I'm obsessed with Yetis! I hope you get the chance to create a few and give the design your own spin. Let me know what you create, if you do!
Thanks again, Callye, for having me here, and happy holiday baking!