How to Make Bitten Gingerbread Men Cookies with Wilton and Michaels Products
The holiday baking season is upon us and decorated cookies are at the top of everyone's list! Silly bitten gingerbread man cookies are a fun (and funny) treat that is sure to make everyone smile.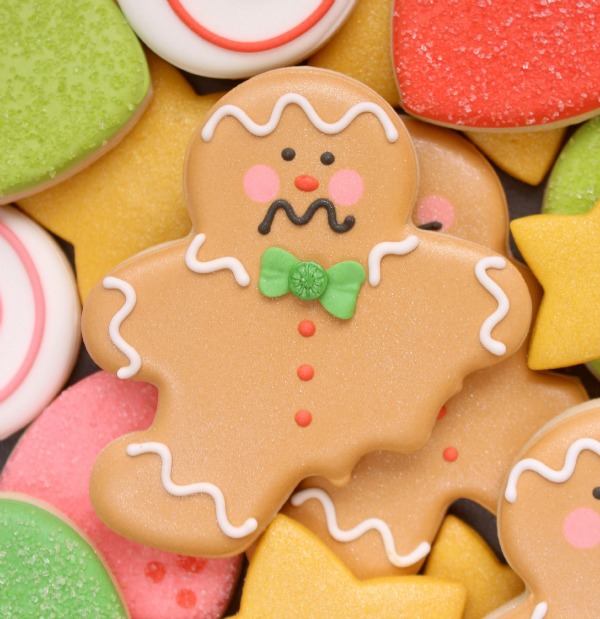 Best of all, they are made with quite possibly the most common holiday cookie cutters around!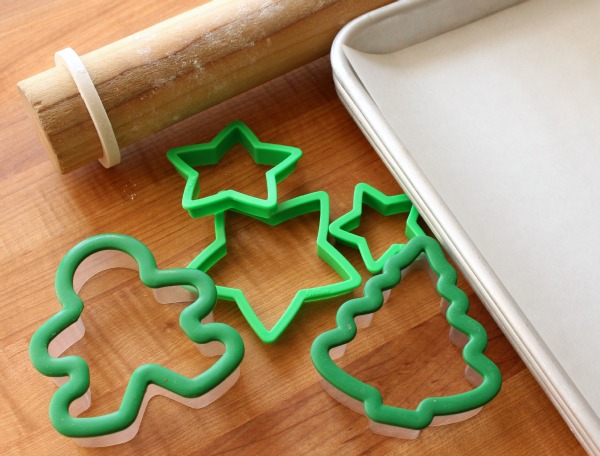 To make these cookies you will need:
To create "bitten" cookies, roll dough out on parchment paper and cut out several gingerbread men. Use a Christmas tree or scalloped round cutter to take "bites" out of each one.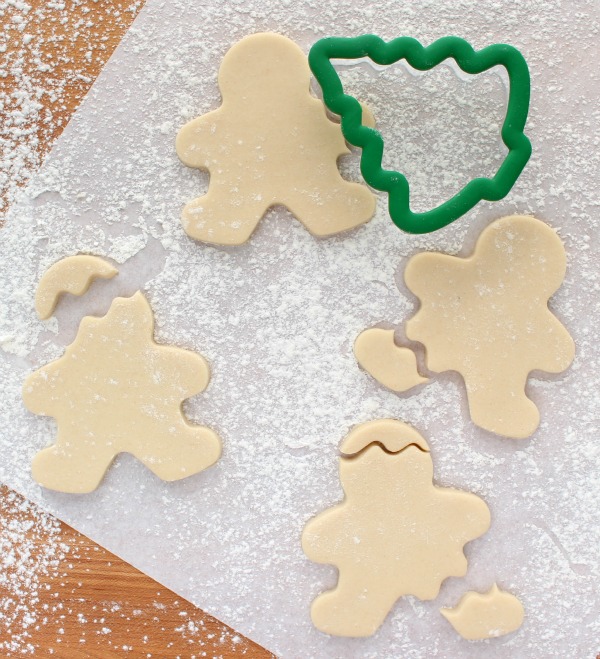 When the cookies are baked and cooled you are ready to begin decorating.
Prepare royal icing and thin to the proper consistencies in the colors listed above.
Fill disposable piping bags that have been fitted with couplers and prepared according to the directions on the package.
Place the flood consistency icing in squeeze bottles.
Begin by using tan icing to outline the cookie with a #2 tip. Next, fill the outline with tan flood icing. If necessary use an angled spatula to smooth out air bubbles and to draw icing to the very edge of the outline.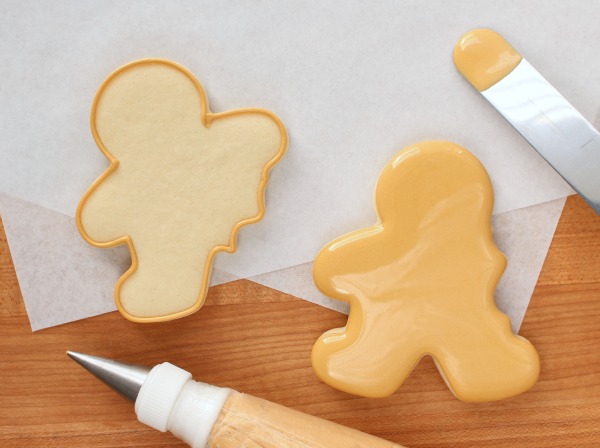 Once filled, drop two dots of pink icing into the tan to create cheeks.
At this point, let the base layer of icing dry. This can take anywhere from four to twenty-four hours, depending on the climate where you live.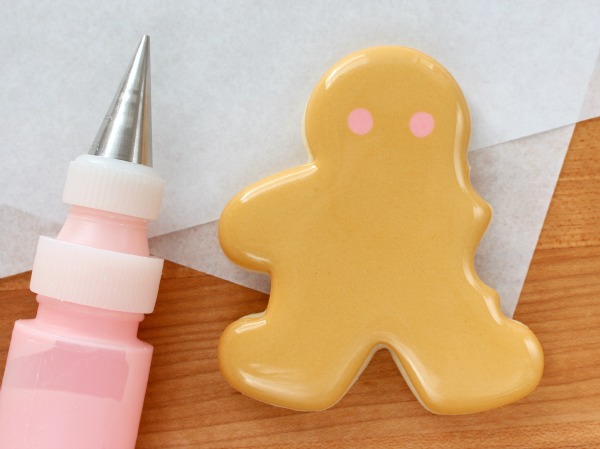 When the cookie is dry, use the large dusting brush to sweep a light layer of gold shimmer over the surface of the cookie. This will create a nice, subtle sheen.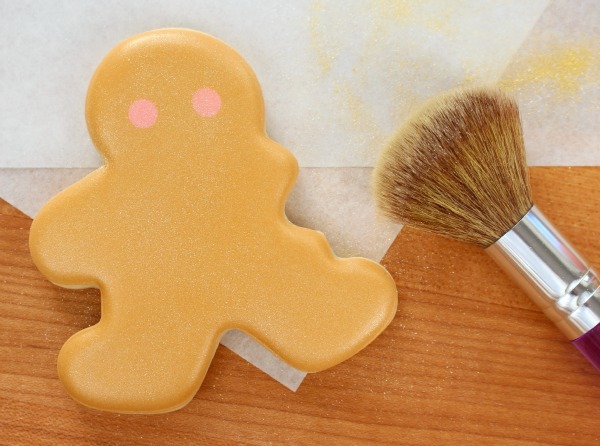 Next, add a face. Begin by using red icing to add a nose then black for eyes and a mouth. Smaller tips like a #1 work very well for this type of detail work.
And…if you need inspiration for their expressions, look no further than your smart phone. I borrowed the expressions from a few of my favorite emojis and they worked perfectly!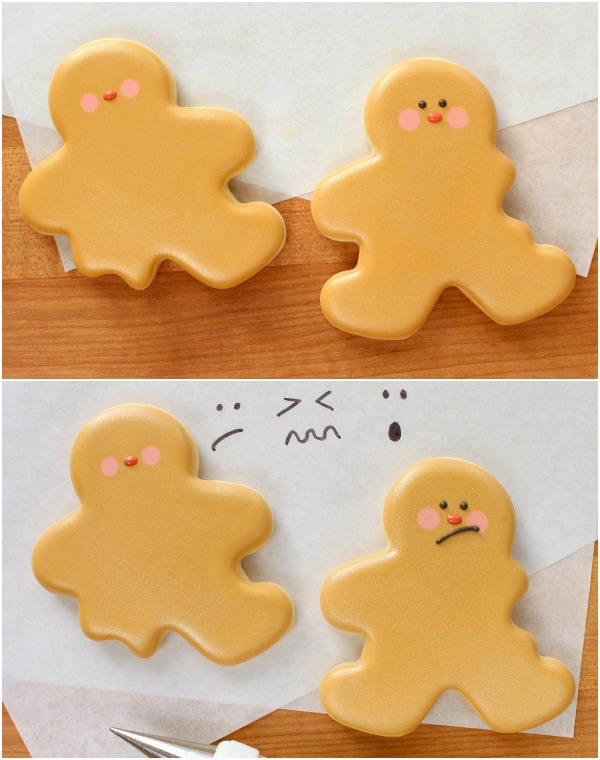 After adding a face, it's time for one of my very favorite steps.
Using a #67 (leaf) tip, create a bow. I've talked about leaf tip bows before, but just in case you missed it, I broke it down into four easy steps.
First, pipe two leaves, tips touching.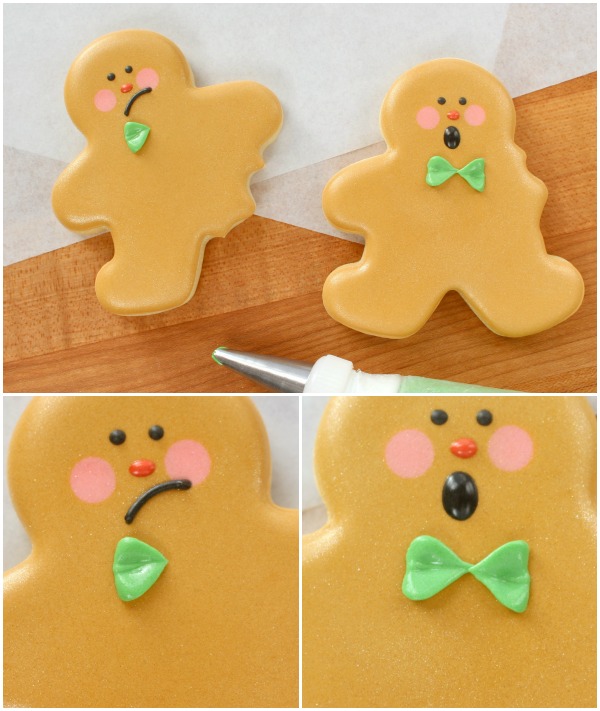 Next, pipe a small center dot with a #2 tip, then use tweezers to gently attach a candy sprinkle to the center of the tie.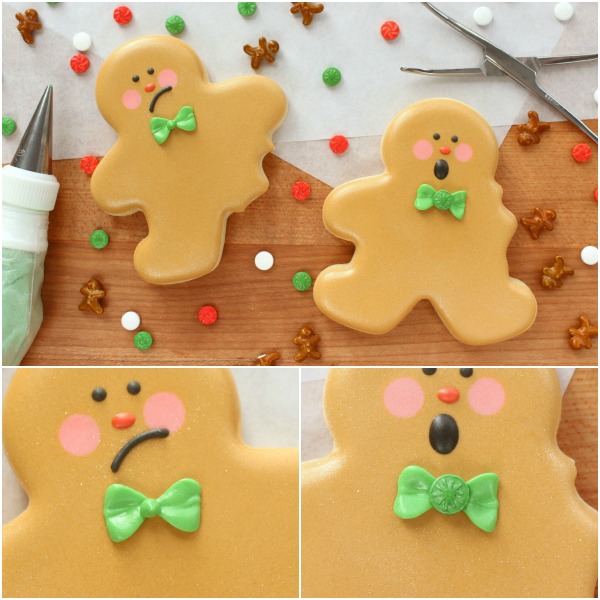 Easy peasy, and oh so cute!
Finish up by using a #2 tip to add wavy white lines to the head, neck, arms, and legs.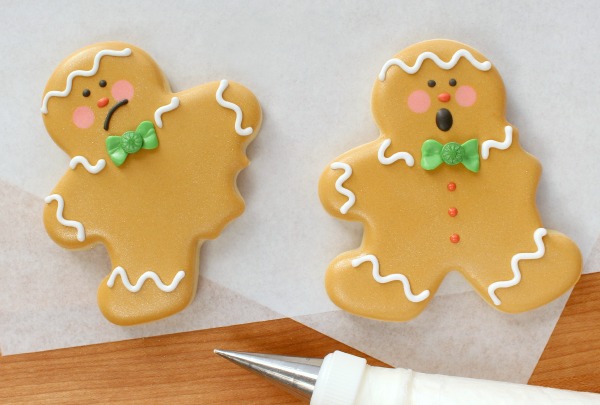 Mix with other simple cookies like gumdrops, candy, and stars made from colored dough, brushed with a little shimmer dust. The end result, a bright pretty cookie platter sure to please!
These silly bitten gingerbread men are sure to make everyone smile. I hope you will make them soon. All of the products used to make these adorable cookies are available at your local Michaels store or Michaels.com.