Decorated Strawberry Cookies
Since the very first day decorating cookies has been an adventure. I've outlined, flooded, glittered, gilded, airbrushed, painted, and stacked cookies to bring life to all of the crazy ideas in my head.
While all of that's fun, there's a lot to be said for simple cookie designs. You know, timeless classics. The shapes I come back to over and over again.
Decorated strawberry cookies are one of my all-time faves.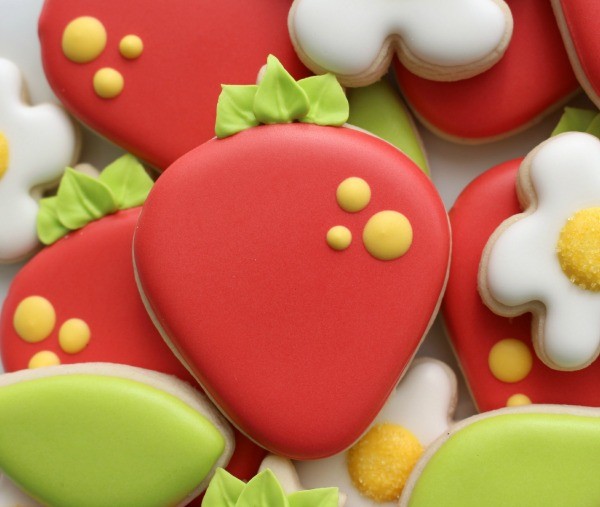 At this point, I must've made strawberry cookies at least twenty times. The colors change along with a few details, but they're just as fun now as they were when I began.
To make simple strawberry cookies you will need:
Red piping and flood icing
Stiff lime green piping icing
A small amount of yellow flood icing (if you have any leftover, use it to make royal icing flower centers to keep on hand for future projects)
To decorate, follow the steps below:
Outline the cookie with a #2 tip.
Fill the outline with icing and let the cookie dry. This can take anywhere from four to twenty-four hours, depending where you live.
When the cookie is completely dry, use lime green icing and a #66 or #67 tip (whatever you have on hand) to pipe three leaves on the stem. For the best results pipe the outside leaves first, wait a minute or two, then add the center leaf.
Finish up by adding a few dots for "seeds".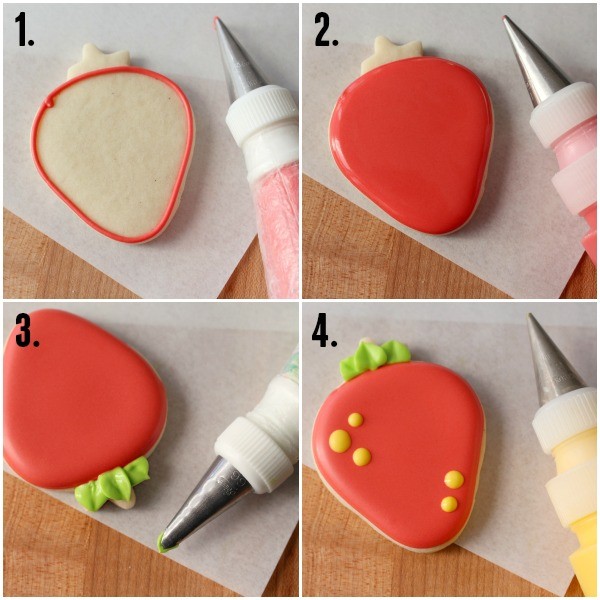 If you prefer, you can always use a small round tip (like a PME #1.5) to pipe actual seeds, but my tired old hands gave up on that long ago.
I added a few quick accent cookies to really make the red color pop. I've said it before, and I will say it again. Sometimes (often) the simplest designs are the best.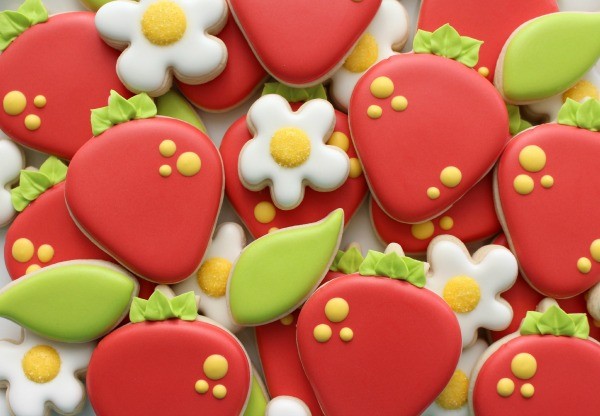 Oh yes, and since I promised I would make an attempt to share more video tutorials, you can catch me in action here.

When it comes to cookie decorating, it's always fun to experiment and learn, but it's not always necessary to reinvent the wheel. Don't be afraid to get back to basics every once in a while, you may be surprised at how things turn out.
For more ideas and inspiration, check out the following links: