Decorated Scarecrow Cookies
It's no secret that I prefer to simplify most of my cookie designs.  For this reason, when I plan new projects I lean toward bolder designs like a face rather than a full figure.
In my experience larger scale details are easier to manage and usually there are less colors involved.
I generally stick to the "bigger is better" rule, but when I ran across this guy I knew it was his turn to shine.  He's a little more involved than my other scarecrow cookies but the end result is worth the extra work.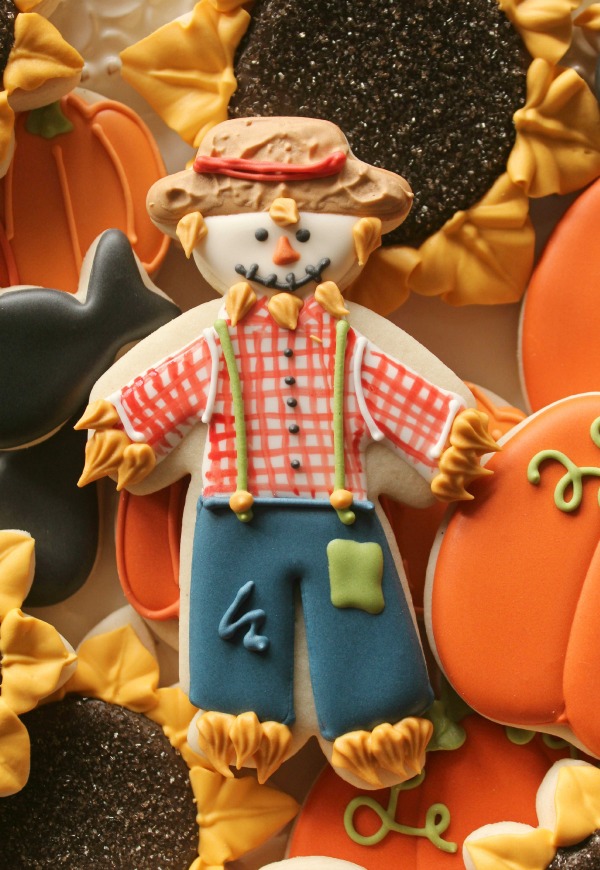 I ordered this cutter from Little Fox Factory.  They call him a farmer, but he must've looked like a scarecrow when I sorted my cutters because he ended up in the autumn box.
To make these cookies you will need:
Tan piping and flood icing
Dark blue piping and flood icing
Ivory 20-second icing
White 20-second icing
A small amount of red, green, gold, and black piping icing for details
A small amount of orange and green 20-second icing for details
Begin by outlining and filling the hat and pants.

If you like, add a little texture to the hat.  I used a technique similar to the one I talked about here.  Start by applying a tiny bit of piping icing to the dried base, then use an offset spatula to spread and lift.  This will create a "straw-like" texture.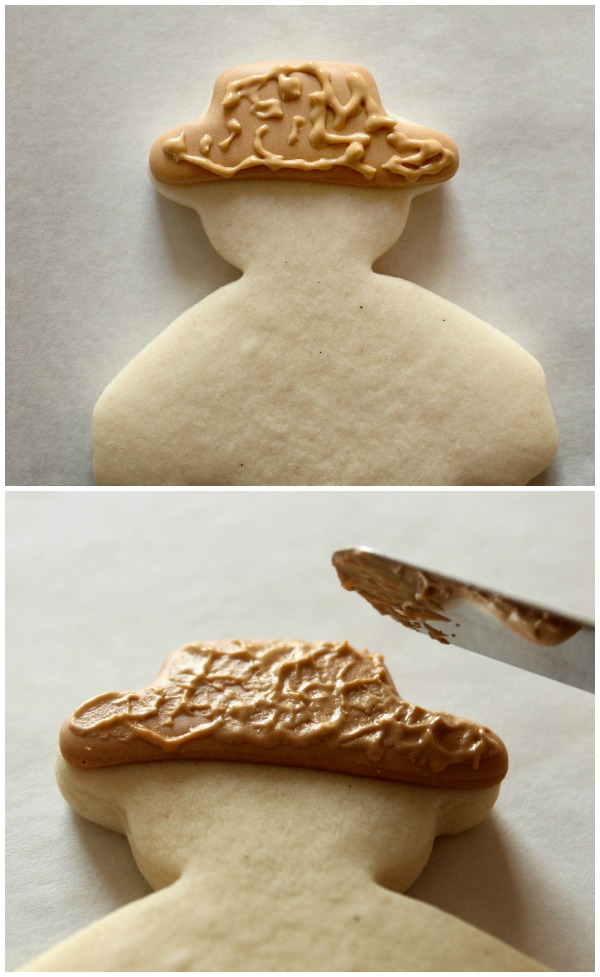 Next, use ivory 20-second icing to add a face.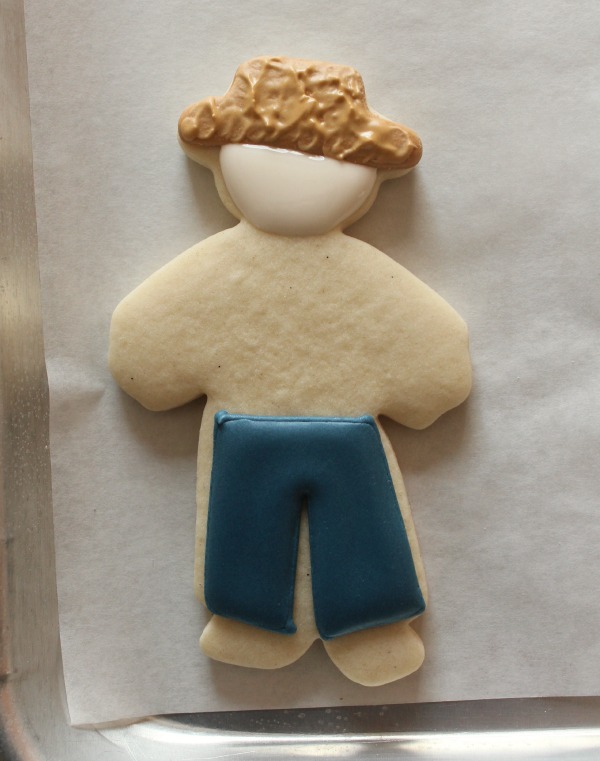 When the face has set, use white 20-second icing to make s shirt.  Let dry completely.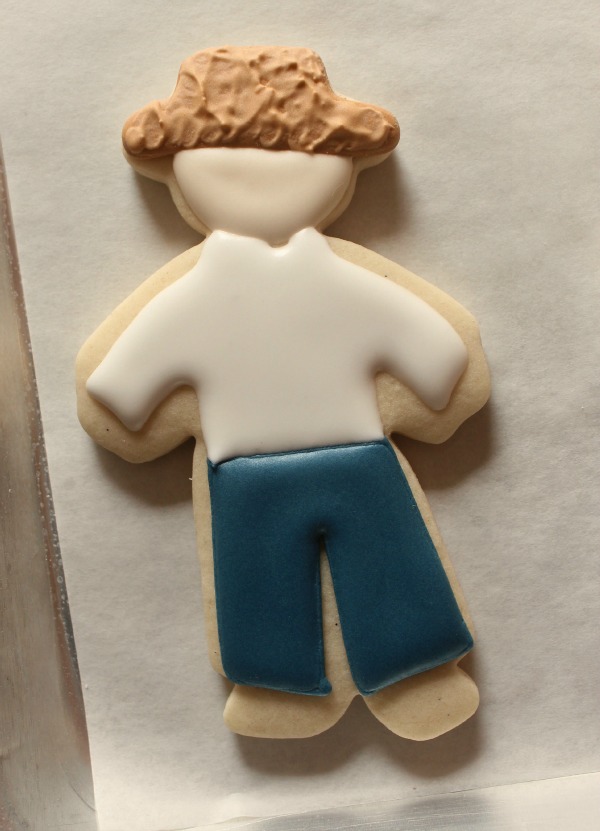 The original plan was to immediately use red flood icing to add a pattern to the shirt.  However, I got to this step right about when my kids came home from school.  By the time I remembered what I was working on the shirt had already crusted over.  Instead of freaking out, I opted for plan B.
Instead of wet on wet stripe, I tapped into my inner Arty McGoo and painted on a gingham pattern.  I'm not quite Arty, of course, but in this case the messy look worked.  For more information on painting on cookies, click here.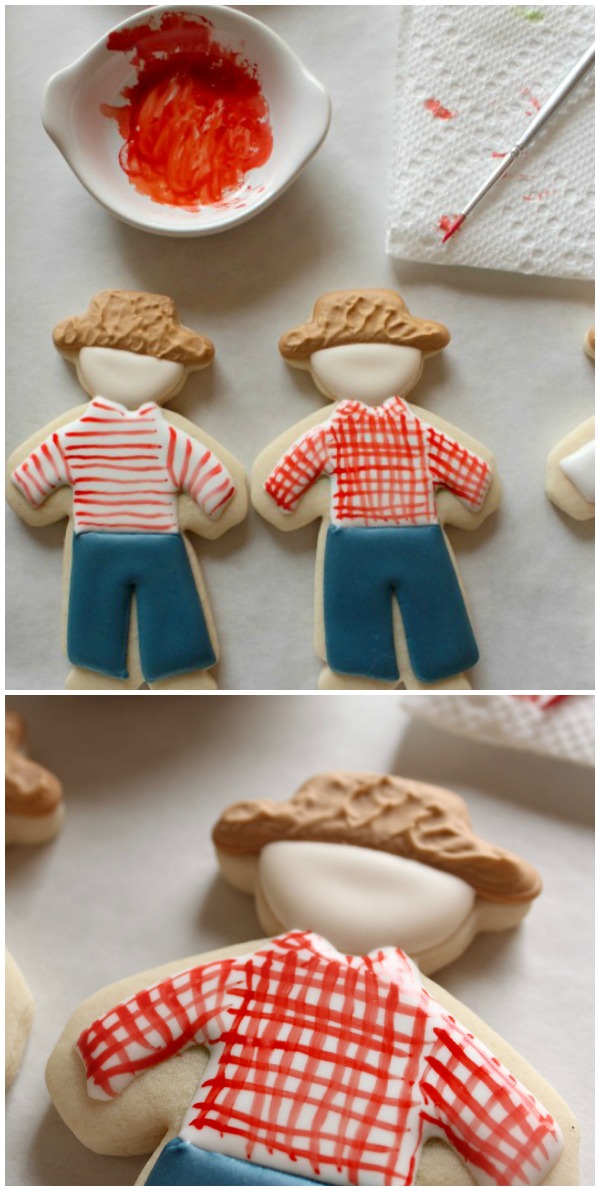 To finish up, add the final details.  I included a hatband, face, straw, buttons, suspenders, and patch, among other things.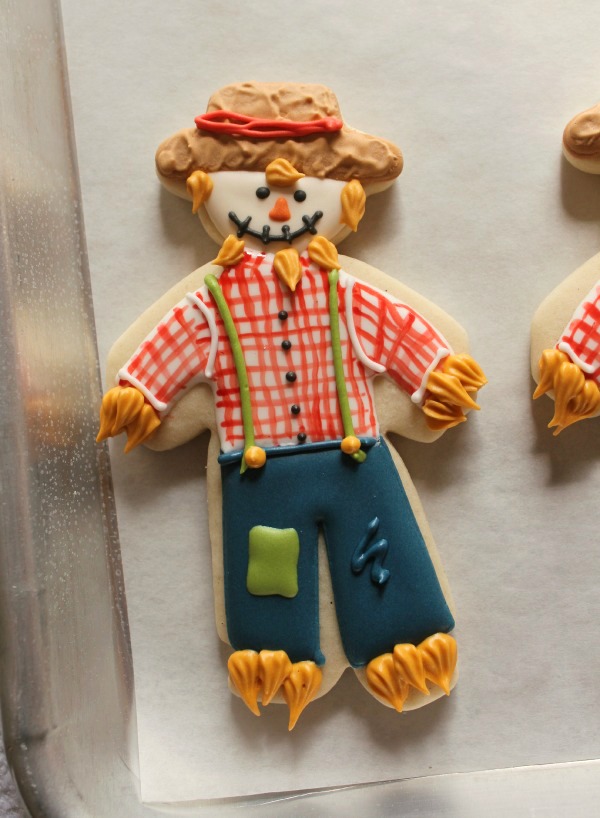 The key to small, detailed cookies is knowing when to stop.  I'd explain this a little better, but I still struggle with the concept myself.  In hindsight, I'd skip a few details if make these again…but you know what they say about hindsight.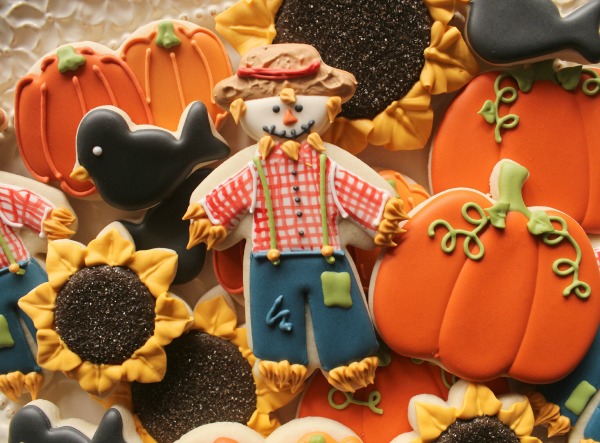 For more autumn-themed cookie designs, check out the links below: