I have been following The Bluebonnet Bake Shoppe from the beginning of my cookie decorating adventure and may just be her number one fan.  Besides being one of my favorite decorators, Jennifer also makes the best sugar cookie I've ever eaten.  I first discovered her work on Flickr, and eventually we became real life friends.  I've always loved her simple straightforward decorating style, and these brilliant golf ball cookies are no exception.

I am so thrilled to be here while Callye is off doing all sorts of cute and cuddly things with that new baby girl of hers.  I'm also just a little bit excited to be doing my first ever guest post too.  Of course, now that its all done I can think of a bazillion things I'd do different (like why didn't I use pretty backgrounds), but no matter how I slice and dice it, this technique is still pretty simple and straightforward.
If you've ever done a golf-themed set of cookies, you've almost certainly done the balls with little white dots for texture, which makes it very difficult to personalize with name or writing.  Well, one day last fall, as I was about to create even more bumpy golf balls, I couldn't help but think there there MUST be a better way…and right then and there, the idea came to me of doing shaded looking dots that sank in rather than white dots that sit on top.  It was a true "lightbulb" moment that forever changed the way I do golf balls.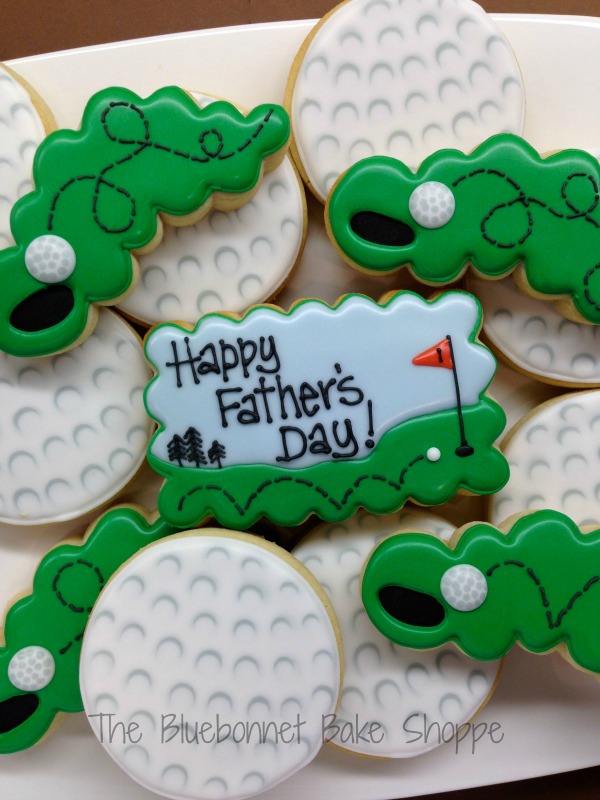 To try this you will need:
White outline icing with tip #3
white and grey 12-second flood icing both with tip #2 or #3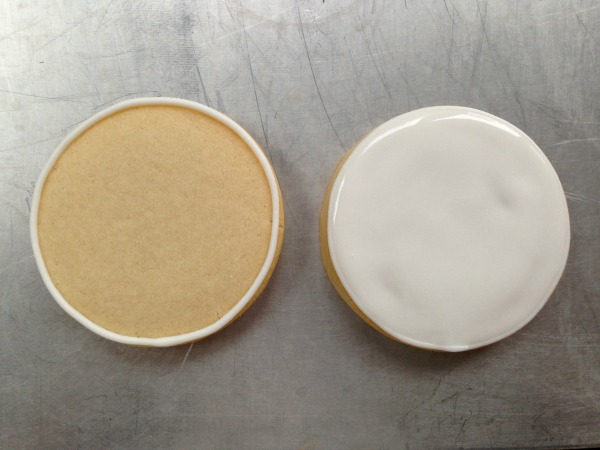 First, outline and flood a round cookie with white icing.  The trick is not to overfill the white at this point since you'll be dropping in a lot of white and gray dots.  Using a larger tip outline helps to hold it all in place.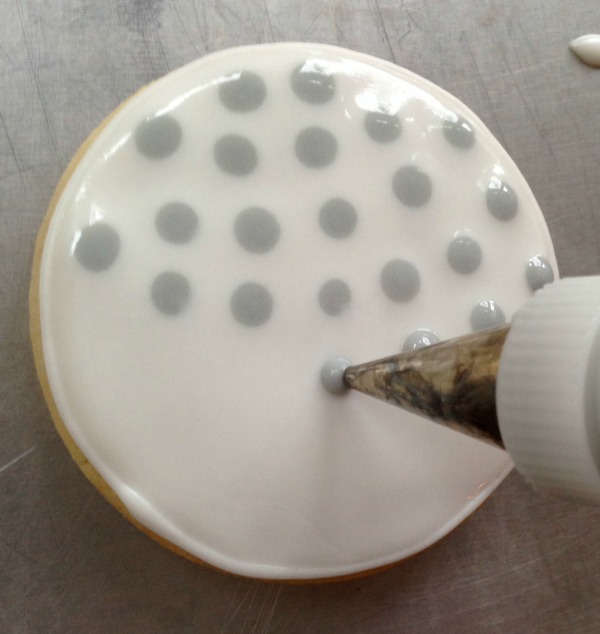 Next, drop in grey dots.  I like to do these in lines that have an upward curve, which gives the ball a more rounded look.  Plan on working sort of quickly because it's wet on wet.  Using a looser flood icing will also help everything smooth out nicely in the end.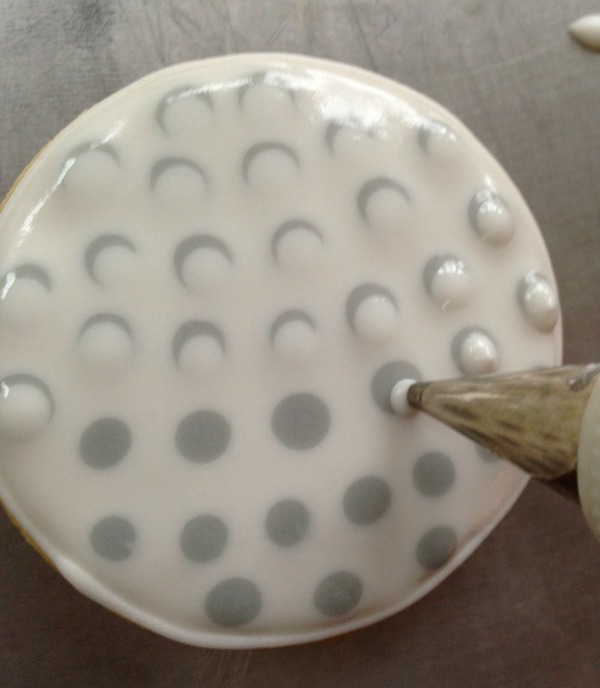 Immediately drop in the white dots just a smidgen below each gray dot to create a cool "shadow effect" on the dimples.  Be sure to cover the bottom edge of each gray dot or it'll simply look like you have a white dot inside of a grey circle.  That's not the look you're going for.  Just remember to work as quickly as you can, but don't worry about it being perfect.  Let dry, and pipe some grass, words, or nothing at all it that looks good to you.
If it helps, here's a short video to show how I drop in the white dots and push it up into the grey to create the uniform arches.  It may look lumpy at first but if your consistency is right it'll all smooth out in the end.
I hope you'll try these soon, maybe in time for Father's Day?