One of my favorite things about the holidays is sharing them with family and friends.  This year I broght the tradition to my little corner of the world wide web and invited some of my favorite decorators to stop by and share a little Christmas cookie cheer!
First up is the amazing Michelle, of Make Me, Cake Me.  Michelle specializes in practical but stunning cookie designs for every occasion.  Enjoy!

Hey cookie friends! My name is Michelle and I'm over the moon to be here at Sugarbelle's! Since I first started cookie-ing and writing my own blog, Make Me Cake Me, I've been an avid follower of Callye's work. My own cookie designs are filled with elements of Sugarbelle (this cookie is a perfect example of that!) and I can't believe she thought me worthy to share a cookie with all of you! Picture me bowing down in cookie deference. I'm not worthy!
Anywho, I've been thinking about Christmas and if my life experience has taught me anything, Santa isn't the one making a list and checking it twice…
It's this gal…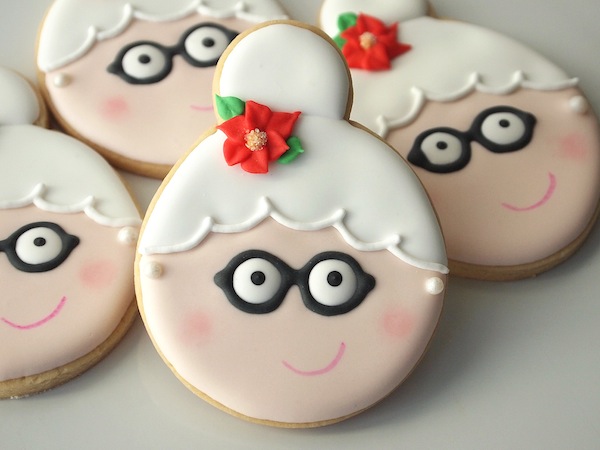 That's right! It's the one and only first lady of the North Pole, Mrs. Claus!
Mrs. Claus is dramatically underrepresented in cookie form. A few weeks ago, I searched "Mrs. Claus Cookies" on Google's image search and no decorated cookies popped up. Totally unacceptable!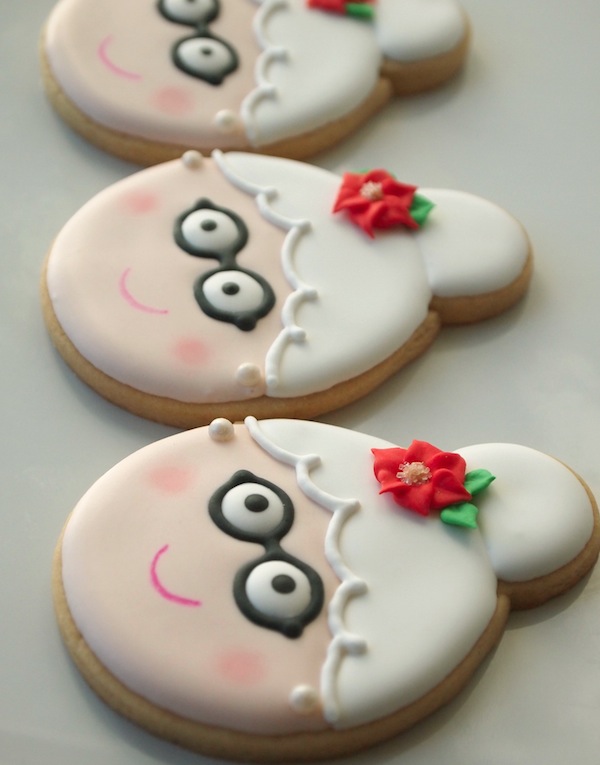 When dreaming up cookies, I always seek to keep my cutter stash in check and use what I've got. I took a page out of Callye's book, sketched a general shape, and looked to see what I have that might work. Callye's ballerina cookies are quite similar and use a ring or an ornament cutter. Alas, I have no ring or ornament cutter (criminal, I know!).
Option 1: hacking together a balloon cutter and a mini tulip cutter! I love how the tulip makes Mrs. Claus's bun super big.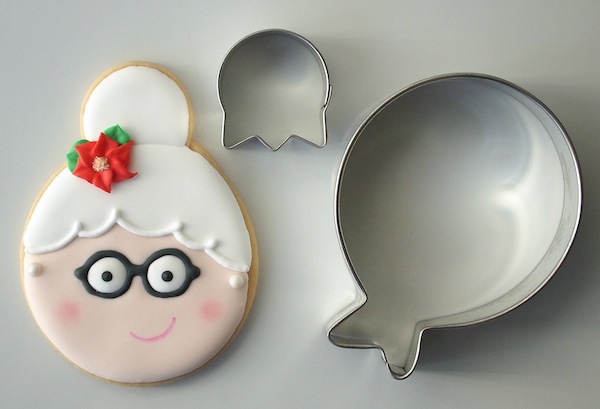 If you don't have a mini tulip cutter yet, I highly recommend picking one up. So useful for so many things beyond tiny tulips, including these spooky cuties.
Option 2: hacking together an egg cutter and a mini tulip cutter. With an egghead, Mrs. C reminds me of a 1950s waitress, but that's cool. She's retro.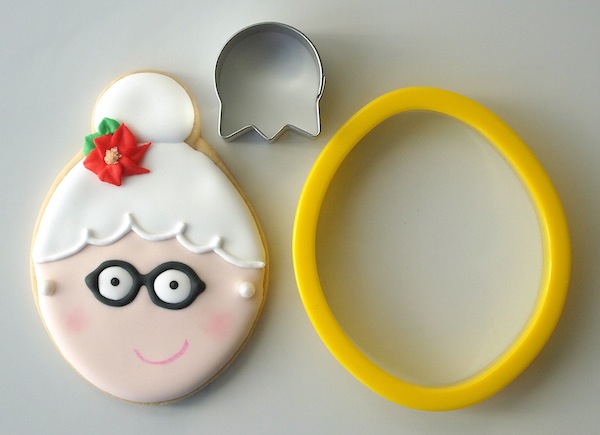 Here's how the cookie cutter mash-up happens. I like to work right on the baking sheet, so I'm less likely to smoosh the dough as I position the pieces.
Okey-dokey, flip the tulip cutter and use it to cut the balloon's bottom off.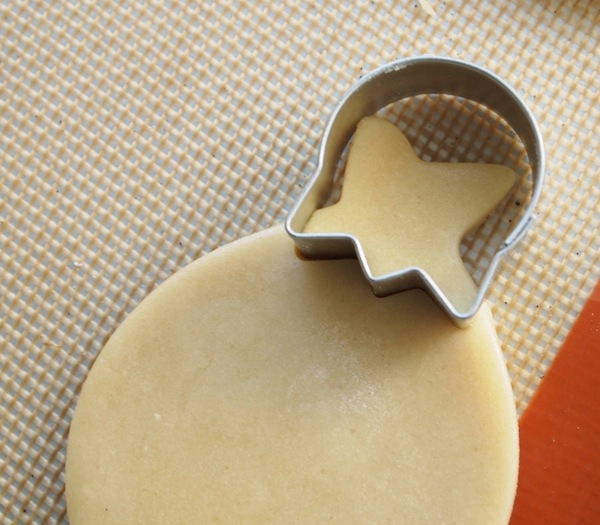 Slide the flipped tulip dough right in and voila!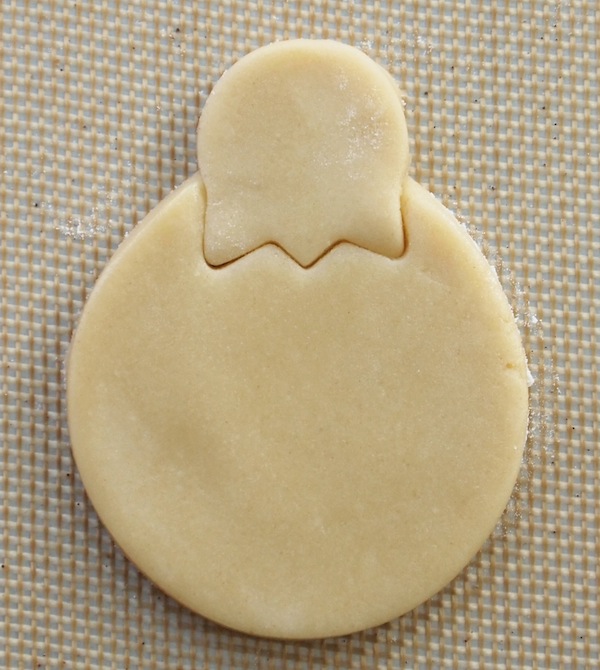 Let's get decorating! Grab the following supplies:
While these cookies have a lot of elements, most are made in advance, which if you're a planner like me is fantastic!
I made a ton of poinsettia royal icing transfers a couple weeks back and have been finding lots of great uses for them.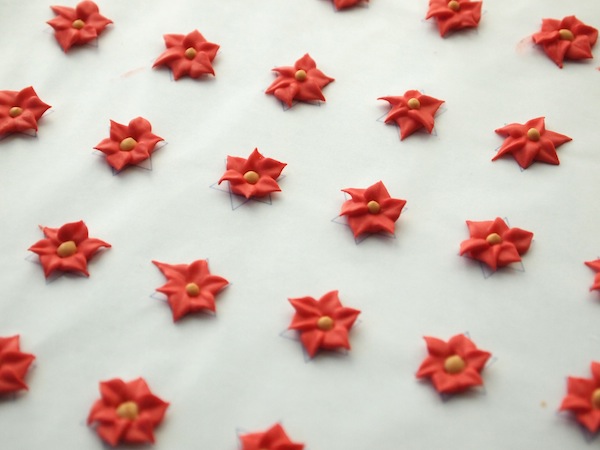 Also made in advance are eyeglass royal icing transfers. I scaled down Callye's fabulous template to about 70 percent of the original size. Do make a good number of extras as they are fragile.
Of course, if you have a cookie projector like my friend Keely of Sugared Hearts Bakery, you could just pipe right on your cookie and end up with these adorable and sparkly spectacles! We both made our Mrs. Claus cookies on the same day without each other's knowledge. Like Sugarbelle and Lila Loa, we had a cookie mind-meld!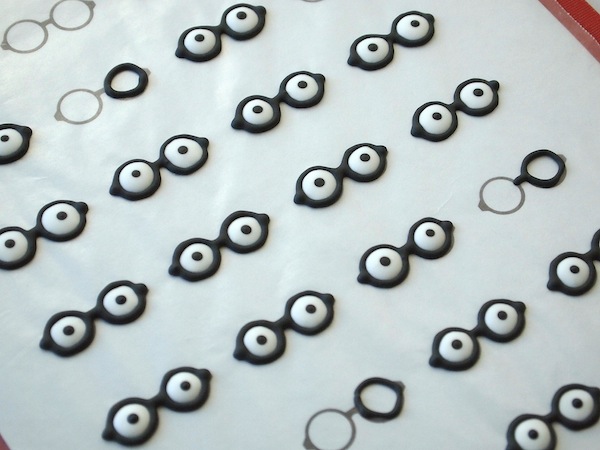 Now that the royal icing transfers are at the ready, we can get to the fun part. The cookie!
I'm not entirely confident in freehand piping, so I drew a guide on my cookie with an edible marker. From there, I filled Mrs. Claus's hair with white 20-second icing.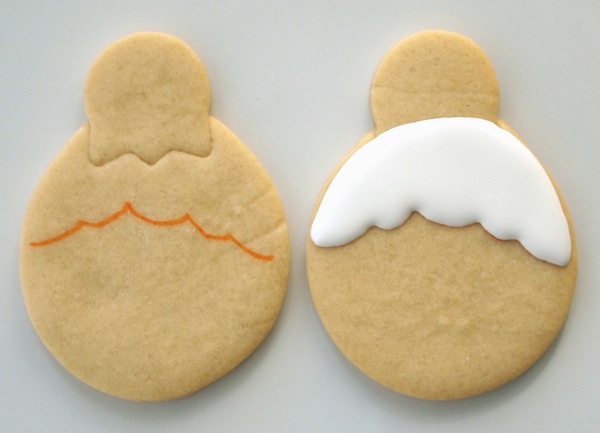 After the icing's top surface is dry-ish, about 20 minutes, fill her bun with more white icing.
For the next step, flood her face with flesh tone icing and while still wet, drop in the eyeglasses. I find it helpful to position them with a scribe tool or toothpick. Quickly, while the icing is still wet, drop in white sugar pearls for her earrings.
Mrs. Claus keeps it classy with pearls. Me, I'm a hoops kind of girl.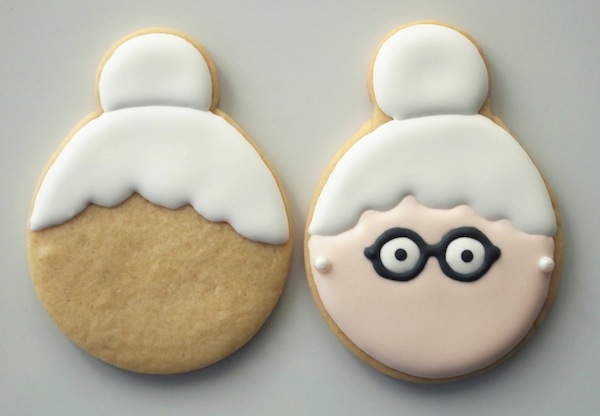 Let the icing fully dry a good 8 to 12 hours. The last steps are quick and easy, and where the magic happens.
Use a dot of white icing to "glue" the poinsettia to Mrs. Claus's hair and pipe a few white lines to accentuate her curly hair.
Add a little rouge with pink petal dust and a Q-tip (more on that technique here). For Mrs. Claus's mouth, I used a pink edible marker from Americolor. While you could pipe a pink mouth, sometimes the easy route gets the job done just fine.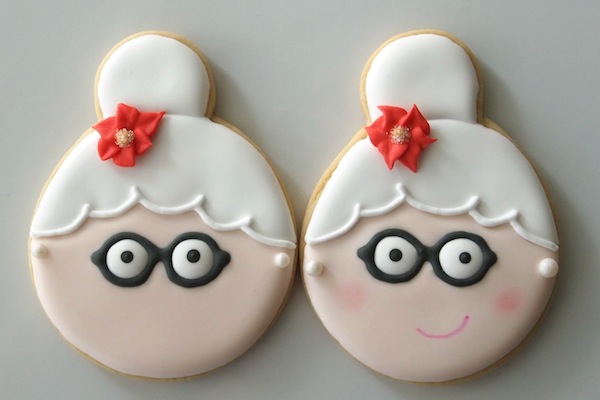 For Mrs. Claus's bun, I ultimately decided they looked best with green leaves and piped them in at the last minute. You can most certainly add the leaves when you first make the transfers as this will save you time later on. Either way. No big deal.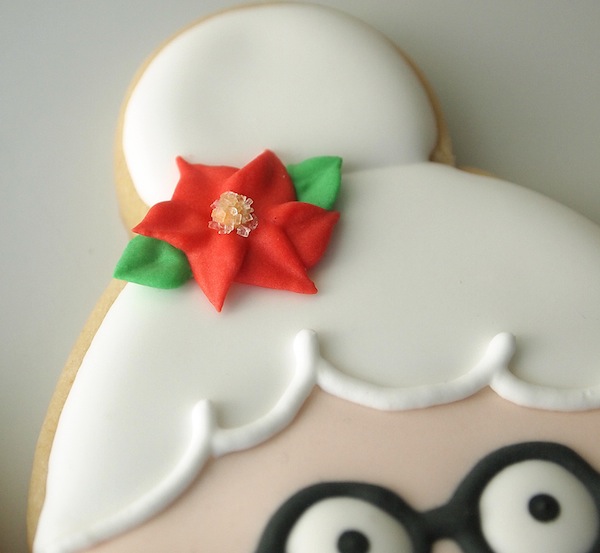 In case you're curious, I used a balloon cutter purchased from my local bake shop, but also available at Karen's Cookies. The mini tulip cutter is from Wilton's 6-piece Mini Romantic Cookie Cutter set and the egg cutter is from Wilton's 101 Cookie Cutter set.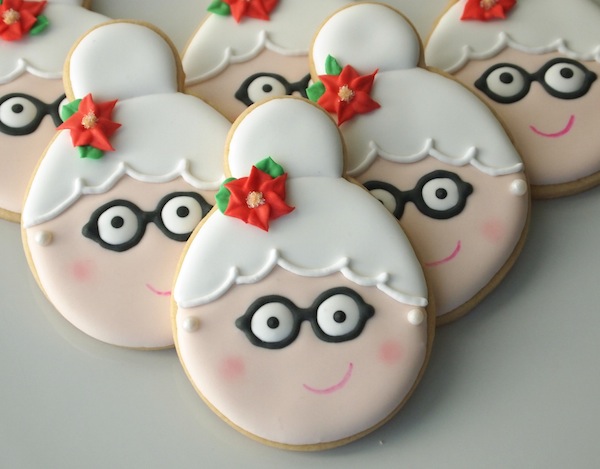 Thanks so much for letting me drop by and share a cookie, Callye! I'm still pinching myself! Wishing you and all of your incredible cookie fans a cheerful and sweet holiday season!
For Santa and the rest of the crew, check out the following posts: