In my previous post I mentioned that 2021 wasn't very good to me. I survived, along with the rest of the world, but I was tired, and in need of a little "quiet." When it came time for my friend Georganne and I to organize our annual "Twelve Days of Giving," we just didn't have it in us. Then, a few friends and supporters unexpectedly reached out to make sure we were okay.
There's something  profoundly meaningful in knowing that people notice when you're not around. It's small gesture, but knowing that people care enough to make contact, completely changed our perspective, and just like that, we were ready to try again.
And we did! I managed to type precisely one post before falling behind. As usual, amidst the normal holiday hustle and bustle in a family of six, I couldn't keep up, and then suddenly, it was 2022 and I was back to my yearly tradition of beating myself up for being unable to accomplish the fifty-million things I'm supposed to each day.
It didn't last long, though. It seems like the best lessons come with hard times, and after a long, emotional-rollercoaster of a year, I felt like I owed myself a little mercy. Just like everyone else, I'm doing the best I can, even if that means I-no joke-wrapped some of the gifts for our family Christmas gathering in plastic grocery store bags.
Now that it's January, here I am again. Refreshed, I think. I've always loved the beginning of a new year. There's something so hopeful about a clean slate and the excitement of things yet to come, which gave me an idea for the next giveaway in our series, and the perfect way to start off 2022…a ticket to Cookie Con 2022 in Reno, featuring my friend, and not-so-secret cookie genius, Amy Clough, as the keynote speaker!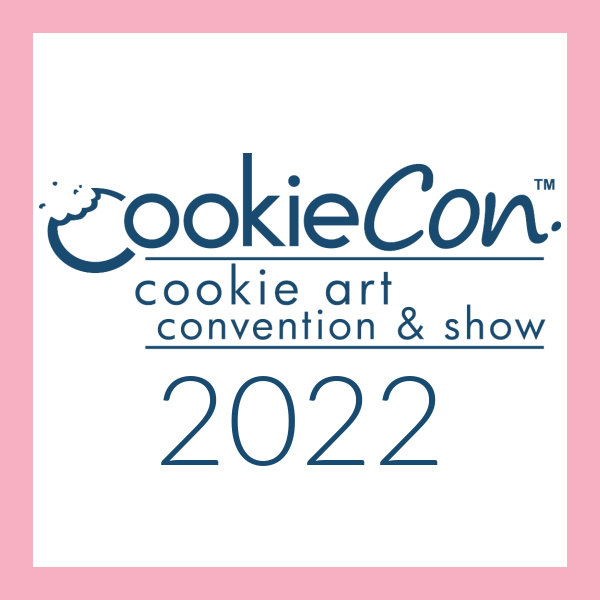 If you've never attended CookieCon (or even if you have) you HAVE to go! Cookie Con is is a yearly international cookie decorating convention that is hosted at different locations around the country. The three-day event begins on Thursday with social activities and a keynote address, and runs through Saturday night.
Friday includes a full day of classes featuring pretty much any cookie decorating technique or topic you can imagine and at the end of the day, participants are invited to attend a "mixer night," hosted by all your favorite vendors.
Saturday brings even more fun with an open decorating event that allows you to practice what you have learned, along with anything else you may want to try (except for nude decorating, you have to do that in your own room) and also features  smaller "Break-Out Sessions" that cover subjects like photography and icing . Other fun activities include decorating competitions and tasting events. On Saturday evening, there is a catered banquet/award ceremony followed by Cookie-Karaoke for those who just don't want the party to end!
If that isn't enough, you can spend your downtime shopping the Vendor Hall, a room filled with all the best cookie decorating supply shops, or roaming the Sugar Show, which is literally an ephemeral cookie decorating museum.
Early arrivals also have the option of enrolling in Add-On Workshops, smaller, classroom- style specialty workshops hosted by elite decorators two days before CookieCon officially starts.
If you love cookie decorating, CookieCon is one event you don't want to miss!
To enter, just click the "Easy Entry" button. You can also earn additional entries by visiting additional prompts below! Then, hop on over to Lila Loa and enter again!