Hot Chocolate Mug Cookies with Semi Sweet Mike
Every year, I like to host my own version of the Twelve Days of Christmas, decorated cookie style. And just like the Second Annual Twelve Days of Giving with Lila Loa and Sugarbelle, I am running behind.
My one and only New Year's resolution for 2016 will be to get and stay ahead, but in the meantime, here's the first of my holiday guest, Mike, the brilliant brain behind Semi Sweet, with these adorable hot chocolate mug cookies!
Hi, everyone! I'm Mike and I blog about cookies over at Semi Sweet. Thank you, Callye, for inviting me back again this holiday season! So happy to be here!
After getting my fill of pumpkin spice lattes during the fall season, I've moved on. There's another drink I'm looking forward to for the upcoming wintery months– a big ol' mug of spiked eggnog hot chocolate with marshmallows! That's where I grabbed my inspiration for these cookies. Let me show you how you can recreated them!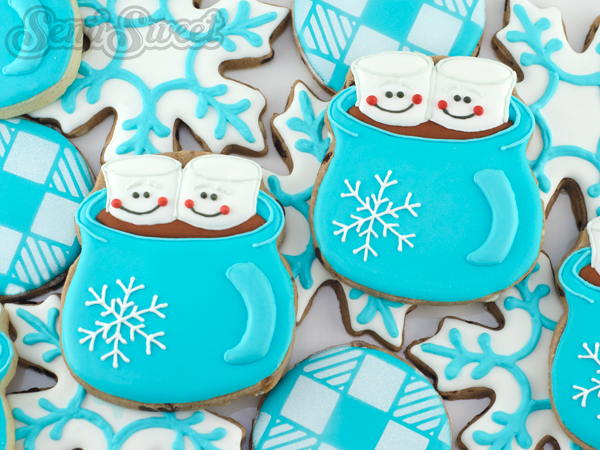 To make these hot chocolate mug cookies, I used this Comfort Grip skull cookie cutter from Wilton. Just trim off the top (as shown below) with a large round cookie cutter or a knife.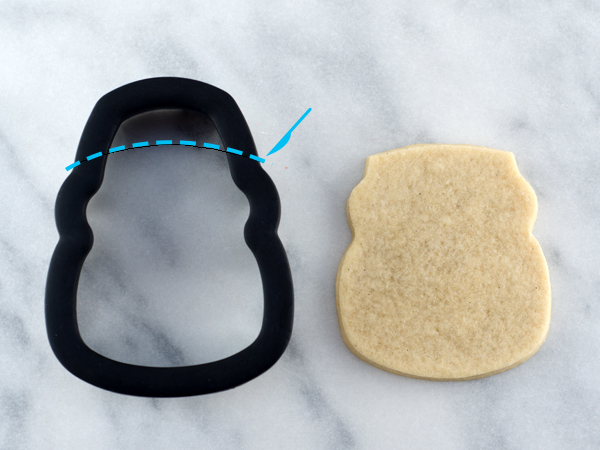 Feel free to use your favorite sugar cookie recipe. Or, if you would like the flavor of the cookie to match this design, I just posted a new hot chocolate roll-out cookie recipe you are welcome to try.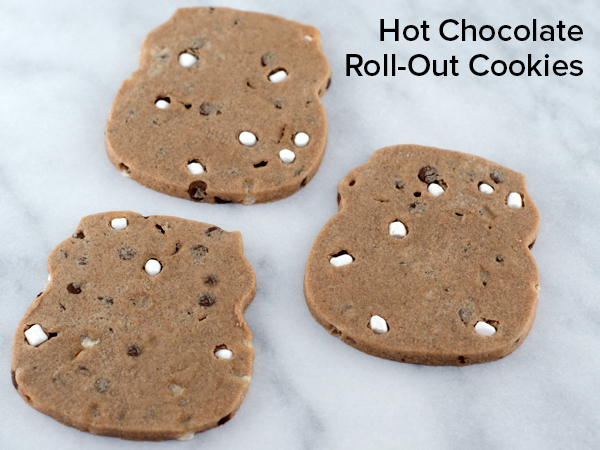 That recipe has tiny morsels of chocolate chips and marshmallow bits that add a fun twist to the typical roll-out dough recipe. However, it is a little visually distracting for a tutorial. So for this how-to, I demonstrated on my regular sugar cookie recipe to keep things simple.
To decorate these cookies you will need:
Chocolate Brown piping and flood icing
Winter Blue piping and flood icing (I used Sky Blue with a drop of Turquoise. You just need to add a tiny amount of both.)
White piping and flood icing
Light gray piping icing (I used a touch of Royal Blue and a touch of Super Black)
Red piping icing
Black piping icing
To help with the decorating process, I provided a template of this design. You can download the hot chocolate mug cookie template HERE.
If you have a Kopykake or Pico projector, just print it out (or pull it up on your mobile device) and you are good to go. For those without a projector, follow the suggested steps below by tracing the design onto the cookie with an edible food marker.
Begin by outlining an "eye" shape in the middle of the cookie with chocolate icing, as shown below. Then fill the section with chocolate flood icing.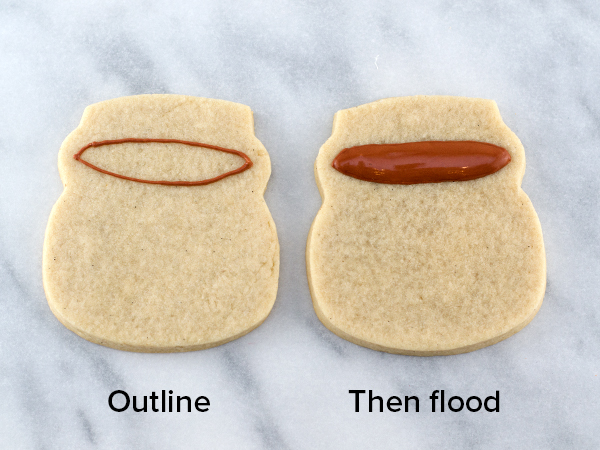 Next, outline the "mug" area with the blue piping icing. Then fill that area with blue flood icing. Give this icing time to dry (about 2 hours).
After the mug area had time to dry, it's time to add the marshmallows. Outline two marshmallow shapes with white piping icing. Then fill each section one at a time. Let the icing set for about 15 minutes before filling in the second marshmallow.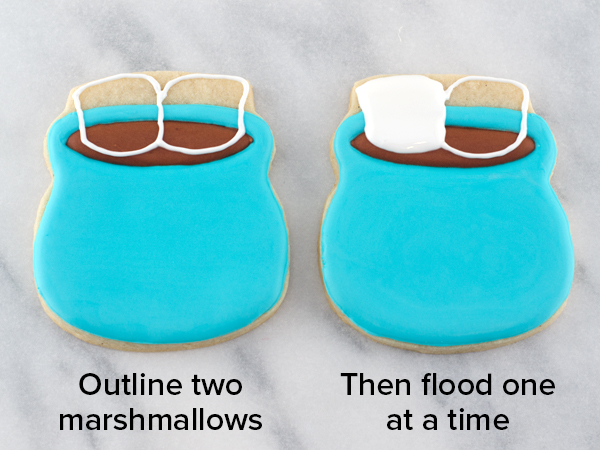 Once the marshmallows had time to set, add the mug details. Outline around the rim of the mug, and outline and fill a curved, mug handle off to the side. Then, with white piping icing, add a snowflake to the side of the mug.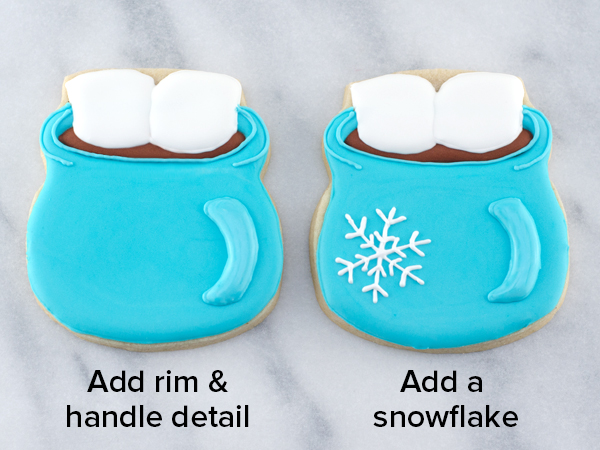 Lastly, add the final details on the marshmallows. I like to outline the white marshmallows with an off-white, light gray color to stand out more from the white marshmallow base. For the faces, add whatever facial details you see fit. I find eyebrows are always a nice touch.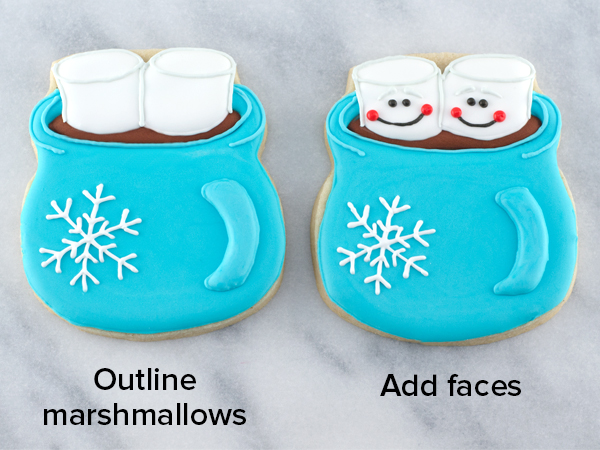 The finished hot chocolate mug cookies should look like the ones below.
To compliment these wintery mug cookies, I included simple snowflakes and round, airbrushed cookies in a buffalo plaid pattern. I think the buffalo plaid adds a nice cozy feel to the set. To airbrush on white coloring, I followed this guest tutorial by Sugared Hearts Bakery.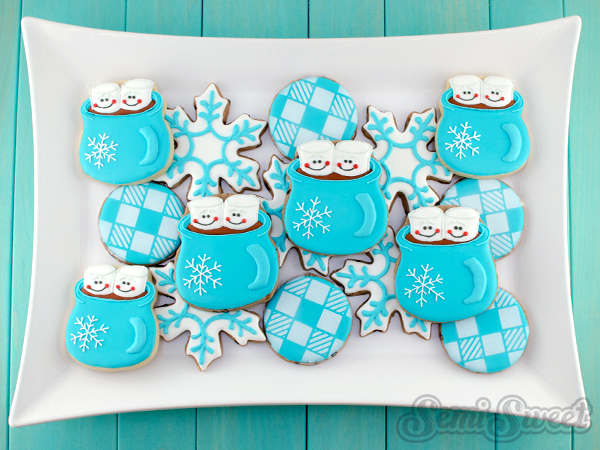 Happy holidays and warm winter wishes, everyone!