Christmas Puffer fish Cookies with The CookieMonger
One of the coolest things about having Christmas visitors is the gifts they bring. Each and every new guest post is like opening a special gift. It's always a surprise, and I always learn something new.
I am especially thrilled to share these Christmas puffer fish ornaments made by my friend Stacey, The CookieMonger, because of the intrigue I felt as I read through the instructions and learned how to create the amazing texture and dimension that she's known for.
I cannot wait to try it myself, and I hope you will too. Enjoy!
Hi everyone! I'm Stacey, The CookieMonger. Thank you Callye! I'm so excited to be here!
I love the ocean, so in the rare instance that I have time to make my own cookies, I almost always gravitate toward fish or some other sea creature. This cookie is meant to look like a blown glass puffer fish ornament (pun intended, insert laugh here)—shiny, pearly, sparkly, perfect in its imperfection, and most of all, fun!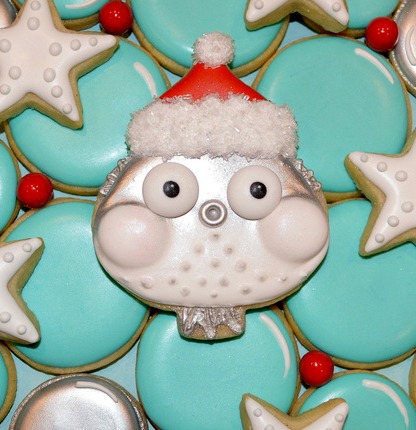 What you'll need:
Wilton ornament cutter (This cutter was available a couple of years ago—the same cutter that Callye used on her famous Grinch faces. If you don't own this cutter, a similar version can be used, or you can frankencookie shapes or just use a circle.)
White, lettering-consistency icing (The consistency will be like toothpaste and will hold a soft peak. It needs to maintain its shape enough to puff the cheeks and hold the spikes until the cookie can be put in front of a fan to dry. It will almost seem like it's too thick to settle.)
Red 20-second icing
Black, stiff consistency icing
White pearls
Silver luster dust (I prefer Rolkem, but any brand will do)
Clear Sanding Sugar
Pearl luster dust
Pink luster dust
Rainbow glitter dust (optional, but it really adds to the final look)
Toothpick or scribe/needle tool
Paint brush
Fan (optional)
Begin mapping out the design with a food safe marker, then pipe a tail and flippers in the shape of a rounded W and brush out to make a thin, striated layer. Be sure to leave some room between the flippers and the hat.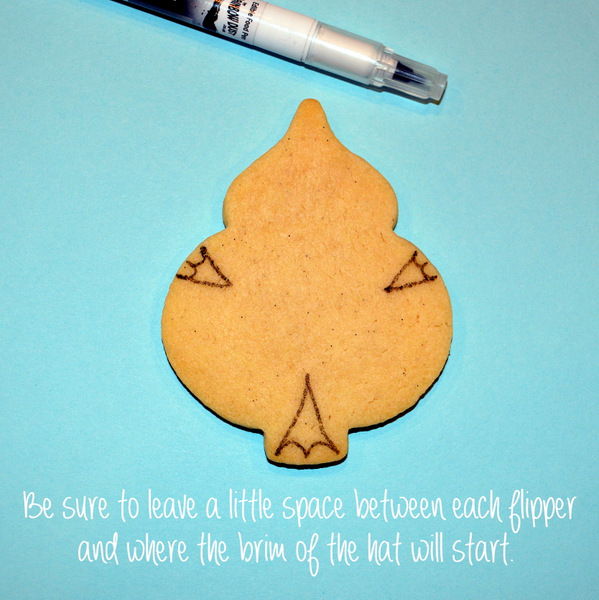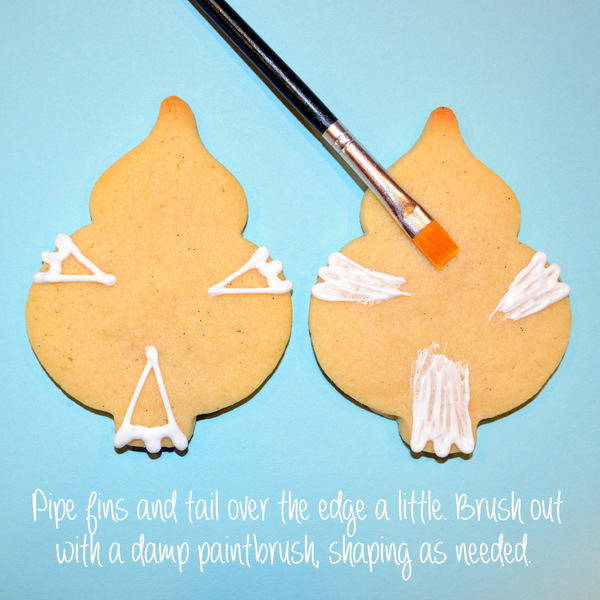 Next, pipe a circle, making sure to not cover the flippers, (don't worry if your circle isn't perfect–you can adjust it when you fill) then flood in the top half of the circle with your icing. The icing will be too thick for it to self-settle, so you will need to "push" your icing around with the tip. I swirl and fill, fluffing and smoothing the icing as I go. You could also wiggle it around with a scribe. The top half needs to be somewhat smooth, but the bottom half doesn't, as you'll be spiking the icing.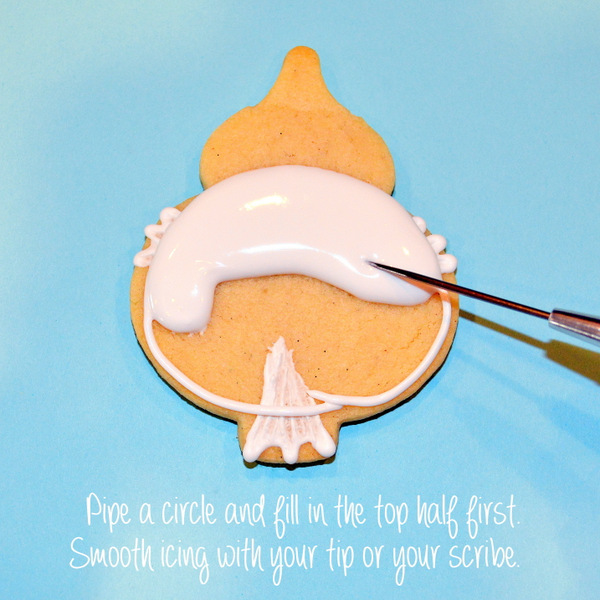 Fill in the rest of the circle. Working quickly, insert your icing tip into the fresh layer where you want the first cheek to be. Without moving the tip, squeeze the bag until the cheek is puffed to your liking and then fill a little bit more since the cheeks will settle a little and you don't want them to disappear. Quickly do the other side, trying to maintain symmetry.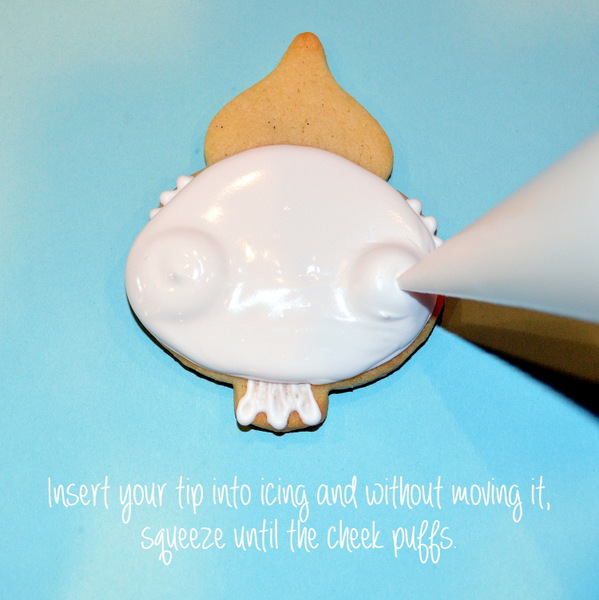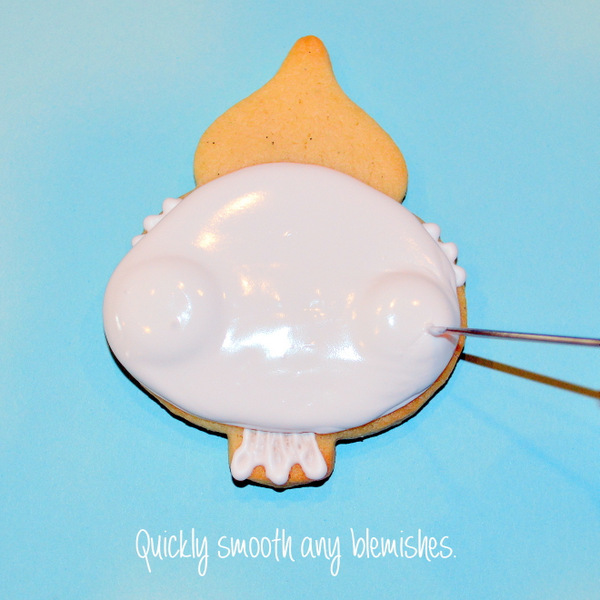 For the spikes, quickly dip the back of your scribe tool or the back of a clean, plastic-handled paintbrush into the icing between the cheeks and pull it straight up. Move down doing rows of alternating spikes like a pyramid and adding a few to the side of each cheek. Once the belly is spiked to your liking, place it in front of a fan to dry for 20-30 minutes.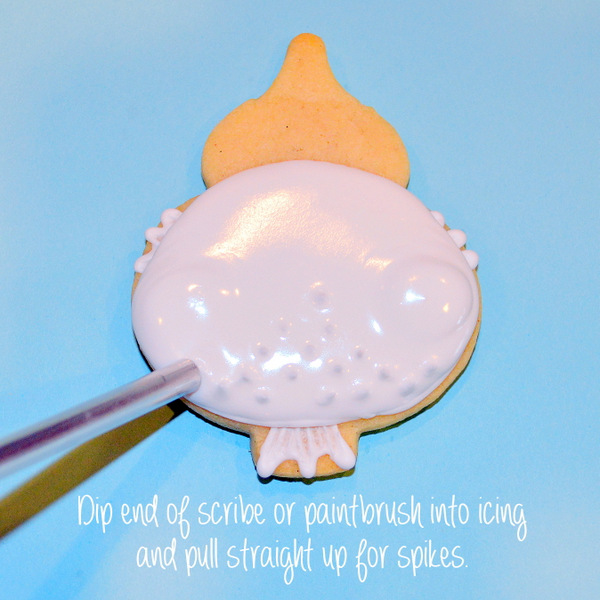 Once the icing has a matte finish but isn't completely dry, place a dot of icing between the cheeks. Place a white pearl on top and tap it with your scribe until the crust of the base layer gives under the pearl. Continue to push the pearl straight down with your scribe until you feel resistance when it reaches the top of the cookie. This will create a perfect circle for the mouth and will also give it some depth.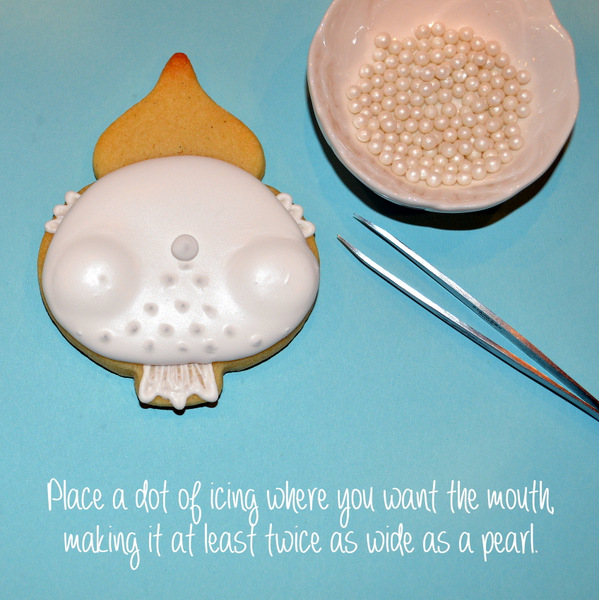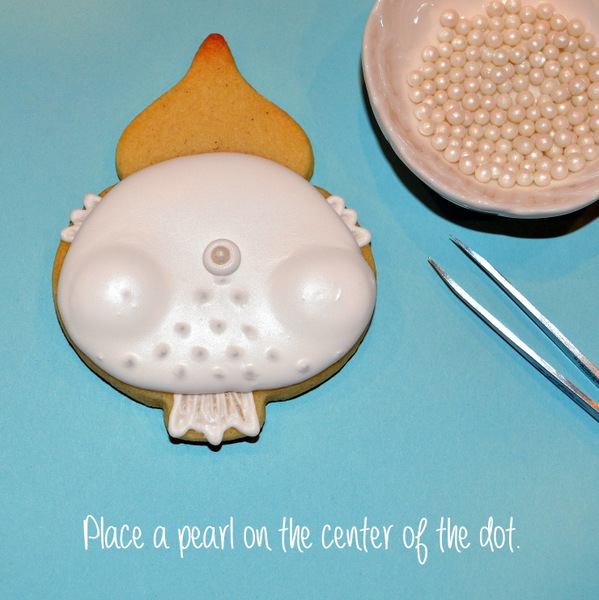 Let the cookie dry another 20-30 minutes in front of a fan. Once the top layer is semi-dry yet firm, brush dry luster dust on the top half of the face and on the flippers, tail and mouth. The moisture from the not-completely-dry icing will grab onto the dust and give you an amazing sheen without pitting your icing. If you find the cookie is too dry, then a barely-damp paintbrush will work, but it might take some layering. Rolkem is perfect for this step because you can layer without damaging the finish and you can buff it to a shine with a soft paintbrush. You can always choose to paint the color on when dry, but painting is my nemesis so I avoid it if possible. An airbrush would also work.
Now for a few details:
Fill in the hat with icing and let the cookie dry a few hours or overnight.
Pipe the brim of the hat and the puff ball on top. Dip into clear sanding sugar and sprinkle with glitter dust.
Dry-brush the cheeks and belly with pearl dust and then lightly add pink to the cheeks. Dusting in this order will allow you to better control the amount of pink that stays on.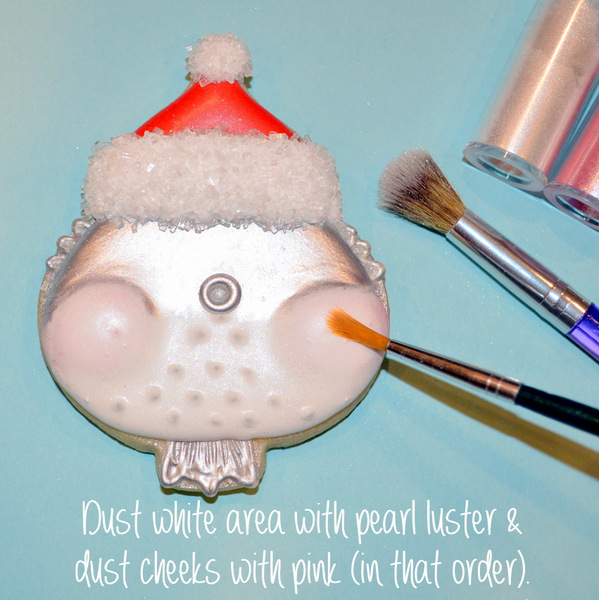 Lastly, add the eyes, making them as large or as small as you want. Add black for each pupil and a little white for a reflection and let them dry overnight…and you're FIN-ished!
If you'd like to simplify the process a little, try some of the tips below:
Use black pearls for pupils-I have some from How Sweet is That? that are truly bleed-free!
Don't puff the cheeks
Leave out the spikes
Don't coat the hat with sanding sugar
Pipe a tiny circle or heart for the mouth
Use airbrush colors
I added several mini white starfish as well as turquoise and silver rounds in a few different sizes to look like bubbles in order to give them a watery winter wonderland.
Add these puffer fish to any holiday celebration and they'll inflate your fun, guaranteeing that your party will be a blow out on a massive scale! (Okay, I think I'm done with the bad fish jokes.)
Thanks to everyone for following along! Happy Holidays!!!