Accenting Decorated Cookies with Stencils {Guest Post}
According to the Urban Dictionary a squee is, "a noise primarily made by an over-excited fangirl, however it has spread rapidly and is now widely spread among the web community."
Up until last Thursday I'm pretty sure I have never EVER "squee-d", but my friend Hillary, AKA The Cookie Countess changed all that.  I'm now a "squee-er".
What, you ask, could possibly make me squee? As of now, guest posts like this. Guess that makes me a rabid fan girl, right?
Anywho, I am inspired!  My mind is already on overload thinking of things I want to try.

I recently had a dream that Callye was asking me about my tires. Well, actually, my tire tracks to be exact. But it wasn't a dream. She really did want to know all about my tire tracks. These tire tracks…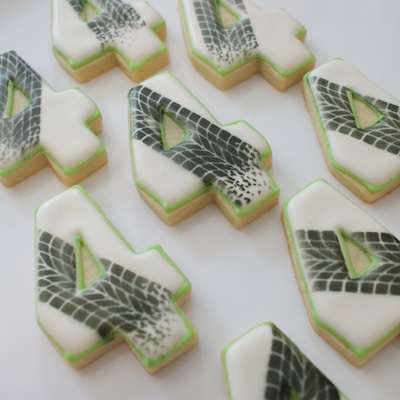 Have you ever had an idea come to you, where you can almost literally see the light bulb pop up over your head? I was asked to make a monster truck themed birthday platter for a special little boy who was turning 4. I knew there would be monster truck cookies, and I knew I would make some number 4 cookies. But I wanted to jazz up the 4s a bit… and then it came to me – tire tracks!!!!!
Awhile back I bought a Duff airbrush machine, and had put off figuring out how to use the thing. But this was the perfect occasion. So off I went to Google tire track stencils. Don't you just love Google?! Seriously I could Google all day.  What I found were the perfect sized tire track stencils by a company called BAMS, short for Bad Ass Mini Stencils.  And let's be honest, how can you not want to buy something with Bad Ass in the title? BAMS are specifically made for face painting, which means they are the perfect size for stenciling smaller cookies. They were super easy to use and the end result was perfect! I used the same stencil both on the number 4s and as the background for some monster truck clipart cookies.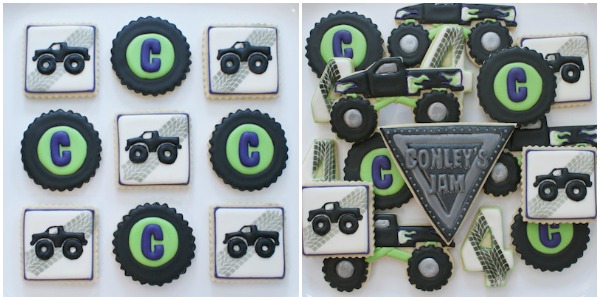 Today I'm going to talk about how to use the tire track stencil as well as other ways to use stencils in your cookie decorating. I won't go into detail about how to airbrush, as Sugarbelle and The Barefoot Baker have already done fabulous tutorials on this.  You can read them here and here.
You will need an airbrush machine (or airbrush spray can), airbrush specific food color, and your stencils.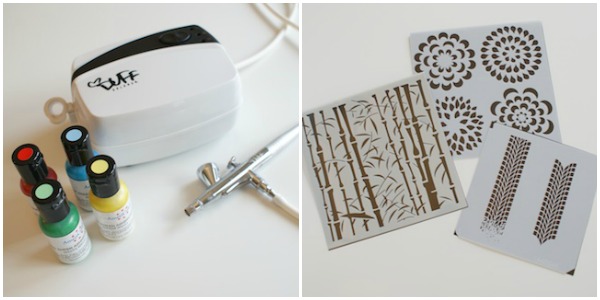 And of course you will need your cookies, that have been piped, flooded, and allowed to dry completely. When icing cookies to be stenciled, I like to outline and flood right to the edge of the cookie, instead of leaving a "naked" border. This way you won't have to worry about any overspray from your airbrush getting on the cookie and looking sloppy.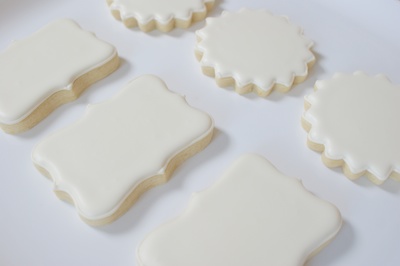 For this post I made some new numbers, and went with the number 2, just for fun. ( A letter would be great too! ) I piped my 2s in orange, to give a pop of color, and let the outline dry before flooding in my white.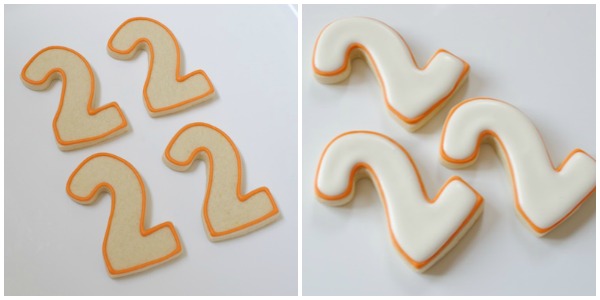 I used another smaller cookie on the right side of my number 2, just to prop up the stencil and keep it flat. Then I gave it a light spray using Americolor's Amerimist in black.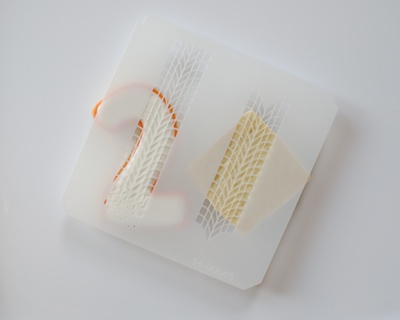 If you are doing a bunch of cookies you can have some fun using either of the track stencils, and placing them in different directions on your cookies.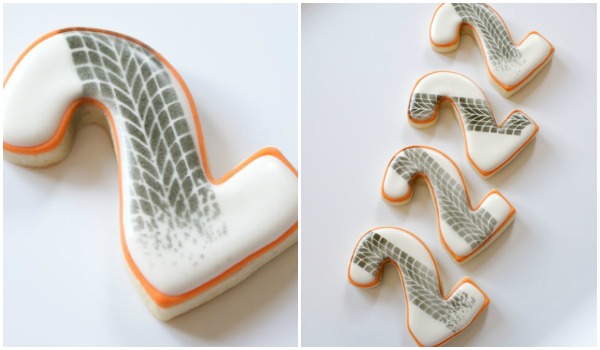 Finding stencils to use on your cookies isn't all that hard once you know where to look. There are stencils made specifically for cookies on websites like Designer Stencils, Fancy Flours, Karen's Cookies, and Global Sugar Art  You can also look at non-cookie sources. Etsy is great place to buy quality scrapbooking stencils like these.
Stenciling cookies is a great way to add another dimension to your decorating repertoire. You can use stencils to help tell the story of a theme.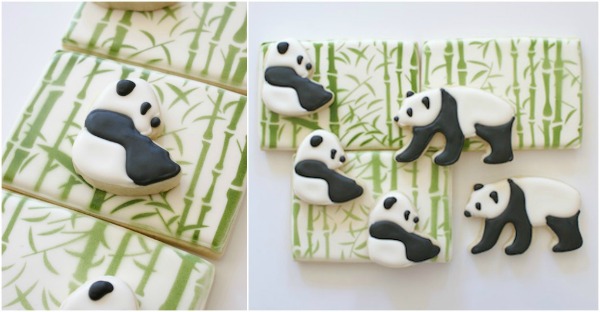 Stencils also look great on their own…especially when you use lots of colors.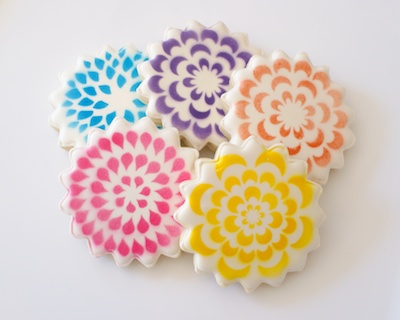 An allover stencil can also be the perfect background to a favor cookie, such as a monogram.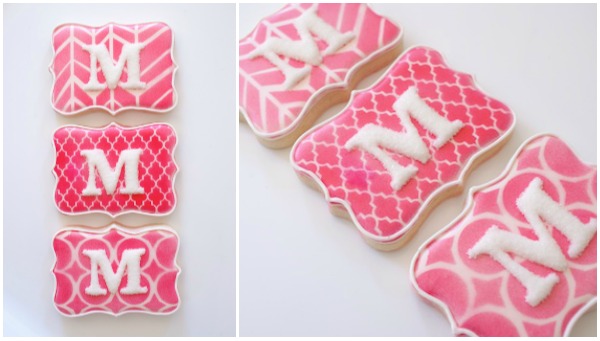 Have fun stenciling! If you are like me, you will soon need a way to organize all your stencils along side your ever growing cookie cutter collection! 😉
Resources:

To keep up with Hillary you can find her on Facebook or read her blog here.  Remember, she also teaches classes so if you're in you're anywhere near northeastern Connecticut, sign up HERE.
I hope you've all got a shopping cart full of stencils already. I'm trying to talk my hubby into these as we speak.  Wish me luck!