Make Your Own Sanding Sugar
Now that I've confessed my love of sanding sugar, I guess it's okay to tell you how deep the obsession really runs.  After seeing my collection, you'd think I have enough, right?
But I'm not one for stopping at enough.  I'm an above and beyond kind of girl.
If for some reason I don't have sanding sugar in the color I need, I make my own.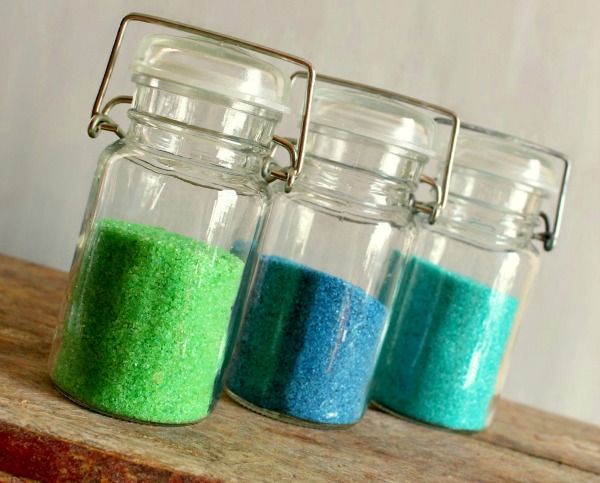 And just so I'll have others to point fingers at when my husband starts accusing me of being crazy, you should too!  It's SOOOOOOOOOOOO easy!
Here's what you need:
clear sparkling sugar, which can be found HERE
gel food coloring like Wilton or Americolor
cornstarch
heavy duty zip top bag
cookie sheet lined with waxed paper
To begin, pour 1/2 a cup of sugar into the zip to bag and add a bit of color.  Start with a drop or two at the most.  A little goes a long way!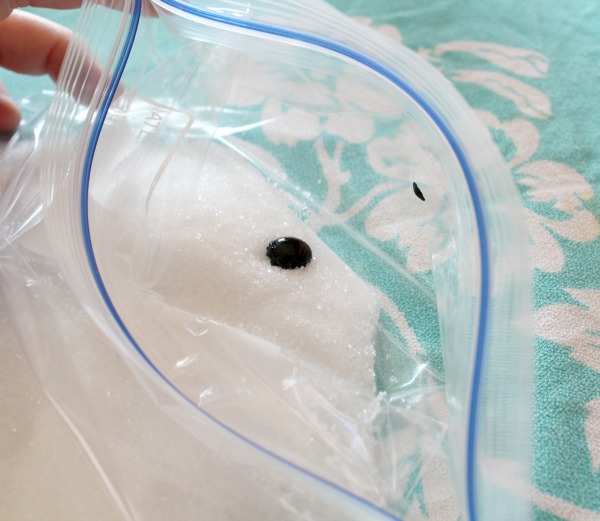 Use your hands to knead the color into the sugar.  Be easy enough that you don't crush the sugar crystals.  It will start out looking like this,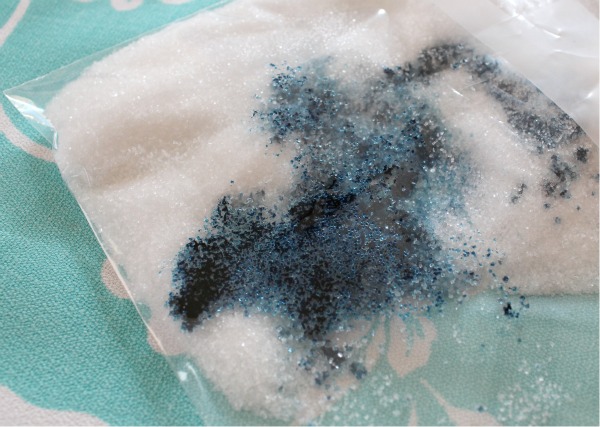 and like this the longer you knead.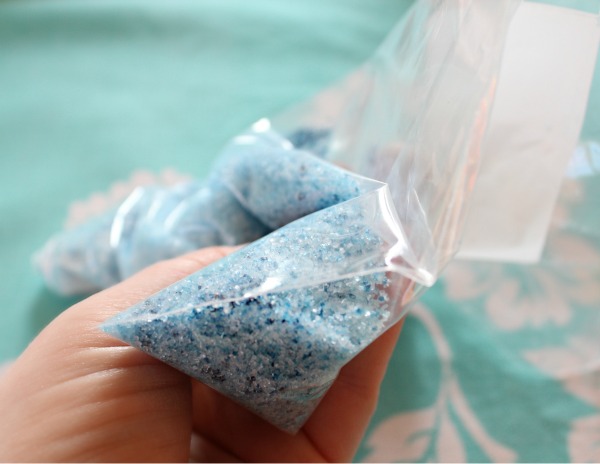 I decided mine wasn't dark enough after a couple minutes of mixing, so I added a bit more color.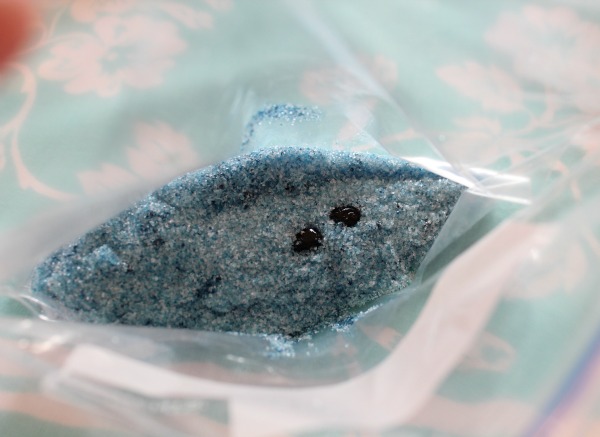 After a few more minutes the sugar finally reached the color I had in mind.  The only trouble is the gel color makes it a little sticky.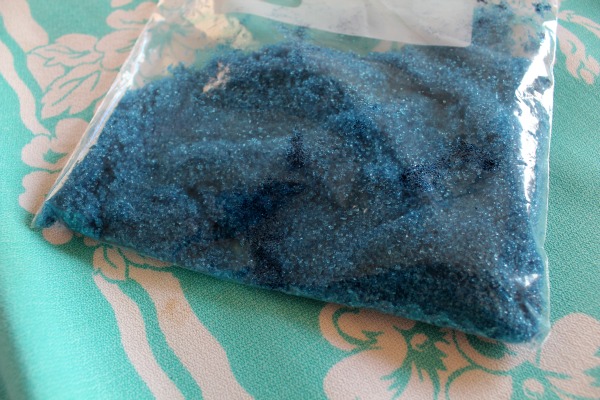 To remedy this I add a bit of cornstarch.  I start with 1/4 of a teaspoon trying to add the smallest amount possible until the sugar "flows" like dry sugar.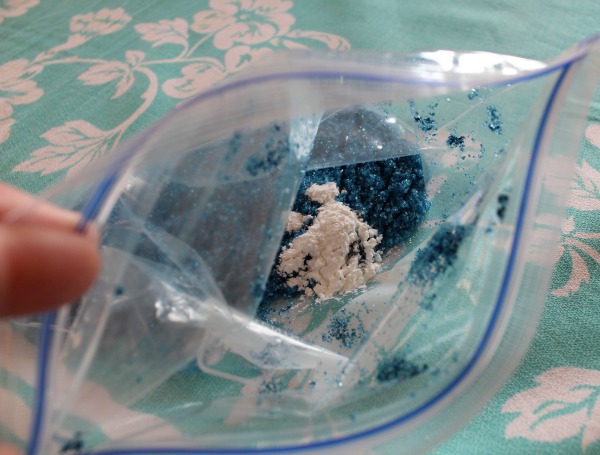 Mix them in the same way you did the color. Lay the bag on a flat surface and spread the sugar out looking for dark clumps and gently break them up with your fingers.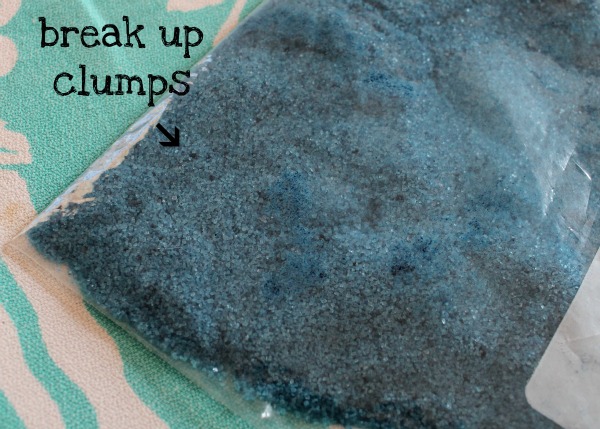 After the ingredients are well mixed pour the sugar onto a wax paper lined baking sheet and let it dry for a bit to get rid of any moisture that might remain.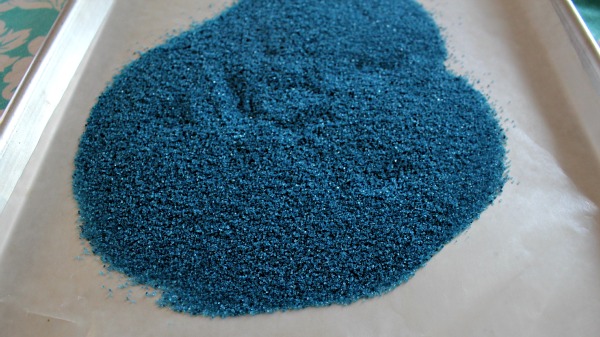 Store the sugar in airtight containers or decorative jars.  Mine are jars from other sprinkles that I'd washed and saved.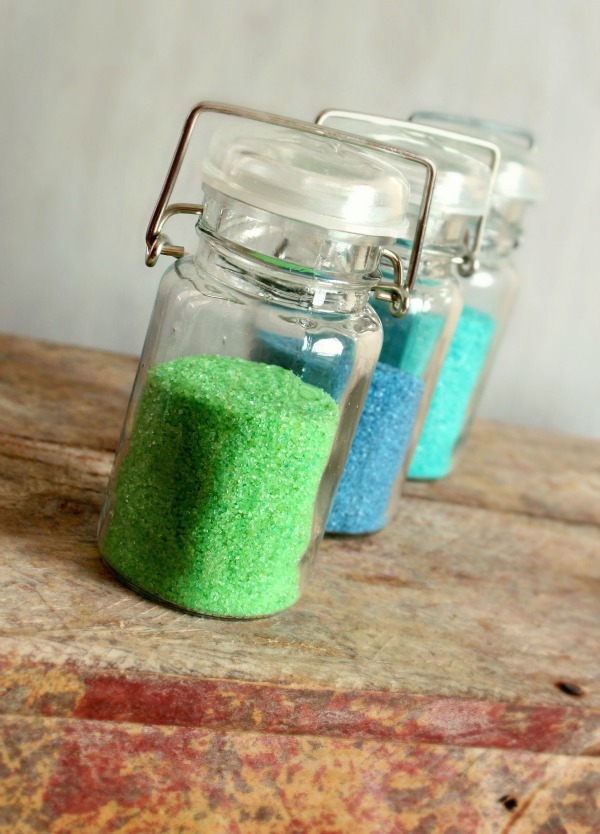 Because of the cornstarch, my DIY sugar isn't quite AS sparkly as Americolor sugar, but it still has a nice sheen and looks great on cookies.  Navy, turquoise, and lime green are the shades I've used most, along with warm brown, electric purple, and salmon pink.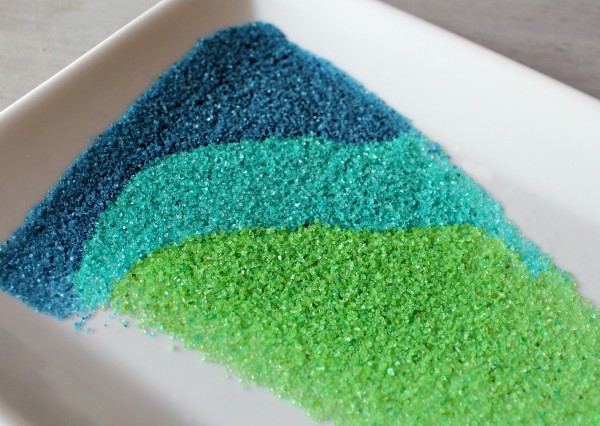 A few tips for those who want to try this project…
If you need a very soft shade, use Wilton gel colors and a toothpick
Sometimes the grocery store carries "sparkling" sugar. In my experience, it's usually only available around major holidays, but it's worth a looksie
regular sugar does not work as well for this because the grains are too small, in my humble opinion
when making custom colored sugar you CAN mix gel colors
keep the color intense by using as little cornstarch as possible
Use heavy duty bags because sugar granules can break through thinner ones
Even though it's a cool trick, never tell your husband about this or he will bring it up any time another bag of sanding sugar arrives at your door
If you're not sure how to apply sanding sugar to a cookie, click HERE
DIY sanding sugar is also great for  people on a budget or with limited storage space.  Try this.  You'll be hooked!
Enjoy the rest of your weekend!
I am linking up to several fun linky parties this week you should check them out.  I find the darnedest things there!
i heart naptime's Sunday scoop
EDITED  I am adding this as an afterthought because I wrote it in the comment section and I am not sure everyone will see it.  If you're worried about shine, they make a product called confectioners glaze that I THINK might make the sugar sparkle more, but mine sparkles enough that I didn't want to invest in anything I wasn't sure of.  In my experience the sparklier the clear sugar, the more sparkly the final product.  I've never played with confectioners glaze so I was a little hesitant to buy a bottle but if you try this and it works, let me know!