Meet Meaghan!
A little over a week ago, I talked about two types of icing royal and glaze (there are more) AND I asked you all which you preferred. The responses were WONDERFUL y'all really made me think!
However, when I mentioned in the post that oil is the enemy of royal icing, I got several comments from girls who DO add oil or shortening to their icing, which made me wonder… Am I completely right? Totally wrong?…Do I even know what I am talking about, or did I just regurgitate something I have been told without verifying…
Sad story first. If you like the kind of finish I have on my cookies, oil IS the enemy! I found this out the hard way (yet again) at 3am last week. I was making an orange variation of my traditional cookie recipe,when I ran out of my usual flavoring…SOOOOOOO without thinking, I pulled out another bottle of orange extract, added it, and went on my merry way. At about 2:30 am I took one last little looksie before I went to bed and my icing did not look right…I knew instantly what the problem was. I had seen it before. I ran to grab my flavoring and verify, and sure enough, it was 11% orange oil. I shouldn't really repeat the next words in my thought process that EARLY MORNING, but they went something like *BLERG, BLERG, BLERG, BLERG, EFFITY BLERG* (Did I mention they needed to be shipped to one of my favorite Californians the next morning?) Another A+ for me in procrastination!
Now let me note, I don't really like to document my worst cookie failure EVER for all the world to read, but if it saves someone else the utter waste of 150 cookies going straight into the trash at 3am after 30 minutes of TEARS, I'll make an exception!
*Yes, I said 150 =(*
Alright, that's enough about my sorrows…the point of all this was for me to say, that WE ARE ALL right. As soon as the comments came in, I thought of two recipes off the top of my head that I KNEW used shortening. One recipe, meringue powder buttercream belonged to Karen, of Karen's Cookies, the other to my cookie pal, Meaghan Mountford, author of Cookie Sensations…
From experience, I try not to make it a habit to talk about things I don't know anything about, so I decided to go straight to the source for those of you who WANT TO KNOW! I asked Meaghan her thoughts on the subject of icing and she was glad to share.
I have already taken up MORE than my fair share of this post *hey it's my blog, I can talk if I want to* so I'm going to turn things over to Meaghan and let HER give you "the skinny" on another type of cookie icing.
It's NOT traditional royal icing. In fact, Meaghan and I couldn't really decide what it was, but she threw out a few names for me…royal-ish icing, frostingesque, frostal…
I like Royal-ish Icing, so we'll go with that one…
So, without further ado (in other words, SHUT UP CALLYE) Meet my friend, Meaghan, of the decorated cookie!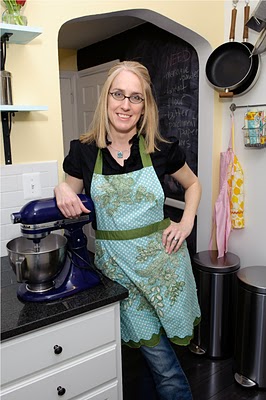 Hi everybody! It's Meaghan, from the decorated cookie. A bit of my cookie background: I was a cookie decorator at a little shop outside of Washington DC for almost ten years. In the three years since I left to have my daughter, I've branched out from cookies to work with cupcakes, marshmallows, fondant and any sweet I find interesting, and I share it all on the decorated cookie. I'm also the Edible crafts editor over at CraftGossip.com, where I constantly mine the Internet for sweet, crafty, clever people like you. Oh yes, and I wrote a book in 2007 on the art of cookie decorating, Cookie Sensations. Below are some of my creations you'll see on my blog.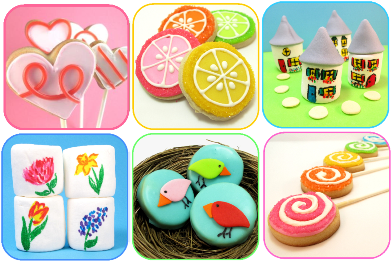 And for the immediate future, here are some Christmas ideas from my blog: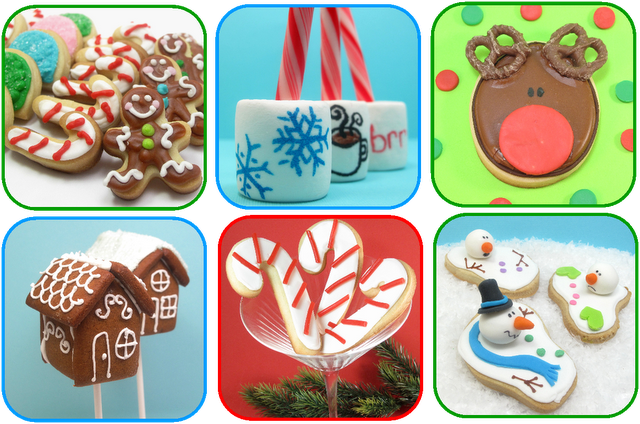 I'm so happy to visit The Sweet Adventures of Sugarbelle to share my thoughts on a veeeery important cookie decorating topic: the icing. I dare say the icing is the most important part of cookie decorating, even more than the cookie itself. A bad texture or taste to your icing can ruin all your hard work, and finding a great go-to recipe is essential. That's why I'm so proud of the recipe I created for my book. I've amended it a bit here and there since, but it's the only recipe I use and I've made it so many times I can whip up a batch blindfolded.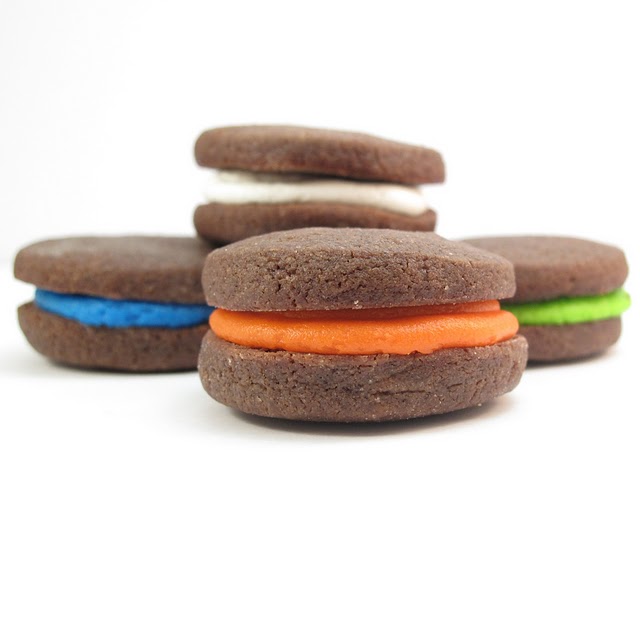 As I'm sure many of you already know, traditional royal icing, ideal for cookie decorating because it dries hard, is made from egg whites and powdered sugar. I started with a traditional royal icing, but I added a few things, like shortening and light corn syrup, to improve the taste and texture. My recipe doesn't dry as rock hard as traditional royal icing, but left to dry overnight, it will dry well enough to handle, package, wrap and even ship your cookies. Plus, by substituting meringue powder (found in the craft store) for egg whites, you can mix up a batch easily and store leftover icing in air-tight containers for several weeks. Lastly, this icing freezes very well. (After decorating, let your cookies dry overnight, then wrap well in Ziploc bags and freeze. Let the cookies thaw completely in the Ziploc bags before removing.) You can also find this recipe and cookie recipes HERE at my blog. So here it is, my no-fail, trusty, go-to recipe for icing.
Meaghan's cookie decorating icing (Royal-ish Icing)
4 Tablespoons meringue powder
1/2 cup cold water
6 to 8 cups confectioner's sugar
1 teaspoon vanilla extract
2 Tablespoons vegetable shortening (Crisco)
2 Tablespoons light corn syrup (optional)
In a standing mixer fitted with a wire whip, or with an electric hand mixer, mix the meringue powder and cold water on low, then switch to the highest speed and whip for several minutes until fluffy and stiff peaks form. Add about 3 cups of the confectioner's sugar, the vanilla, shortening and corn syrup (if using). Blend well. Add three more cups of confectioner's sugar and blend well. Add confectioner's sugar, 1/2 cup at a time up to 2 more cups (I usually end up with 7 cups total) until desired consistency. This icing is forgiving, you can add a bit more Crisco and/or light corn syrup to taste. And add more confectioner's sugar or water to thicken or thin.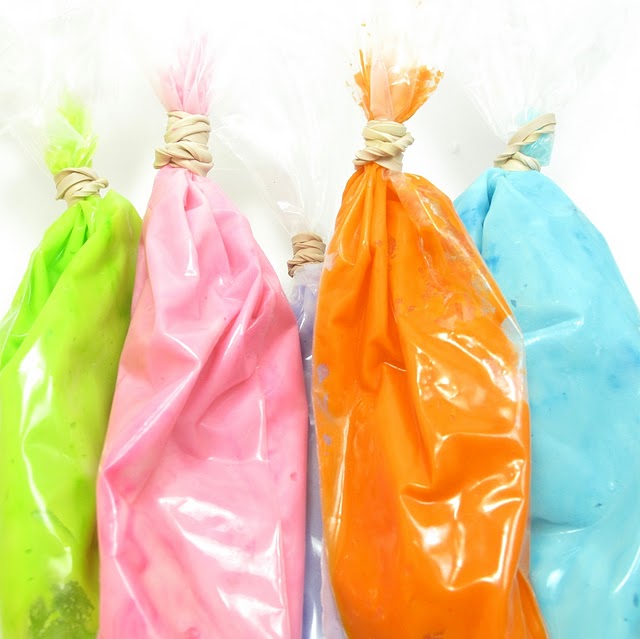 A million thanks to Meaghan for taking the time to explain her icing recipe, and how she came up with it, and especially for putting up with the not-so-computer-savvy blogger…*raises hand*
How interesting! Now, I realize that everyone has their own preference in icing and may not just drop everything and switch, but in the interest of all things cookie, I thought this was need-to-know info! And, since you paid attention, I have a special surprise!
*One reader will win an autographed copy of Meaghans book, Cookie Sensations!*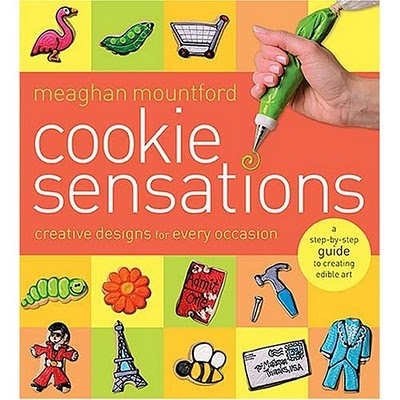 I own this book, and it is one of my favorites. I love her photos and tips, she has a great section on the history of shaped cookies, AND an awesome color chart. Also, she is one of the most creative cookiers I know, which is high up on my list of my most respected traits in cookie decorators =)
There are two ways to win this book.
Leave a comment about royalish icing…anything you please, as long as it's SWEET (the comment I mean)…whether you would be willing to try it, if you have tried it (for us scaredy-cats), or even a question…
hop on over to FB and leave a comment letting me know which of my cookie designs is your favorite, and why =) Come back here and let me know.
As always, tweeting this gets an bonus entry, just let me know =) Just leave your email address with your comment so I can find you…
*If I can't find you, then you can't win, so make sure to leave something! Last day to enter is Sunday!
*Yes, it's a PITA, but hey, it's a free book!*
Hope you enjoyed! Happy baking, have a wonderful day!