The Third Annual Twelve Days of Giving with Lila Loa and Sweet Sugarbelle, Day Eight
Today's giveaway is near and dear to my heart because besides being one of my favorite stencil shops, The Cookie Countess is one of my favorite gals in the whole wide world!
Hillary first showed off her signature stenciled cookies here on this blog WAYYYY back in 2013, before cookie stencils were really a thing! The response was so good that she decided to open an online cookie stencil shop, and the rest…well the rest is history!
Today Cookie Countess stencils are sold by vendors all over the world, and her stencil store has grown into a full-sized online  supply store, specializing in stencils for cookies, cupcakes, oreos and other small treats. They also sell airburshing supplies, cookie cutters, silicone molds, and other specialty brands such as Cake Lace, Cake Frame, and more!
I hope you're sitting down, because today's prize is so exciting, you might just need to.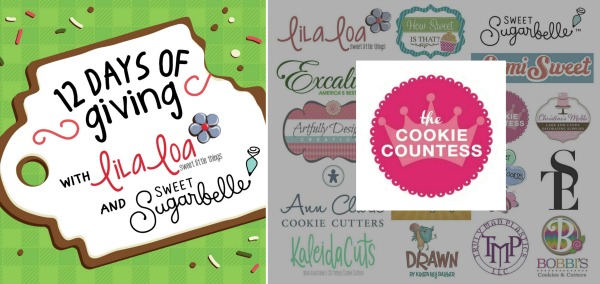 Today, one lucky winner will have the chance to win the Cookie Countess Airbrush System and a $50 to spend at The Cookie Countess's online shop! All you have to do to win is follow the instructions below. Good luck!
a Rafflecopter giveaway
For a complete listing of the Third Annual Twelve Days of Giveaways, click here.