Santa Buckle Cookies with Lila Loa
When I first started recording my thoughts online, I never in a million years thought the journey would lead to some of my favorite people in the world.
I started out as a Lila Loa stalker in 2010, and was so enchanted with her whimsical, imaginative designs, that I basically harassed her until we were friends.
Seriously, though, all these years later, I am still left speechless by the simple, yet striking designs that made me a fan in the first place. Her simple santa buckle cookies are no exception, and easy enough that if you start right now, you'll have cookies in time for Christmas morning!
I always have big plans for December. Festive cookie parties for all the neighborhood children… being ready for Christmas by the 7th… just hours and hours of downtime that I spend cuddling my children under blankets while watching the storms outside our window… It never really works out that way. I always find myself on December 22nd wondering what just happened. My house is a mess, my clothes are a mess, I can't remember if my kids ate breakfast — EVER– in the entire month, and a stack of cookies that feel alone and forgotten because they never really got the icing they deserve.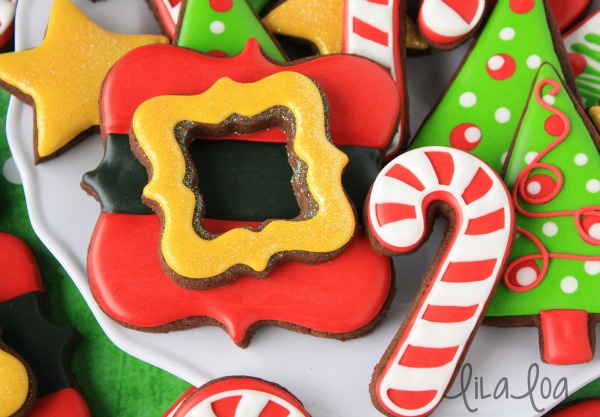 That's why I'm determined to simplify my December designs this year! Like these buckle cookies! I could make a million of them without even thinking about it. Mostly because I've already lost my mind…so thinking just doesn't happen at this point in the year. If you're in the same boat as me… these are YOUR cookies. All you need is a graduated set of cutters. Cut out one large cookie, a medium cookie and then use your smallest cutter to cut out the center of the medium cookie. And then get decorating. And then sleeping. (You know you need it!)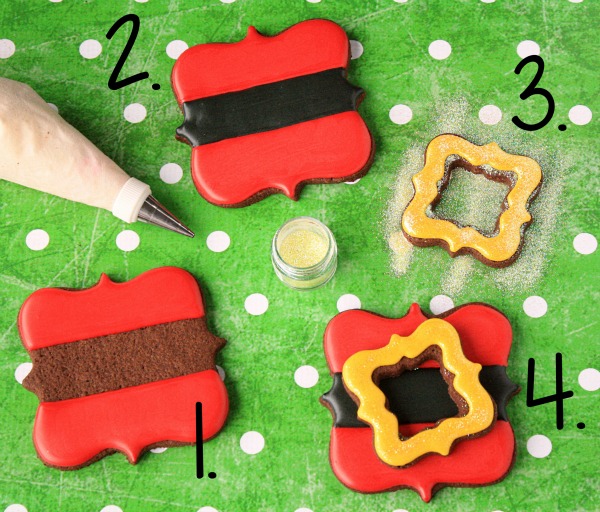 1. Outline and fill the largest cookie with medium consistency red icing. Leave the middle stripe empty. Let the red icing fully dry for at least a couple of hours.
2. Fill in the middle stripe with medium consistency black icing.
3. While the black icing is drying, outline and fill the medium sized cookie with yellow icing. Immediately sprinkle with sanding sugar or pixie dust. I used "baby yellow" but you can use any color you like. They're your cookies.
4. Pipe some icing on the back of the buckle and push it gently on top of the large cookie. And… DONE!! You're basically a December super hero at this point.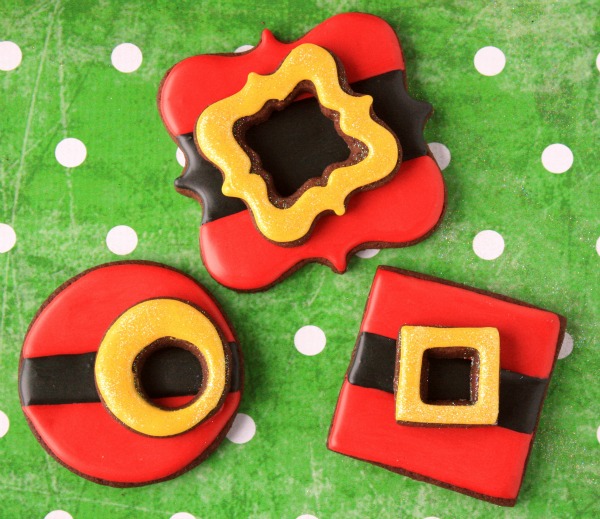 You can use any set of graduated cutters you own…or mix and match! One word of advice though if you're going with circles…forget aiming for perfection and cut the medium size cookie out off-center to begin with and then attach it off-center as well. It will look "whimsical" instead of "the worst excuse for a circle I've ever seen."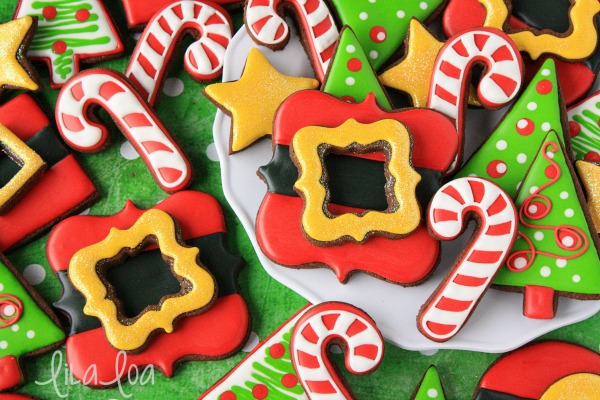 I hope you all have a Merry Christmas and somehow find that time for snuggling on the couch with someone you love!!! Thank you so much for inviting me over Callye!