Snowman Cookies with Earmuffs
For years I've heard that creativity ebbs and flows like the tide but I never really understood what that meant until I started recording my thoughts online.
Most of the time, my head is full of ideas and plans to execute them.  But sometimes they don't fall into place as quickly and easily as I'd like.
These snowman cookies are a perfect example.  Believe it or not, they were inspired by a penguin hat that Old Navy carried a few years back.  As soon as I saw it, I knew exactly what cutter I'd use.  Except it didn't come together like I'd planned, so when the season passed I tucked it into the "next year" box in my brain.
Then next year came, and the next.  And somewhere along the line my vision changed from penguins to a snowmen…but no matter how much I dreamed, I kept getting stuck.
Then I saw Jill FCS's latest (amazing) snowmen.  Suddenly, I knew exactly how to make my vision come to life.
While I pride myself on my original ideas, I am learning to appreciate the ebbs in the creative process.  It helps me to remember the importance of having a muse and other creative friends to inspire me when my well runs a little dry.  Instead of being afraid that I've lost something, I am learning to embrace the natural periods of rest that every creative person encounters at one time or another.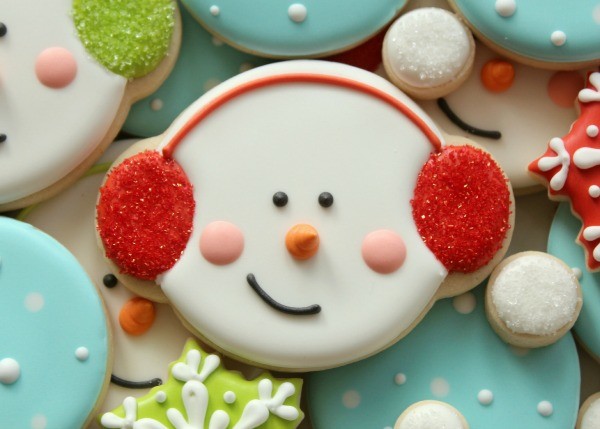 After years of bending and and re-bending my Wilton monkey cutter, it was kind of mangled, but I stayed true to the original plan and made it work. If you don't have one, this monkey cutter will work, or, you can pick up this version from Whisked Away Cutters.
To clean up the wonky curves, I used a food color marker and oval shaped cutter to map out the design before piping.  This is a great alternative for people who don't own or want to use a projector.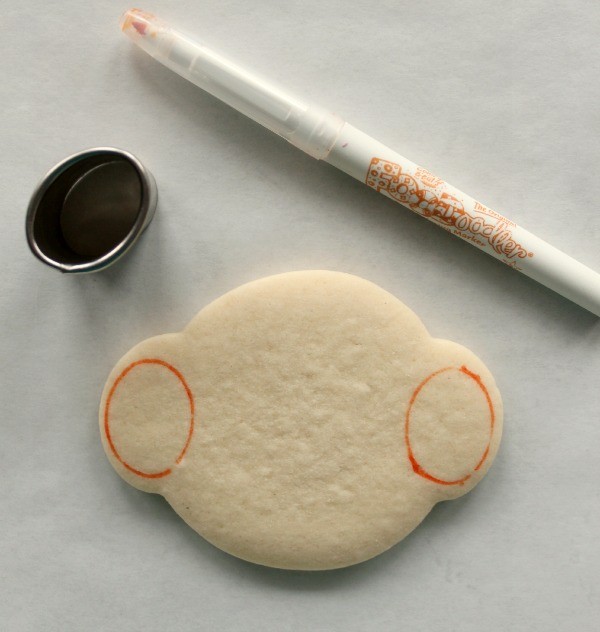 To decorate these cookies you will need:
White piping and flood icing
Red piping and 20-second icing
Black piping icing
Orange piping icing
Pink flood icing (or petal dust)
Red sanding sugar
Outline and fill the face portion of the snowman and let dry.  This can take anywhere from four to twenty-four hours, depending on where you live.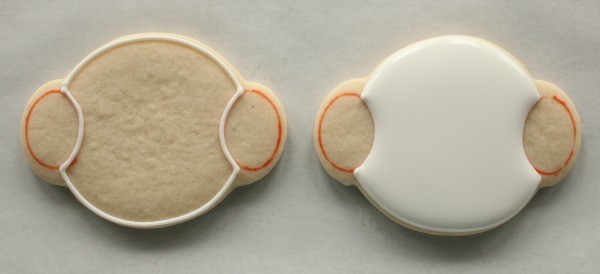 Next, use twenty-second icing to flood the earmuffs.  Let the icing set for a few minutes, then lightly sprinkle with sanding sugar, being careful not to over-sprinkle.  This can cause cratering.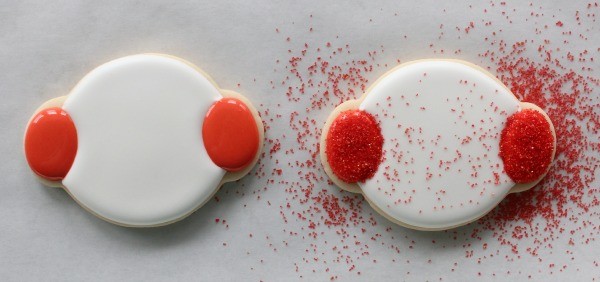 When the earmuffs are dry, follow the steps below and add the following details:
Pipe a band connecting each muff with a #2 tip
Use pink flood icing to add cheeks (skip mixing an extra cutter by using petal dust)
Use stiff-ish orange piping icing and a #2 tip to add a carrot nose
Add eyes and a mouth with a #1.5 tip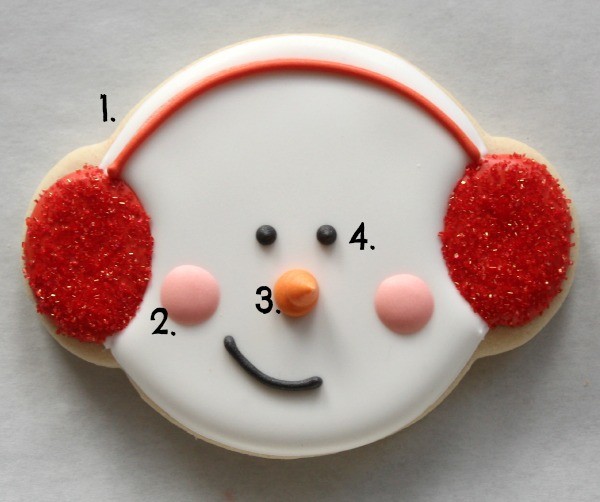 While we're on the subject, let's talk about this nose.  I call it the Olaf.  Since his breakout role in Disney's "Frozen", snowmen noses have never been the same.  It's kinda like what Jennifer Aniston's hair was to the nineties.  If you know what I'm talking about, nod in agreement, if not…nod and smile anyway.  In any case, I have a feeling that all the stylish snowmen (and women) will be sporting the Olaf for years to come.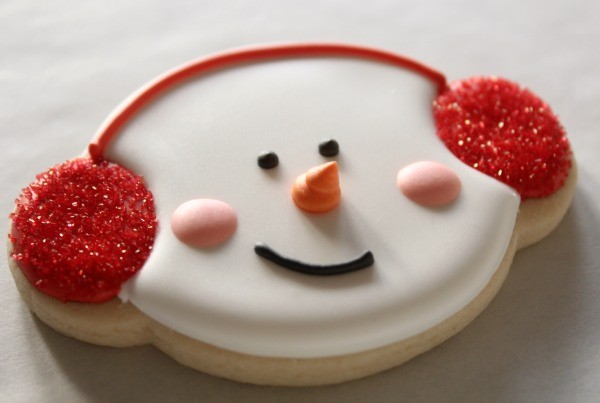 These are great on their own, but I like to mix in  few simple "filler" cookies for a pop of color.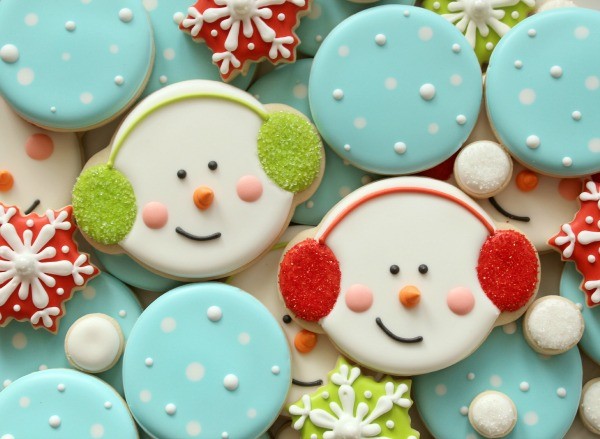 Check out the following links (to some of my favorite artists) for more ideas and inspiration: