How to Make Dark Black Royal Icing
Black royal icing seems pretty simple, but in reality, that's not always the case. If you've ever struggled with creating the perfect shade of black icing, this post is for you. Today I'm sharing my best tips for black icing success.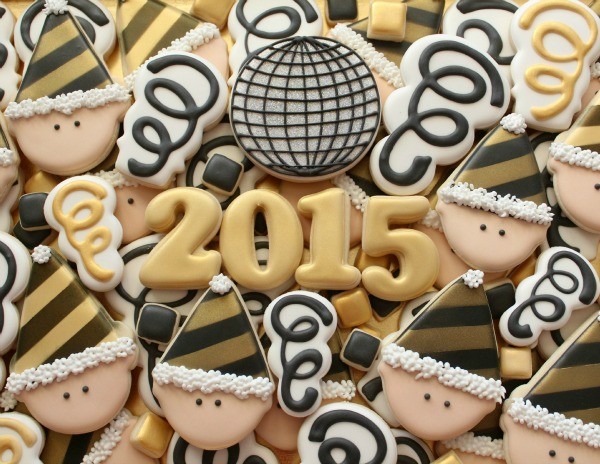 When I make black royal icing, I begin one of two ways…with Super black Americolor gel, or with black icing leftover from other projects.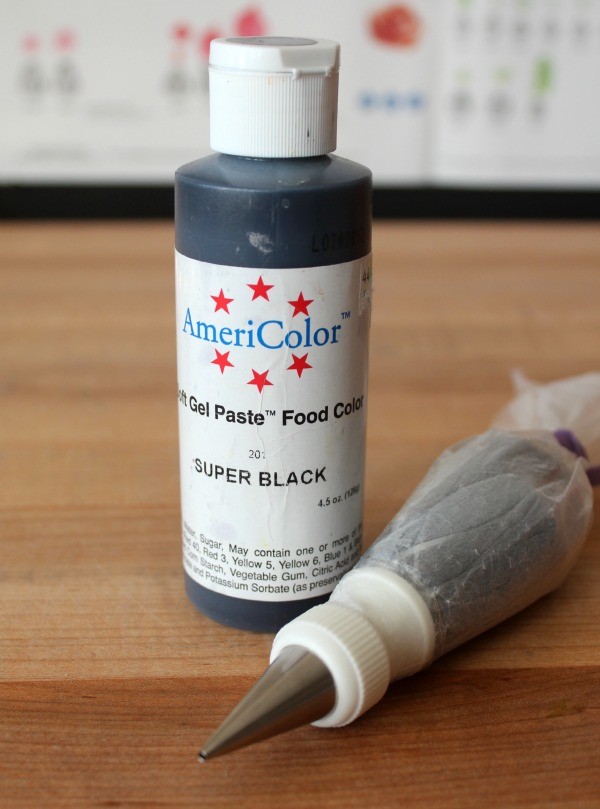 As a general rule, when starting from scratch (meaning with pure white icing), I use approximately one scant teaspoon of color per cup of icing.  I like to mix my colors in measuring cups so that I always have an idea of the amount of icing I've got.  This is especially important when it comes to black.  A little goes a long way.
Word to the wise.  If you're not sure how much you'll need, be conservative.  Otherwise you may end up with a lifetime supply of black icing…not that I've ever made that mistake.
Now for a visual.  In this case, I was working on a pretty small project, so I went with about half a cup of fresh white icing.
Then I added a LOT of color.  Almost half a teaspoon to be exact.  It may seem like too much, but trust me on this one.  One of the most common issues with black icing is not using enough color.
If you're uncomfortable adding this much color at once, I recommend starting with a smaller amount of gel and darkening it a few drops at a time until you've reached the desired shade.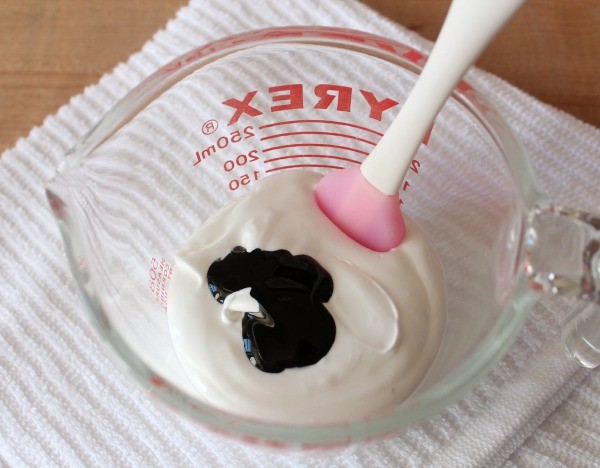 Following a scant teaspoon per cup ratio (or half that in this case), you should end up with just about this shade.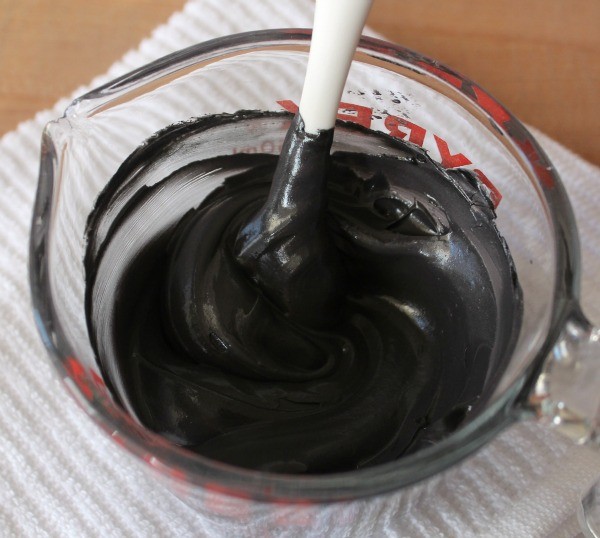 Now  listen up, this part's important.
If you look closely, this icing isn't super black. That's because even when using a large amount of color, in the beginning black icing can lack depth.
To achieve that super-saturated, deep black color, give it a little time to develop (that's a fancy way of saying get darker).  You'll be surprised what a difference a few hours makes.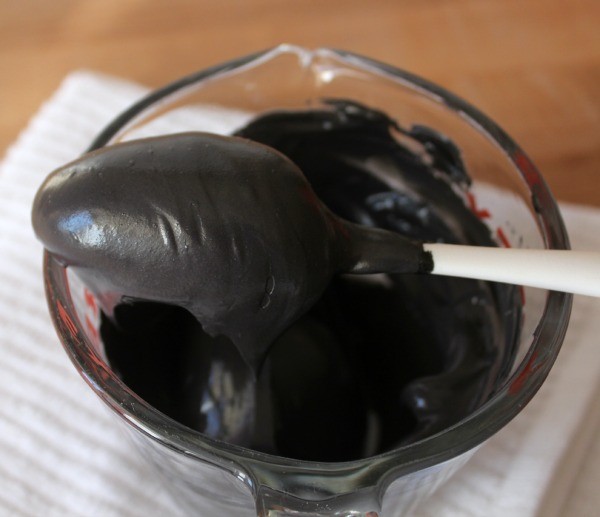 If you're short on time, don't panic, go ahead and go to work.  The color will continue to develop even after it's on a cookie.
My New Year's cookies are the perfect example.  Immediately after snapping the photos above I used this icing to decorate this set, and as you can see, they turned out just fine.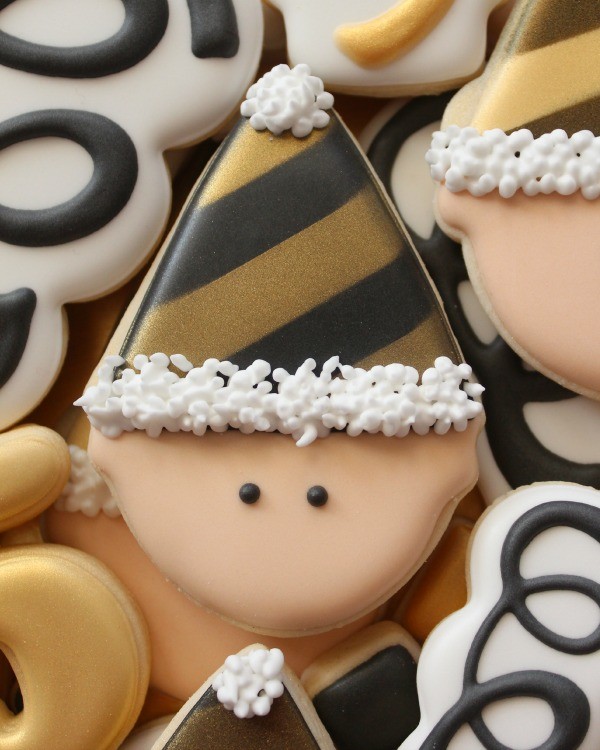 Now that we've covered the the first way to make black icing, lets move on to the second (and my most frequently used) method.
Remember me mentioning that it's pretty easy to overestimate how much black icing you actually need?  Well, I do that a lot.  So more often than not, I use black leftover from other projects.
Forgive my lack of measurement, it basically goes like this:
Start with a little bit of white icing, then add some leftover black.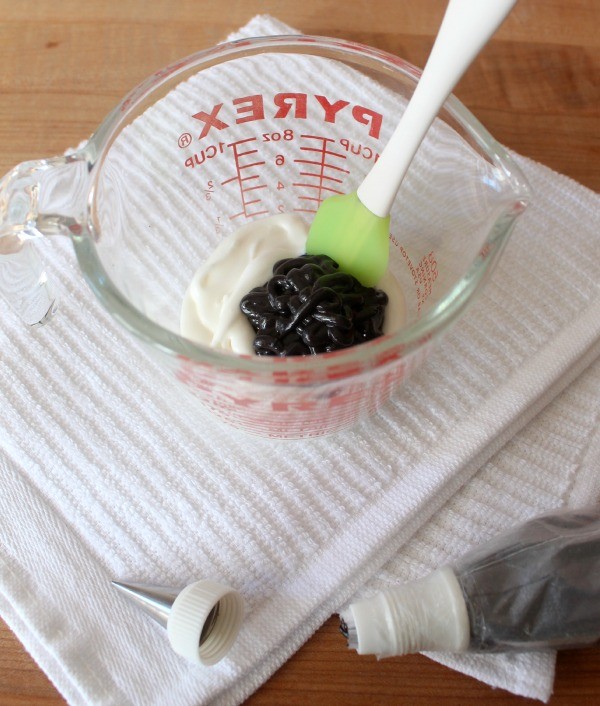 Mix it up, and if necessary add a few more drops of color until you've reached the desired shade.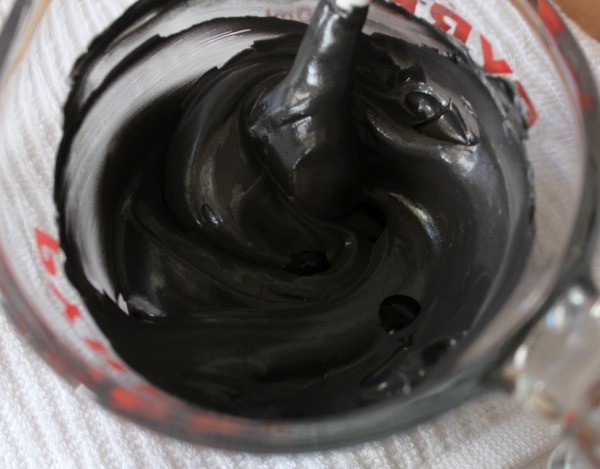 That's all there is to it.  Nice, pretty, black royal icing.  Easy, right?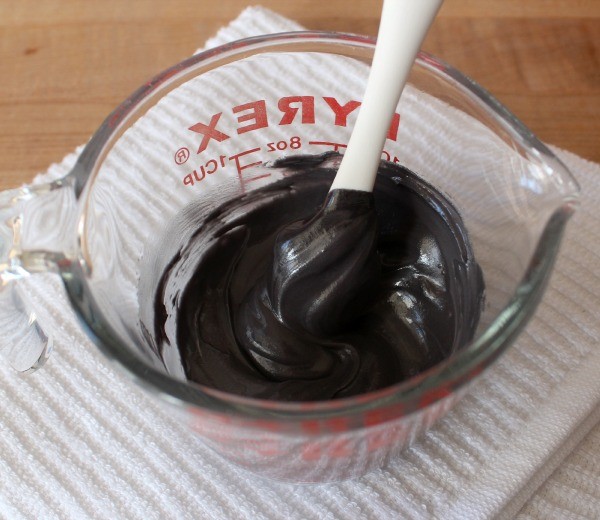 Except when it isn't.  Black icing requires a lot of gel color, BUT be aware that there's a fine line between "a lot" and "way too much".
Just so you know what I mean, here's a visual.  I call this squid ink.

If you add enough color, you'll quickly get to this point.  But in this case, instant gratification is not a good thing.  Too much color can result in icing that dries splotchy and weird, if it even dries at all.
One final note before I wrap this up.  Every once in a while, you may reach a point where it's necessary to ditch the old icing and start anew.  If the icing looks grainy or uneven even after adding fresh icing and color, let it go.  It's better to toss a bit of icing than to ruin an entire batch of cookies.
Before I get back to cleaning my sock drawer (why I have forty-eight pair of neon ankle socks, I do not know) here's a few more tips about black icing:
Black icing tends to be bitter.  It bothers some people more than others (I happen to be one of those people who can taste even the tiniest speck).  My solution to use black icing as sparingly as possible, because really, who wants everyone at their wedding reception to have purple-black teeth all night?
Except those people who DO want black cookies at their wedding reception.  In this case, I recommend pointing out the whole bitter taste/purple teeth thing (it usually doesn't occur to people until after the fact), and if they still want black cookies, go with an "almost" black color.  You may notice that it's not as dark as the midnight sky, but chances are, no one else will.
Some people use cocoa powder as a base for darkening their black icing.  This reduces the amount of color required for a darker shade.  This isn't my thing…mostly because I almost always make vanilla-almond cookies and the chocolate/vanilla-almond combo isn't my thing.  But if you're okay with this, by all means, go for it!  If you want to learn more about using cocoa to make black royal icing, Lila Loa is your gal.  Check out her tips here.  This works especially well with her amazing chocolate cookie recipe.
Another way of creating black icing is to mix together any leftover colors you might have and then darken with a bit of super black.  This is a great way to use up leftover icing and reduce waste.  I used this tip often until I ran into problems with other colors taking on unexpected hues from my "mishmash" black, which is not really a big deal, it's just one of my "things".  If this works for you, don't discount this method on my account, this is a really great tip.
And finally, if you make lots of cookies, or are planning on making say…chalkboard cookies, buy black food color in bulk.  Americolor makes super black in both a 4.5 and 13 ounce size.  You can pick it up here.