Sweet Bumblebee Cookies
Sometimes certain cutters can be kind of tricky.  Especially when you're working from the side view.  Here's a few tips on simplifying bumblebee cookies.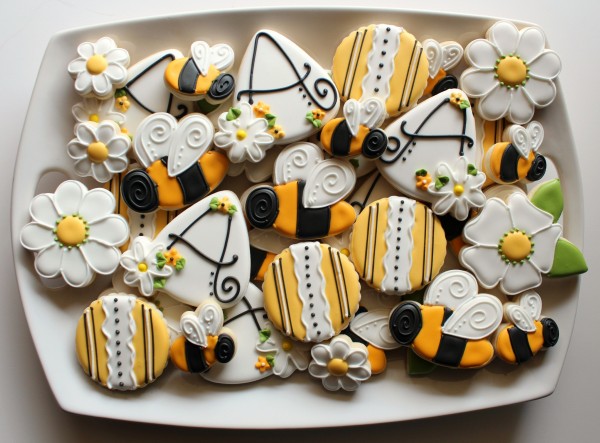 First of all, I used a side view bumblebee cutter, which you can find HERE.  I would definitely recommend picking these up because I use all of them often.
To make bee cookies you will need:
yellow piping and flood icing
black piping and flood icing
white piping and flood icing
food color marker
First things first, the big secret.  This is it.  I begin by drawing the bee body onto the cookie.  Sometimes I do this to other cookies and after a few I get the hang of it, but I have to do it for every single bee, every single time.  It's the only way for me to get the wings and stripes just right.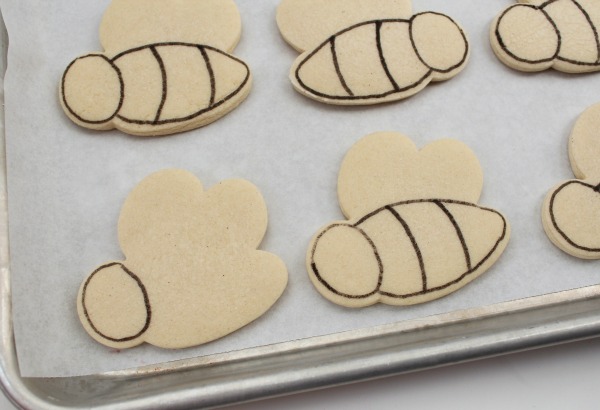 Once the bodies are outlined, pipe on the front wing with a #3 tip.  Next add the second wing.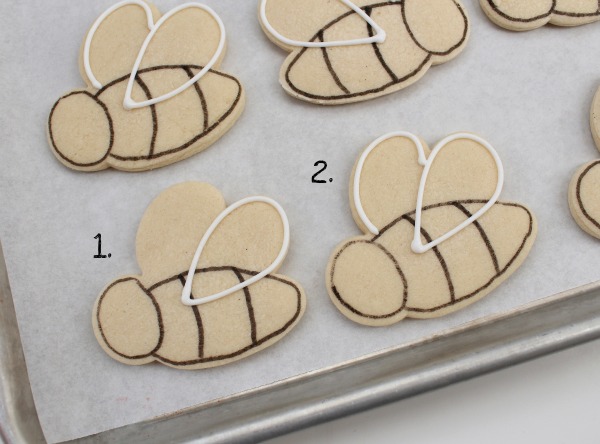 After that, outline the bee's head, also with a #3 tip.  Let that dry for a few minutes then outline the body in yellow with a #2 tip.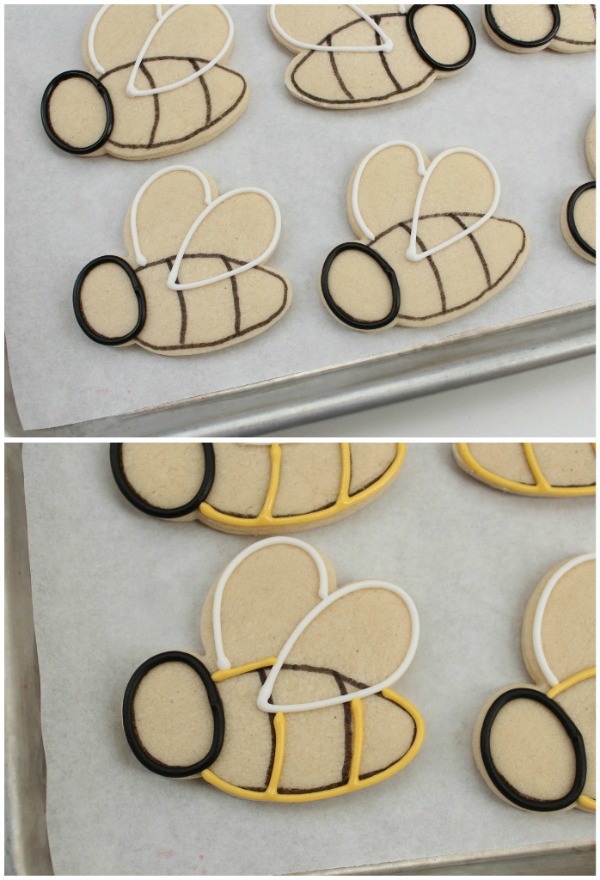 Next begin filling alternating sections, allowing time to dry in between.  I go in this order.  Middle, back wing, front and rear stripes, then head and front wing last.  I do this to prevent bleeding and also to give the cookie a little dimension.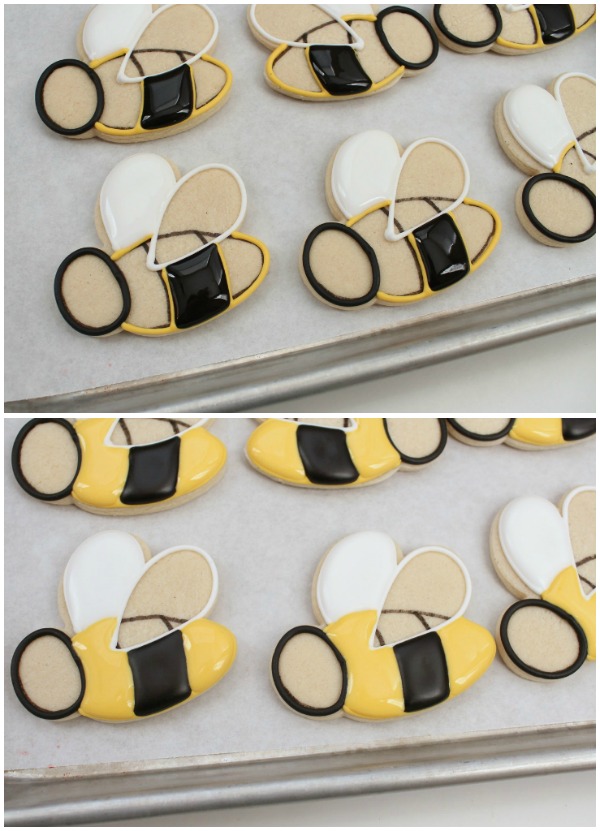 Let the cookie dry overnight.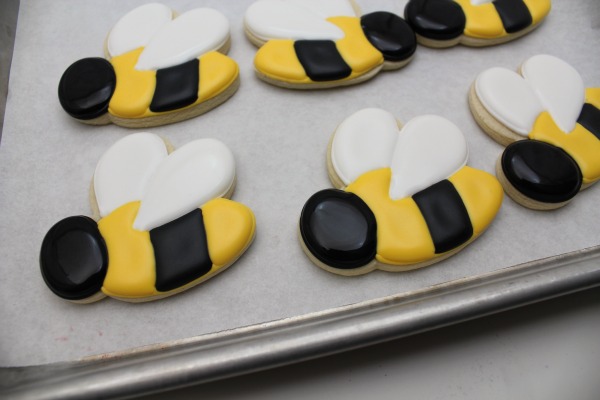 You can stop at this point, however, I always like the whimsy of adding a few extra squiggles and lines with a #1.5 tip.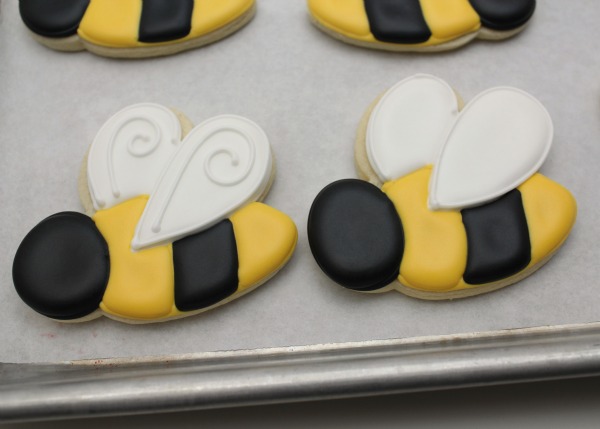 You can pair them with several different kinds of flowers.  I like LADYBUG COOKIES…but then again,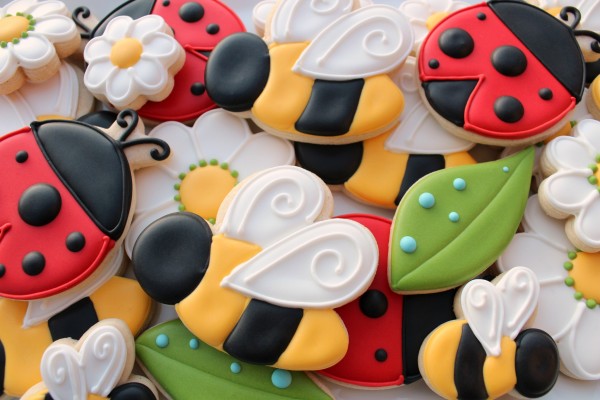 I also like them with more bees!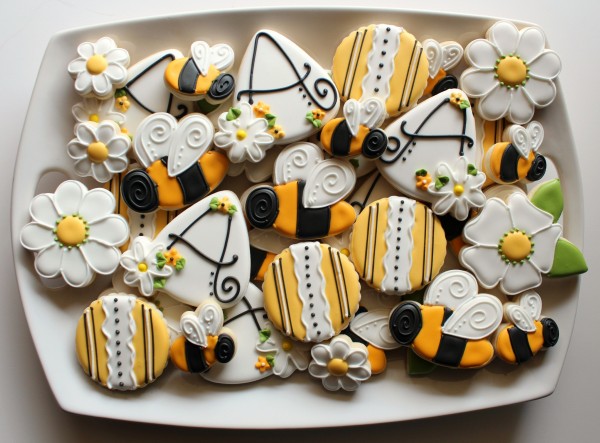 Anyway you cut it, these cookies pass the cute test.  Like I said, you really should purchase THIS CUTTER SET.  I use it for several different things, which I will show you soon, and I also ran across THIS IDEA recently and fell in love.
If you like these bees but don't have the right cutter, check out Lila Loa's bee cookie tutorial HERE. Or THIS ONE from the Bearfoot Baker.
To learn how I made the "A" cookies, click HERE.
I am so ready for the weekend.  I plan to spend it relaxing with my family.  I hope you enjoy yours also!
This week I am linking up with: