Amazing Honey Cookies by Haniela's
I am super excited about today's post because it comes from my friend and fellow cookie decorator, Hana Bacova, who I affectionately call Hani.  Her specialty, traditional Slavic honey cookies, or Medovnícky, is what first drew me to her work.  I have always been very interested in this beautiful technique so I am very excited for Hani to be sharing with us today.  Enjoy!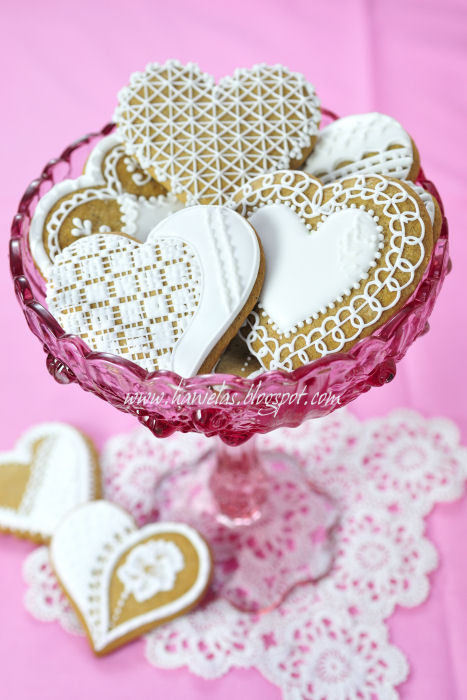 Hello! My name is Hani and I write a little blog called Haniela's.  I met Callye several  years ago via Flickr and we've been friends ever since.  Though we've never met in real life I know if given the opportunity we'd  have a lot to talk about.
Truth is Callye asked me to do a guest post some time ago.  A long time ago to be exact!  I somehow got stuck with ideas, I wanted to have something cool to share with her readers on her popular blog, I even had things I actually made and wanted  share with the readers but you know that little guy inside of my head was saying : not good enough , not worthy etc. I know  it sounds pretty sad as I'm a grown woman but you know how it is, I was just a tiny bit intimidated, thinking how can I live up to Callye's expectations? Have you seen her COOKIES!!!??? Amazing right!
Nevertheless,  I'm here today and I'm ready to share something with you.I hope you like them.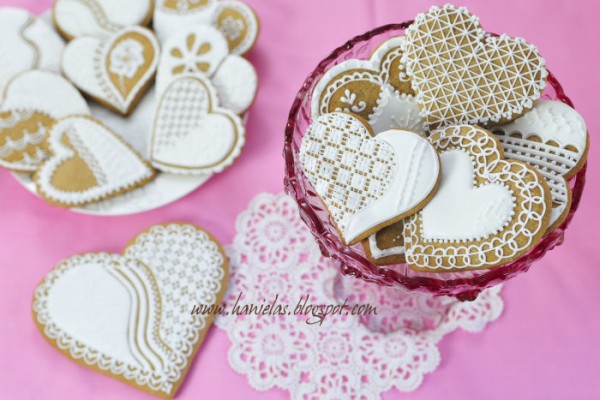 Today I decided to share with you my  Honey Cookies. Some also call them gingerbread cookies; we call them Honey Cookies, (I'm kind refusing to change that name) These tasty cookies are very much traditional to parts of  the Europe.  Honey Cookie making developed centuries ago, when first honey breads where made, later spices were added and now all these years later, we're still making Honey Cookies. I'm from Slovakia, and tradition of Honey Cookies is still going strong.
We call them Honey Cookies because honey is added to the dough.  To view my recipe, click HERE.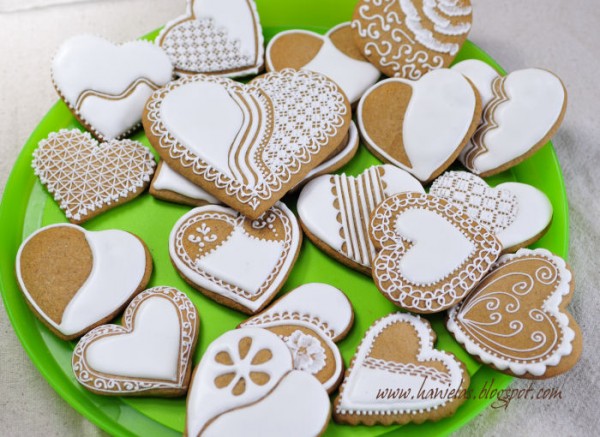 In this picture above you can see the first  Phase of Decorating, all the flooded areas have to dry and then you can move onto adding more delicate details
Traditional style of decorating is very time consuming, I don't decorate this way too often , though I love the  look of lace like patterns. It takes up so much time, I make these only for very special occasions.  If you would like to see me in action, click HERE to view my video.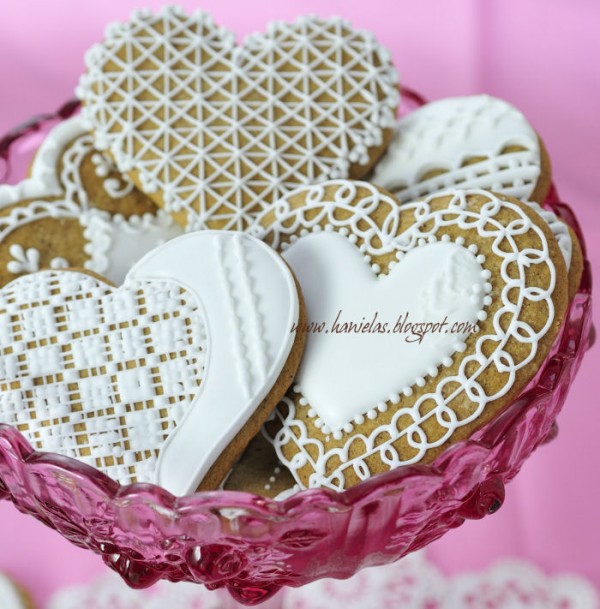 Today I prepared for you a collection of Heart Cookies, they are different shape and sizes, I hope you won't mind but it is nearly impossible to do a picture tutorial because there is a lot of details involved, still I hope you'll enjoy viewing these.
These hearts are mostly very traditionally decorated with lace designs and some dots, swirls and such. When decorating  I use a small sandwich bag and I make a little opening in the corner to pipe. I use Royal Icing made with meringue powder, in Slovakia raw egg whites are still wildly used to make royal icing.
Consistency of icing is extremely important with these and sometimes it takes more then one try to get it right.
I decided to do white on white because that is what I'm accustomed to though different colors are becoming more and more popular when decorating these  delicate cookies.
 Cookies on their own taste delicious, they are excellent with a cup of tea or coffee, great to take along to a picnic, ski trip or as part of the school lunch.They will last for 4 weeks or longer if properly stored in an airtight container.
Honey cookies usually become hard after they cool, right after baking. this is normal, they will soften within a few days when stored in the airtight container, you can also help soften them by placing a piece of an apple in the container, or a piece of a bread. Replace bread or apple frequently.
You can find more delicious treats on my blog or you can keep up with the updates via my Facebook Page too.  I'd love to see you there, don't be shy, stop by and say hello.