And the Winner Is…
Sorry to have kept everyone waiting. I had such a huge response to my latest giveaway, and it took me a while to sort things out.
First, I would like to say, I enjoyed all of your comments more than words can express. They made me laugh and brought back my own special memories, so I thank those who were willing to share their "Nanny" with me.
As for the winner…The good news is, the wait is over…I am pleased to FINALLY announce the official winner for the SweetSugarBelle Ultimate Decorating Kit…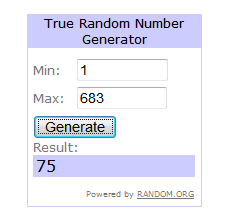 If this is YOU, I will contact you, or vice versa in the next few days, so keep a watch out for me, Christy!
Once again, thanks to
Karen's Cookie's
for sponsoring this VERY special giveaway! I cannot wait to do it again!