All Things Icing, and a Fun Christmas Giveaway!
First things first. I promised icing, so today we are talking about icing…I will try to keep it short (emphasis on try) so we can get to the FREE STUFF!
To start with, I am going to give you my top secret, amazing, wonderful, specially-formulated recipe for royal icing.
Here we go…
To make
SweetSugarBelle's Top-Secret Royal Icing
you will need:
3 Tbs of meringue powder

4 cups (about 1 lb.) confectioners' sugar

6 Tbs water
That's it!!!
Seriously…
this is NOT my recipe. It's the Wilton Recipe, and it's exactly the recipe I use. Oh, come on! Don't be a Wilton snob…they didn't become the best known baking/decorating supply company in the US for nothing =)
Beat all ingredients until icing forms peaks (7-10 minutes at low speed with a heavy-duty mixer, 10-12 minutes at high speed with a hand-held mixer).
All joking aside, I do have one tip major tip,
FLAVORING!!!!
When Wilton says water, SweetSugarBelle says liquid. AS LONG AS IT'S OIL FREE (since oil is the enemy of RI) then you're good. So if you like orange, make it orange, lemon, throw in some lemon juice. Vanilla, same thing…almond, coconut, rootbeer…
*ICK, WELL MAYBE NOT ROOTBEER*
But really, if there's a flavoring for it, you can make it.
PS-I fibbed a little bit, I really have two tips. If you are after a glossier icing finish, add a tsp or two of corn syrup to the icing while mixing. It seems to work for me.
PSS-Oops, fibbed some more. Even though I use the Wilton recipe, I don't always like their meringue powder. Long story for another day…
PSSS-Fibbed again, last time, you need to see this. It's the COOLEST ROYAL ICING TIP EVER! Just read…
Moving on along so we can get to the free stuff…
There is another type of icing that can be used if you're part of the sect that thinks royal icing is pretty icky. It's the preferred icing of CookieCrazie,my cookie friend that I introduced here yesterday. This is her recipe.
1 lb powdered sugar

1/4 cup corn syrup

Flavoring

approximately 1/4 cup water
In a small bowl, stir together confectioners' sugar and water until smooth. Beat in corn syrup and almond extract until icing is smooth and glossy. If icing is too thick, add more corn syrup.
I tried this for the first time the other day, and I have to admit I was pretty impressed. It DOES taste better.
*praying this doesn't not get me marked with a permanent scarlet letter by RI aficionados*
It's also a little easier to work with. One consistency for everything, and boy does it take color well. It's the perfect icing for a cookie decorating party, first of all because prep wise, it's very easy to make after you get the hang of it, and it's a two-in-one icing. It can be used for both outlining and flooding once you get the consistency right.
As for royal, I know people who have worked with it for years, and STILL don't know why it does some of the things it does. *like me*
One complaint about glaze; when it comes to fine detail work, it's just not the same. If you want super detail, royal is the only way to go.
*By the way, if I disappear, one of the RI Mafia "had me scraped" for speaking against the family =)
I only had one problem with the glaze (besides eating too much of it) It weirded me out when I was mixing it up. I didn't know what to expect, really, but as I mixed, it seemed a little dry. So, I took it upon myself to NOT follow the directions, and ended up adding way too much liquid. If you think you might have the same problem, do what I should have done in the first place, and watch this video on making glaze icing by i am baker. It's WONDERFULLY informative and hilarious =) Okay, that's it I am finally done!
*WOO HOO, finally to the free stuff! *
I hope I forced everyone to read thorough the entire whole post to get here, *or maybe not* but in any case, I'm really excited about this giveaway!
I'm starting a movement. I'm going to call it,
" No More Frumpy Bakers!"
Truth is, most of the time I can be found in my uniform, a flour covered, royal-icing flecked black yoga suit… It's unacceptable really…especially with all of the adorable baking gear available now. So, I've decided, if I'm going to convince others to make cute, amazing cookies, then I'd better help them do it in style!
If you win, here's what you'll get = )
A gorgeous apron to keep you clean while you create…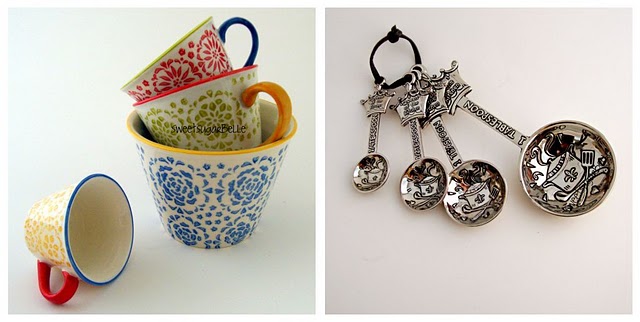 A pretty set of vintage style measuring cups… (my Nanny used to do it this way) AND, a nifty set of "Queen of the Kitchen" measuring spoons.
Everyone has two chances to enter:
First, leave a comment on this post telling me whether you prefer glaze or royal icing. (or something else) and if you can, TELL ME WHY!
Second, hop on over to FB and suggest my SugarBelle's page to your friends. Then, come back here and leave me a comment telling me you me you did.
BE SURE TO LEAVE YOUR EMAIL ADDRESS WITH YOUR COMMENT, or email it to me. If I can't contact you, I can't send you your prize.
Also, just for you Tweeters (my newest time suck) I am offering a bonus entry for anyone who tweets this post. Come back and let me know you did. *Contest ends Sunday, December 19, 2010 at midnight EST. The winner will be chosen by Random.org. Good LUCK
Oh yes, and before I go, I owe everyone some cookies. I missed yesterday, but I plan on playing catch up tomorrow and offering a quick video tutorial. Come check it out!
This is a Happy Holidays housewarming platter I made for a dear friend. I moved over the Holiday season myself and cookies are the least I can do!
*Truthfully, Bourbon would have been more appropriate, I think*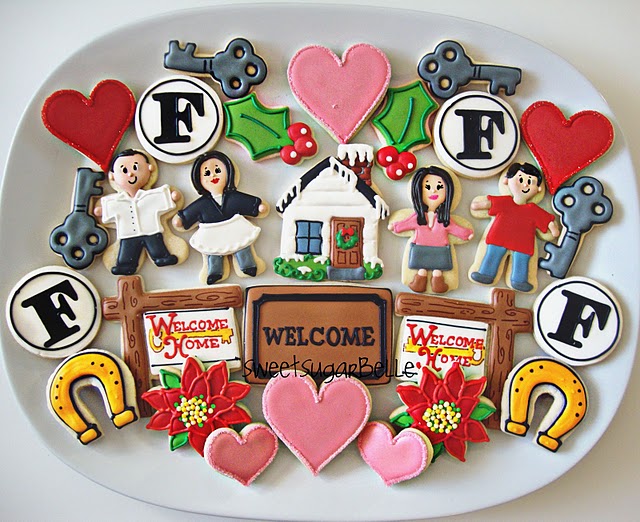 Good luck and Happy Saturday. Hope everyone can spend it baking!