Variety is the Spice of Life, Right?
In my case, maybe not. For some reason, the cookie girl CANNOT bake cakes, or cupcakes without creating a small disaster. I'm not talking about real cakes either. I'm saying plain old, straight out of the box cakes can whip me! Isn't it supposed to be the other way around?
Anyway, I will leave the cupcake baking to the professionals from here on out, unless I need them for props. Its the cookies that are my department!
I made these for my friend
Landa
. She and I share a common love of Star Wars, so when she mentioned that was the theme of he son's upcoming birthday party, I was on it!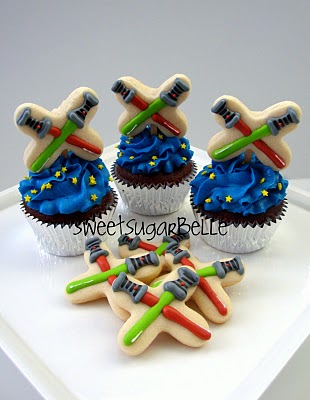 Sometimes it's hard being a million miles away from the people you love and want to sit around the kitchen table with. All of my
besties
are sprinkled all over the USA. I have buds in Virginia, Georgia, Michigan, New York, Washington, Oklahoma, Tennessee, California, and even Hawaii, but on most days, I don't have anyone nearby to call for lunch.
I miss my friends, I wish I had a private plane or an island, or somewhere to hold us all so that I could drop by for a cup of coffee whenever I pleased. The only consolation is that I am lucky enough to live in a time that they are only a text or a computer screen away. So, until I get that private plane, I will bake them my love from a million miles away.