Diary of a Brokenhearted Baker…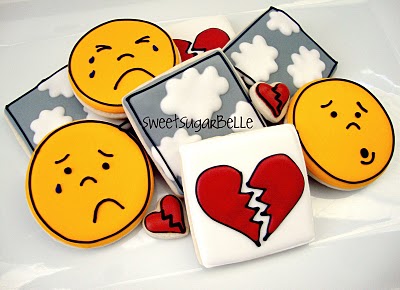 Sometimes things happen in life and there are lots of words. Sometimes things happen and there just isn't anything that anyone can say to make it right. Most days I am full of words, but lately things have happened that I just can't define. It has taken me a week to even get my head around it enough to put into words, but I'm going to try. It's so very hard to open up and share a deep hurt with others, especially knowing that the person who caused this pain could in fact, be reading with great satisfaction the hurt they caused, but I am willing to risk it to get this off of my heart.
Cookies weren't really a a plan for me. Actually they were the furthest thing from it. They were really Divine intervention. In fleeting conversation, if I get asked this question, I don't even bother trying to explain, because like all my stories, its long, but in the end it's important because this story is my beginning.
I started making cookies in 2009. I will never forget because that is the year my Nanny passed away. She had been sick a LONG time and I knew it was going to happen so I felt like I was prepared, but when it finally did happen, I fell apart. I spent a month crying. Especially at night. The nights were bad. Then during the day, I spent most of the time at the cemetery. I don't remember a whole lot from that time except for the day I decided that I was going to have to find another way. The
cemetery
trips were not good for me or my kids. As I laid in that familiar spot crying for all that I had lost, I suddenly felt a peace that I had not in a very long time.
I didn't get a specific answer that day, but I knew from the bottom of my heart that I needed to find something to keep my mind off of my pain. Later that week I got my first call. It was from a family friend of ours that was on my Christmas cookie list. She asked for Valentine cookies, and from there on out, my whole life changed.
Cookies became my life, and what a wonderful life it was. Suddenly, I went from a
SAHM
to a
SAHM
with something more. I was the "Cookie Lady". I had something that was mine, and that I was good at. It gave me an identity beyond wife, mother, daughter, sister, maid…I had what seemed to be the best of both worlds, a way to creatively express myself and contribute to my family, with the luxury of not having to leave them or miss any of those moments people hold most dear.
So, for a year and a half, that is how it went. I threw myself into my cookies, never worrying about anything else. I made cookie friends all over the world, and passed many hours learning everything I could about becoming better at my craft.
Then, about two weeks ago, everything changed.
Unfortunately
, in many states, it is illegal to bake from home. Texas happens to be one of these states. I never spent a lot of time worrying about it because where I live selling food items is so common, I didn't ever expect to be noticed. It's a way of life where I am from. There are cake ladies, bake sales, lunch benefits where people sell plates to raise money for medical expenses, the tamale lady who we eagerly await each fall, and wonderful Mennonite pastries and breads, just to name a few. We love and embrace these things as part of our "culture" However in my case, something else happened. Something ugly. Somehow, I attracted the wrong attention and was finally turned in.
I am old enough to understand that people have reasons for all the things that they do, but in this case it didn't ease the sting. What was probably business to one person, was my whole life. The biggest non-family thing I had disappeared with one little visit from the Department of Health.
Since then, I have been on a roller coaster. Most days I feel hurt. Disbelief and hurt that I was singled out and also that someone felt the need to take away something so very important to me. Some days there is anger. I look at my kids and my shabby tires and I feel anger toward the person who did this, because in the end, its my kids who pay the price. I think of the suddenly shrinking Christmas budget, and I want to ask that someone, "Why? Was I really bothering you THAT much?" It seems so unfair. I feel like something meant for our good and support (The Department of Health) was used as a tool to hurt someone and knock them down rather than keep people safe. I want to scream from the rooftops, "If I am in trouble, why isn't every bake sale and medical benefit, and tamale lady in town?" But I would never, because in the end, that doesn't solve anything. It just multiplies the ugliness I
experienced
. All of the finger pointing would NEVER change the fact that I can no longer make cookies for people, something I loved. After a week of tears, I found myself right back where I started, kneeling at Nanny's grave, asking what to do, and suddenly overwhelmed with a sense of peace.
Like all sad stories, I am slowly seeing the light at the end of the tunnel. I can think of a positive outcome of this every day. I like my
newfound
free time. I like that the cookies I make are creative and fulfilling. There is no question I am terrified and not sure where to go from here, but I have learned enough from this beautiful life to know that some of the best things that I have came from my worst experiences, and I believe deep in my heart that this is one of them.
I also learned what I DO have. I have a family that loves me. I have the most wonderful husband God could give. I have beautiful kids and have been blessed with an abundance of good things. I also learned a lot about people. FOR ONE BAD DEED, I saw a hundred good hearts. I never once cried alone and the outpouring of support in flowers, emails, and phone calls absolutely astonished and humbled me.
So, now you see why this story was so important. This is where I start again. I don't know where I am going, or where I will end up, but I am taking a journey with friends and family, doing the only things I know how. Loving those who love me, making friends along the way, and every step of the way, making cookies.
*Home bakers everywhere face a dilemma. For many people, our current laws make becoming legal impossible. It takes a LOT of time and money. For others it is not even a desire. I CHOOSE to be small because my children will always be my number one priority. It's a shame to criminalize and
villianize
cookie baking and I am ready for it to STOP! Currently there is a bill ready to hit the 2011 legislative session that will allow home bakers to licence their own kitchen. If you would like to help, please see the
Texas Cottage Food Law
web page and sign our petition. You can also like their
FB

page
which includes many humorous and encouraging articles dedicated to this cause.