The Seventh Annual Twelve Days of Giving, Day Four, Periwinkles Cutters
Welcome to DAY FOUR  of The Seventh Annual Twelve Days of Giving with LilaLoa and Sweet Sugarbelle!
If you're new to our giveaway extravaganza, here's the short version of how it works. Each year for the past seven years, LilaLoa and I have joined together with our favorite vendors to celebrate your generous support throughout the year. Every time you buy our products, watch our videos, and read our posts, it means more than words can express. So, in the spirit of giving back, this is our very special way of thanking you all!
Today's prize is a $150 gift card from Periwinkles Cutters.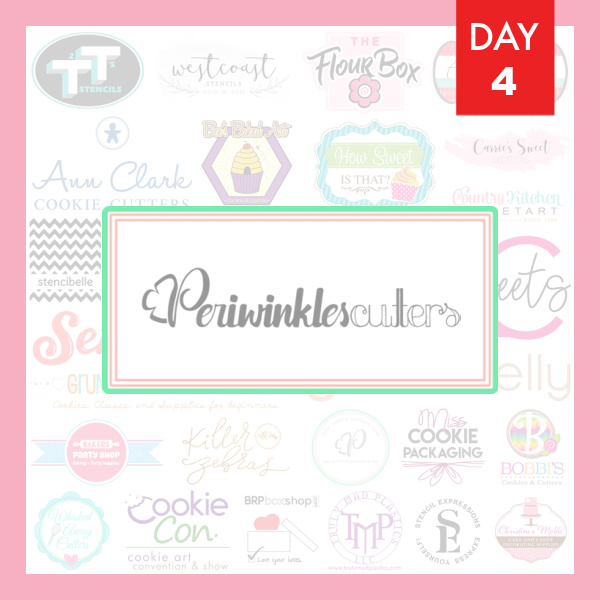 Periwinkles Cutters is a family business of hand-illustrated 3-D printed cookie cutters. Jose and Jahnny started their journey in early 2017 with a desire to create cute new cookie cutter shapes. They began with one small printer and millions of ideas. Today, Periwinkles is a family of over twenty printers and still and growing.
Periwinkles Cutters strives to give their best to the cookie decorating community with a one-stop-shop that offers top-quality decorating supplies like food color, edible paints, markers, sparkle dust, and tools. In 2019, they've also added a sprinkle line specially for cookies that were designed with eating in mind!
From holidays to children's parties, with more than 1,000 cutter designs in multiple sizes, Periwinkles has you covered. Periwinkles Cutters is owned and operated by two 'cookie lovers making cookie cutters' — using their creativity to help others express their own in the most spectacular way…in cookie form!
To enter, just click the "Easy Entry" button. You can also earn additional entries by following the additional prompts below.
Don't forget to hop on over to LilaLoa to enter again!
Giveaway ends at 11:59 PST on December 7, 2020, terms and conditions may apply. You must be 18 years or older to win. Void where prohibited. Separate winners will be chosen for each daily prize. One prize per person, per year. Winners will be notified by email within 24-hours of giveaway close. Prize must be claimed within 48 hours or a new winner will be chosen. By entering this sweepstakes, you grant sponsors permission to share your email address and any other personally identifiable information with prize sponsors for the purpose of administration and prize fulfillment, including use in a publicly available winners list and announcement post.