The Sixth Annual Twelve Days of Giving Grand Finale!
Welcome to the twelfth and final day of The Sixth Annual Twelve Days of Giving with LilaLoa and Sweet Sugarbelle!
Every year I'm amazed at how quickly these days fly by. I am also overwhelmed by the generosity, kindness, and community spirit that this event represents.
I could go on and on, but since I know everyone is dying to see what's next, I'll dive right in!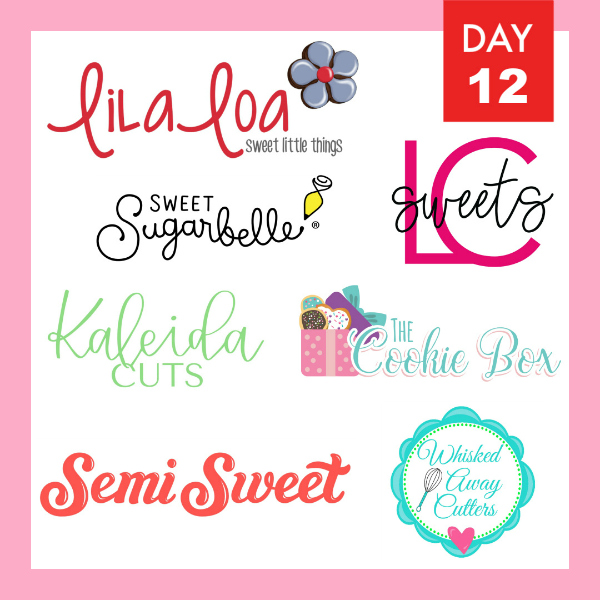 Have you ever wondered what wold happen if all your favorite cookie cutter shops got together and threw a swag-filled party? Wonder no more, because that's what is happening today!
Today's grand finale prize package is sponsored by LC Sweets, Kaleidacuts, The Cookie Box, Semi-Sweet, Whisked Away Cutters, LilaLoa, and ME! I hope you're sitting down because this one is almost unbelievable. Here's what we've got.
1. $75 LC Sweets Shop Credit
They say that necessity is the mother of invention and that definitely seems to be the case with LC Sweets, owned and operated by Lydia Carter. What began with a Cookie Swivel eventually morphed into a line of adorable cookie cutters and  practical tools. Lydia's experience and style comes out in everything she creates!
2. $75 Kaleidacuts Shop Credit
Kaleidacuts is known for both their very trendy hand-lettered cutters and their floral cutters for every occasion. And luckily for most of us… you don't have to be talented at piping letters to use the cutters because many of them come with matching stencils!
3. $75 The Cookie Box Shop Credit
The Cookie Box is a small home based 3D cookie cutter printing business founded in 2016 by husband and wife team, Jennifer and Jason Webb. With Jason's degree in CAD and Jennifer's full time cookie decorating expertise, The Cookie Box has experts know-how all around! Their line of high-quality cutters includes a large selection of exclusive designs created by Jennifer along with cutters made in collaboration with many talented cookie decorators.
4. $75 Semi-Sweet Shop Credit
What do you get when you cross an engineer with a cookie decorator? Semi Sweet Designs. Mike's website is full of meticulously designed, thoughtfully crafted cutters with just the right amount of whimsy! He also offers selection of a great decorating supplies along with helpful video tutorials for every cutter he designs!
5. $75 Whisked Away Cutters Shop Credit
Whisked Away Cutters was formed in 2014 when husband and wife team Tracy and Dixon Hicks began making quality cookie cutters for Tracy's cookie business, The Cookie Connoisseur. After an overwhelming response from fellow decorators, Tracy transitioned from selling decorated cookies to cookie cutters. Tracy uses her background in graphic design to create high quality, original cutter shapes from her own designs and in collaboration with fellow cookie decorators
6. Surprise Box of LilaLoa's favorite things, and the opportunity to "Shop my Stash!"
The sixth and final prize is from LilaLoa and myself. All year long, when Georganne finds something cute and wants to justify buying it – she buys two. One for her, and one for you! So, by the end of the year, she's got a boxful of her all-time favorite decorating tools and supplies along with NEW favorites too!
Apparently, I have the same affliction, because after cleaning out my, "just in case" cabinet, I realized that I own a triple archive of almost every Sweet Sugarbelle product ever produced. In the spirit of sharing, I am offering the winner of this giveaway six items of their choice from my own personal stash.
To enter, just click the "Easy Entry" button. Earn additional entries by following the prompts below.
Giveaway ends at 11:59 PST on December 15, 2019, terms and conditions may apply. You must be 18 years or older to win. International entries welcome, but additional shipping, to be paid by the recipient, may apply. Void where prohibited. Separate winners will be chosen for each daily prize. One prize per person, per year. Winners will be notified by email within 24-hours of giveaway close. Prizes must be claimed within 48 hours or a new winner will be chosen. By entering this sweepstakes, you grant sponsors permission to share your email address and any other personally identifiable information with prize sponsors for the purpose of administration and prize fulfillment, including use in a publicly available winners list and announcement post.
Once you've entered here, be sure to head on over to LilaLoa's day 12 post for another chance to win!
I know I've said it before, but there's really no words to explain how grateful we are for the support of the entire cookie community. This includes the people who read our blogs and buy our products, and vendors that are almost like family.
We looking forward to a brand new year of connecting and sharing with this amazing community of artists. Thank you from the bottom of our hearts.