Sixth Annual Twelve Days of Giving, Day Three, Country Kitchen SweetArt
Welcome to day three of The Sixth Annual Twelve Days of Giving with LilaLoa and Sweet Sugarbelle!
If you're new to this whole gigantic giveaway extravaganza, here's the short version of how it works. Each year for the past six years, LilaLoa and I have joined together with our favorite vendors to celebrate your generous support throughout the year. Every time you buy our products, watch our videos, read our blog posts, and follow along on social media, it means more than words can express. So, in the spirit of giving back, this is our very special way of thanking you all!
Today's prize is a $100 gift card from Country Kitchen SweetArt!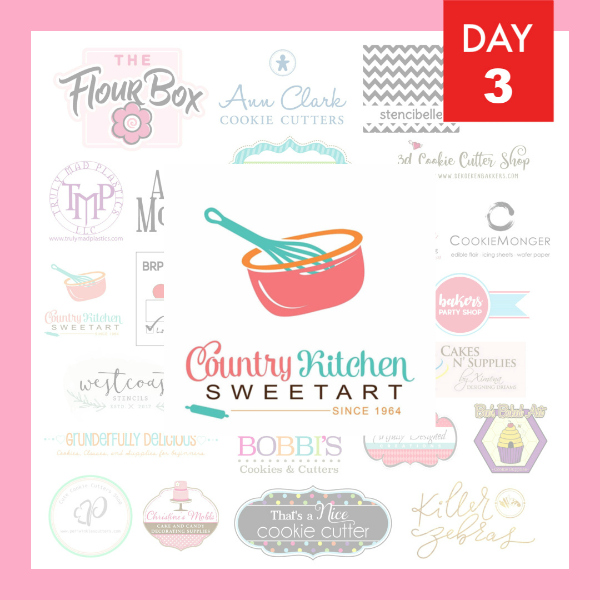 The story of Country Kitchen SweetArt spans four generations and thousands of pounds of sugar and chocolate. After years of owning a restaurant, Mildred Brand traveled to Chicago and attended cake decorating classes. Those classes sparked a creative passion that led her and her husband, Wilbur, to begin a catering and wedding cake service.
In 1964, the couple moved to Fort Wayne, Indiana, and began selling cake decorating supplies. Over the years, they started a mail order department and added additional products, as well as cake and candy decorating classes.
Fifty years later, Mildred's daughter, grandchildren, and great-grandchildren carry on her vision for making the culinary arts accessible to everyone. Now,
Country Kitchen SweetArt
carries over 14,000 cake, candy, and cookie decorating items, maintaining a large store front and website that caters to people around the world.
To enter, just click the Easy Entry button below. You can also earn additional entries by visiting Country Kitchen SweetArt on Facebook, Instagram, or by following the additional instructions below.
Giveaway ends at 11:59 PST on December 6, 2019, terms and conditions may apply. You must be 18 years or older to win. International entries welcome, but additional shipping, to be paid by the recipient, may apply. Void where prohibited. Separate winners will be chosen for each daily prize. One prize per person, per year. Winners will be notified by email within 24-hours of giveaway close. Prizes must be claimed within 48 hours or a new winner will be chosen. By entering this sweepstakes, you grant sponsors permission to share your email address and any other personally identifiable information with prize sponsors for the purpose of administration and prize fulfillment, including use in a publicly available winners list and announcement post.
If you can't wait to shop, use coupon code "12DAYS" for 15% off site-wide, valid through December 12, 2019. Best of luck, and don't forget to hop on over to visit LilaLoa's first Day Three post for a second chance to win!