The Fourth Annual Twelve Days of Giving with Lila Loa and Sweet Sugarbelle, Day Ten
Welcome to day TEN of the Fourth Annual Twelve Days of Giving! Can you believe we're down to just three days left?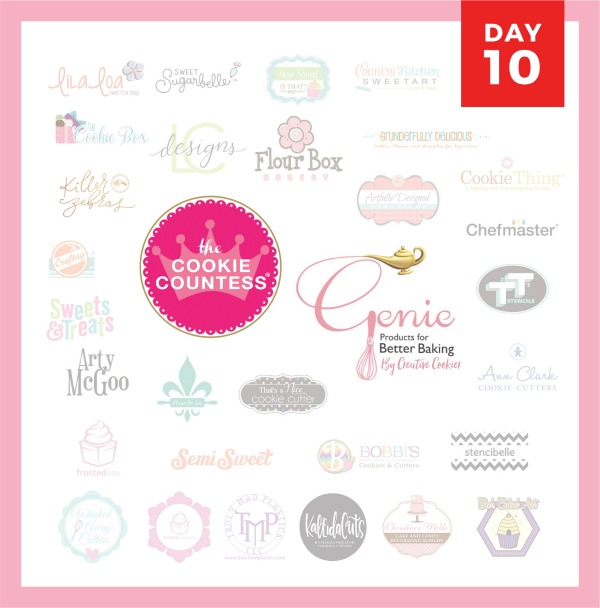 Today's prize is everything you need to become an airbrush expert, from The Cookie Countess!
The prize package includes my go-to airbrush, the Cookie Countess Airbrush System, the Cookie Countess Essential Airbrush Color Collection, and your choice of ten Cookie Countess cookie stencils.
Besides being one of my favorite stencil shops, The Cookie Countess is one of my favorite girls in the whole wide world!
Hillary first showed off her signature stenciled cookies here on this blog way back in 2013, before cookie stencils were really a thing. The response was so overwhelming that she decided to open an online cookie stencil shop, and the rest is history!
Today Cookie Countess stencils are sold by vendors all over the world, and her stencil store has grown into a full-sized online  supply store, specializing in stencils for cookies, cupcakes, oreos and other small treats. They also sell airburshing supplies, cookie cutters, silicone molds, and other specialty brands such as Cake Lace, Cake Frame, and more!
In addition the Cookie Countess Prize Package,  Ann Clark Cookie Cutters is giving away all forty-four cutters released in 2017, which includes the Designer Collection, featuring cutters by Lila Loa, Flour Box Bakery, Sweet Ambs, and Tunde's Creations, along with eight exclusive sneak-preview cutters!
Entering is easy, just follow the instructions below!a Rafflecopter giveaway

The giveaway ends at midnight on December 15, 2017 and you must be 18 years or older to win. Winners will be notified within 24 hours of giveaway close. You must respond within 48 hours or a new winner will be chosen. International entries welcome!
After you've entered here, don't forget to hop on over to visit Lila Loa for your chance to win a Creative Cookier prize package.
SaveSave
SaveSave
SaveSave
SaveSave
SaveSave
SaveSave