Silly Orthodontist Cookies
Little known fact about myself, I am an old chick with braces.  I probably didn't really need braces…as a matter of fact, when I went in for my consult my orthodontist asked me if I'd had them before.  But I'd always felt a little self conscious about my teeth, so when it came time for my son to have his, I went too.
Anywho, my orthodontist's office is about the happiest place on Earth.  I love it there.  They have fun weekly themes like Western and 80's week and an open work area that's always lighthearted and fun.  I've enjoyed the experience so much, I decided to say "thank you" cookie style. Silly braces cookies were perfect for the occasion.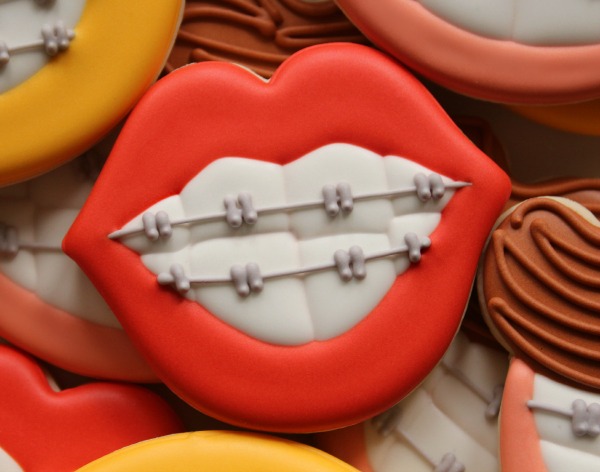 I purchased my poofy lip cutter a few years ago at Dollar General.  They don't carry them anymore, but it's easy to make your own by reshaping a regular lip cutter.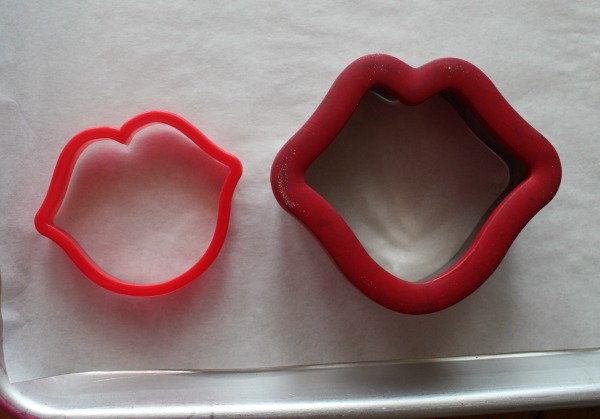 If you don't have a Kopykake, you can use a paper template for consistent results.  Simply trace around the cutter, sketch out the lips and teeth, and cut out.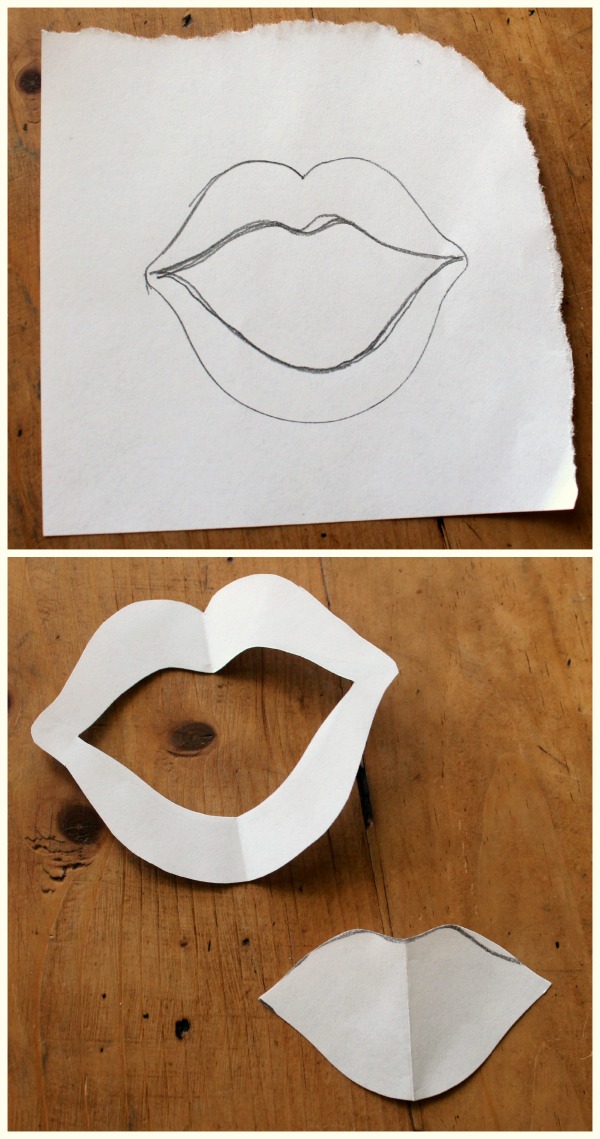 Once you've made a template use it to pre-sketch the design.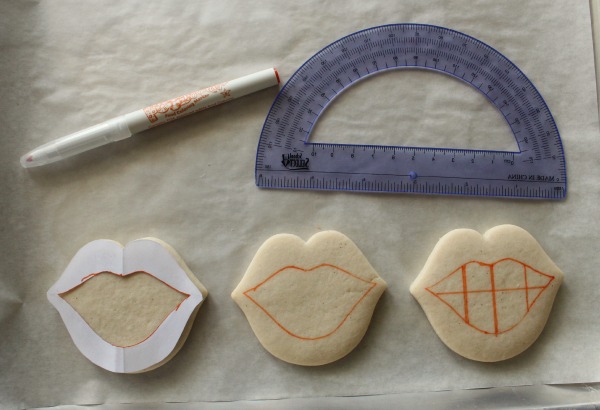 If you have a Kopykake skip a step and project the sketch  directly onto the cookie.  Either way works.
To decorate these cookies you will need:
White 20-second icing
Gray piping icing
Red piping and flood icing
Begin with the teeth.  Use white 20-second icing to fill alternating spaces.  Let them dry for a bit, then fill the remaining squares.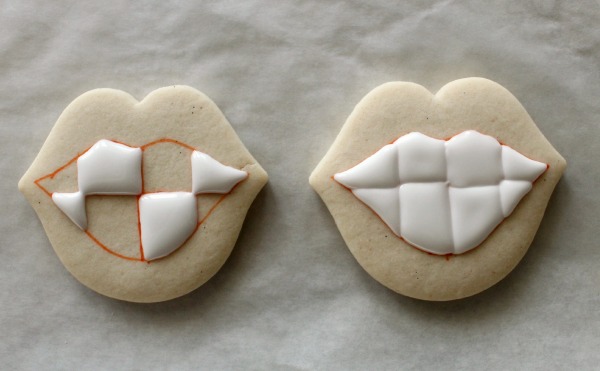 Once the teeth have dried for a bit, pipe on braces with a small round tip.  I used a #1.5.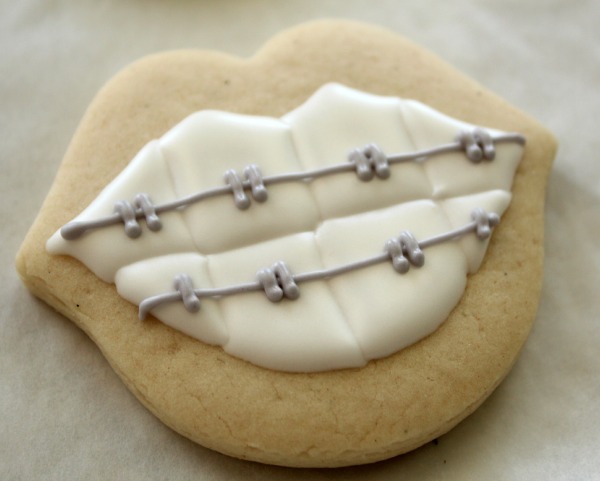 Next, outline and flood the lips.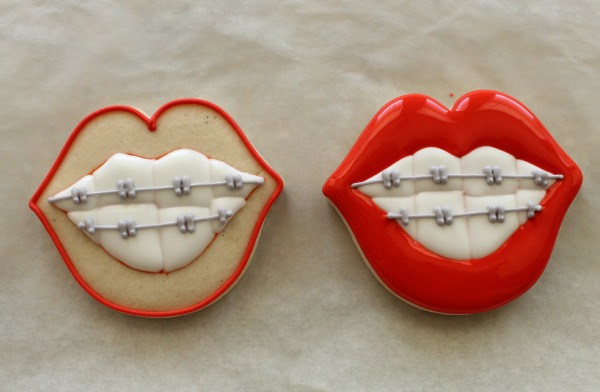 For that full poofy look, I prefer to flood the area around the teeth before moving to the outside border.  To learn how to create an invisible outline, click here.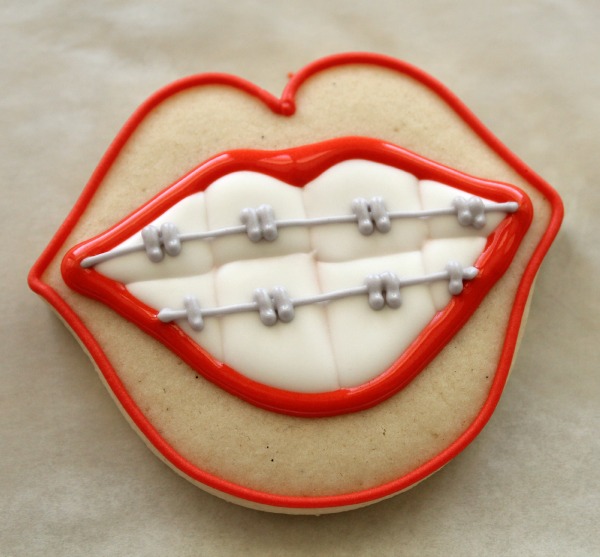 Everyone got a kick out of these silly smiles.  You can use the same idea for other designs such as vampire teeth.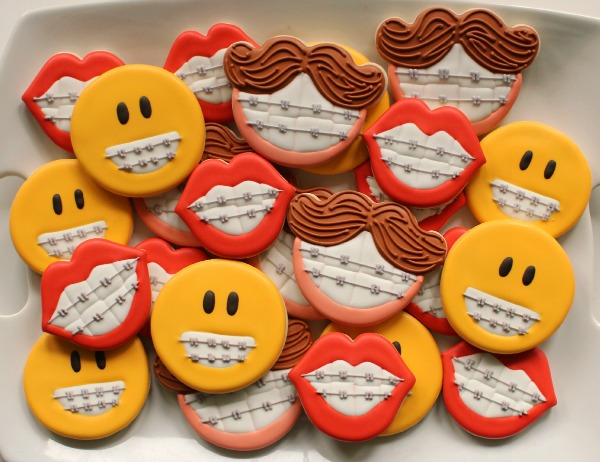 For more smile worthy cookie designs, check out the following links: