Stained Glass Independence Day Cookies on Glorious Treats
In case you are wondering what's up with the boring titles, there's a reason.  I figured I should tell you even if you weren't wondering.  Organization.  That dirty twelve letter word. 
It's not my strong suit.  Ask my husband.  95% of all of our disagreements come from my complete and utter lack of organization.  It's hard living with someone always full of ideas.  Lots of ideas often means that they are also full of big messes.
But, he's stuck with me, so he's just going to have to deal. People who hang out here, on the other hand, aren't.  So, I decided it would be best for me to spruce this place up a little so you can find what you are looking for when you're looking for it, hence the clear and descriptive titles.  It's probably going to take me a week or two to get evrything how it should be, but I am committed to getting it done.
Speaking of people that are stuck with me, if you don't know my friend Glory, you should meet her.  We really make a good team.  We are both creative people, we both tend to look at things in the same way, and we both enjoy beautiful things.  However, I tend to complicate things a bit, while Glory has a knack for keeping things simple.
A few weeks ago, we were talking about stained glass cookies.  I had grand visions of tropical sunsets, but Glory  had something simpler in mind. 
I'm glad we're friends.  I might have made things way harder than they had to be.  This is my interpretation of her idea.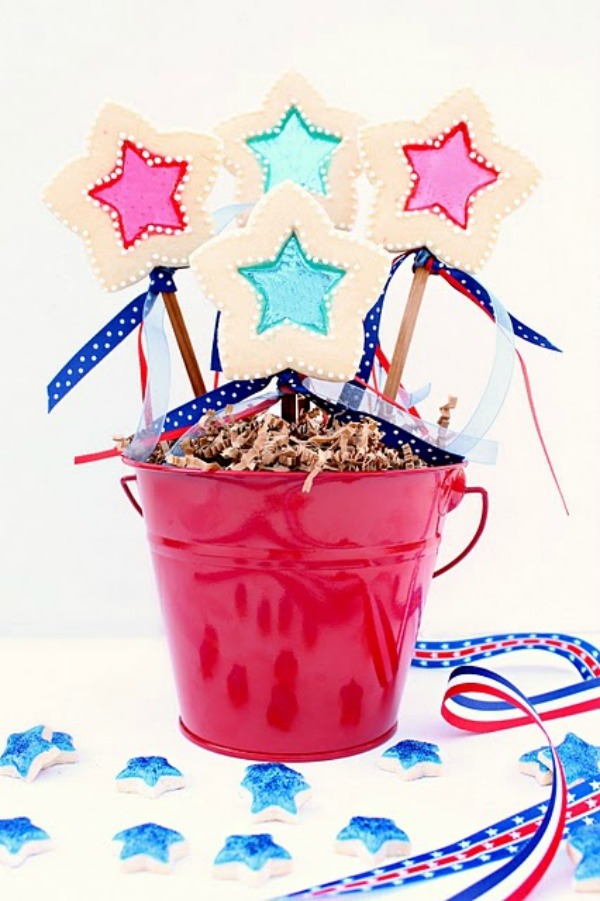 I was so glad she shared it with me, I wanted to share it with you.  If you would like to make an arrangement like this one, you can see a step-by-step tutorial on her blog, Glorious Treats.  She has several other wonderful projects there also.
Thanks for being patient with me.  My plan is to have this place organized so well that everyone will overlook my frequent typos, horrendous spelling, and tendency to go on and on and on and on…
Okay, enough!  Go see Glory while I clean up!