And the Winner Is…
Today, I would like to announce the winner of my most recent giveaway, a signed copy of Meaghan Mountford's book, Cookie Sensations!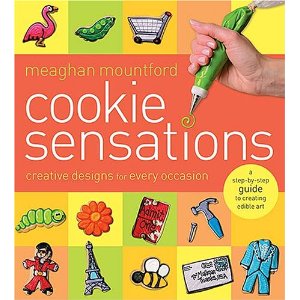 (If you didn't win, click on the book so you can get your copy!)
Stephanie!!!
I will be contacting you shortly, so check your email =)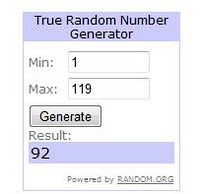 Also, for those of you who had questions, Meaghan took the time to answer them!
Not only is she talented, she's really down to earth, approachable, and NICE…
So here you go…answers straight from the expert. (Y'all might want to drop by her blog
the decorated cookie
and thank her for her time)
Hi everyone, and thanks so much for all the lovely comments !! Just thought I'd weigh in to answer a few of the questions above. If I missed any in the group, feel free to contact me!
Vtay—Adding butter flavoring is inspired! I'm going to try that.
Missy—Yes. Definitely. This will dry hard enough to package with other cookies, stack, wrap, ship… Just be sure to let the cookies dry at room temperature uncovered OVERNIGHT. I never ever package cookies the same day I decorate them.
Lex—Tough to describe the consistency. Not so much tootsie roll or taffy like, it does dry hard-ish like royal icing, it just gives a bit.
Vtay and Linda—Meringue powder is dried egg whites with sugar and cream of tartar mixed in. 1 tsp meringue powder plus 2 tablespoons water equals 1 egg white, so for my recipe, hmmm, that's about 12 egg whites (so eliminate both the 4 tbsp meringue powder and ½ cup of water). Yikes. That's a lot. But sounds about right. I would also add a bit of cream of tartar to stabilize. Also, the beauty of meringue powder is that you don't have the concerns of using raw eggs. If you do try and make this with egg whites, I would first start off halving the recipe.
Beth—I've never tried substituting butter for Crisco, but I think it should work… You should only need a couple tablespoons. Or start with even one tablespoon to taste.
Margo—This icing, kept in a sealed container, will last several weeks at room temperature. You can also keep the colored frosting that way, or in their frosting bags. The tips might dry and clog, but just unclog with a toothpick.
Also, note that this recipe is very forgiving. The important part is the meringue powder and water whipped, then the powdered sugar added. Then, you can add less or more flavoring, corn syrup, Crisco… Beth, you might even want to try no Crisco if you can't find it, and more corn syrup for example. You can also add more powdered sugar or water to thicken or thin as you need.
Thanks again Meaghan for all you do! Stephanie, get back to me ASAP and your signed copy of Meaghan's book will soon be in the mail =)
For today, here are some cookies I made for my uncle, who lives in a house divided…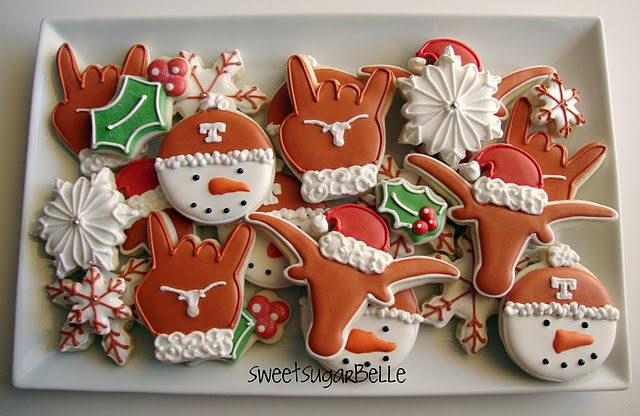 Happy Decorating, cookie friends!