Sixth Annual Twelve Days of Giving, Day Six, The Flour Box
Welcome to DAY SIX of The Sixth Annual Twelve Days of Giving with LilaLoa and Sweet Sugarbelle!
If you're new to this whole gigantic giveaway extravaganza, here's the short version of how it works. Each year for the past six years, LilaLoa and I have joined together with our favorite vendors to celebrate your generous support throughout the year. Every time you buy our products, watch our videos, read our blog posts, and follow along on social media, it means more than words can express. So, in the spirit of giving back, this is our very special way of thanking you all!
Today's prize is your choice of FIVE cookie decorating kits from The Flour Box!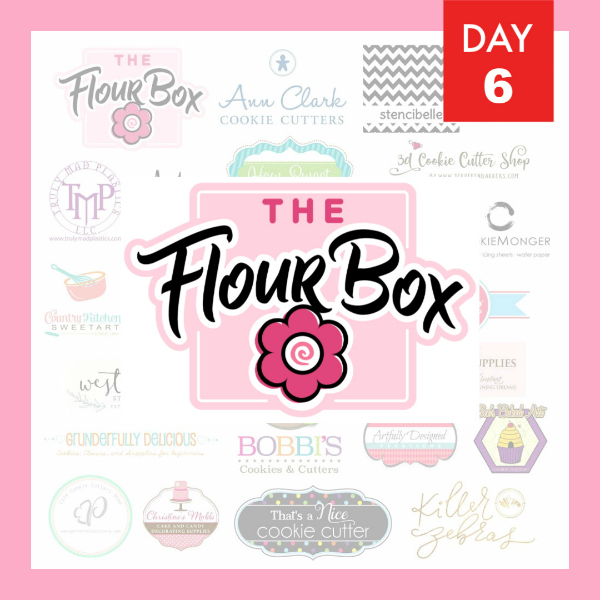 The Flour Box is a one-stop cookie supply shop founded by my dear friend and professional cookie decorator, Anne Yorks.
Anne, an expert in the field of cookie design and instruction, has decorated cookies professionally for over nine years.
In this time, she's compiled an impressive library of video tutorials along with three top selling cookie decorating classes: Cookie Decorating Season By Season, Celebrate With Cookies: 19 Favorite Designs, and Smart Cookies: Better, Faster, and More Efficient Decorating.
In addition to video tutorials, Anne recently released her very own e-book, How To Host A Cookie Decorating Class, a great resource for anyone interested in hosting cookie decorating classes.
Because she has personally tried all of the supplies that her shop carries, Anne has a unique understanding of the supplies cookie decorators need and want, and frequently adds new and innovative decorating tools to her shop.
For a chance to win five iconic Flour Box Cookie Decorating Kits, just click the "Easy Entry" button. You can earn additional entries by visiting The Flour Box on Facebook, or Instagram, or following the additional prompts below.
Giveaway ends at 11:59 PST on December 9, 2019, terms and conditions may apply. You must be 18 years or older to win. Giveaway open to US residents only. Void where prohibited. Separate winners will be chosen for each daily prize. One prize per person, per year. Winners will be notified by email within 24-hours of giveaway close. Prizes must be claimed within 48 hours or a new winner will be chosen. By entering this sweepstakes, you grant sponsors permission to share your email address and any other personally identifiable information with prize sponsors for the purpose of administration and prize fulfillment, including use in a publicly available winners list and announcement post.
Best of luck, and don't forget to hop on over to LilaLoa's post for a second chance to win!