Sixth Annual Twelve Days of Giving, Day Eight, Bee's Baked Art and Artfully Designed Creations
Welcome to day three of The Sixth Annual Twelve Days of Giving with LilaLoa and Sweet Sugarbelle!
If you're new to this whole gigantic giveaway extravaganza, here's the short version of how it works. Each year for the past six years, LilaLoa and I have joined together with our favorite vendors to celebrate your generous support throughout the year. Every time you buy our products, watch our videos, read our blog posts, and follow along on social media, it means more than words can express. So, in the spirit of giving back, this is our very special way of thanking you all!
Today's prize, sponsored by Bee's Baked Art and Artfully Designed Creations, is a $100 credit for EACH shop! That's $200 dollars to spend on cookie supplies!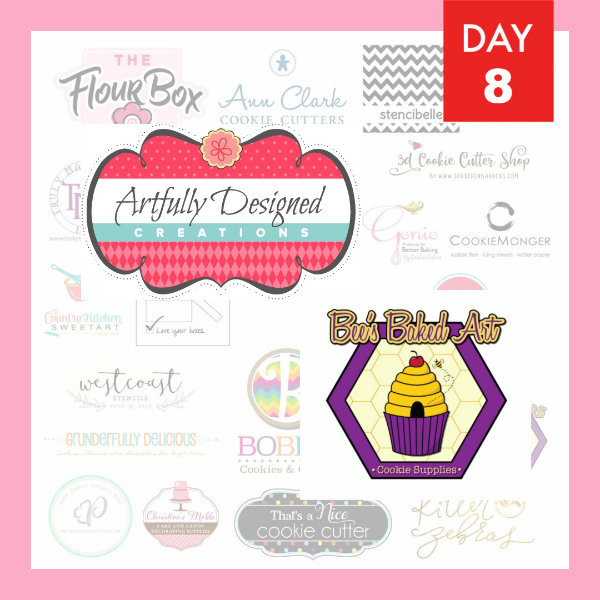 When Jennifer Harris started teaching cookie decorating classes, the number one question that seemed to pop up over and over was — What brands do you recommend? As a buyer for a food distributor by day, and a cookie decorator by…all the other hours, it just made sense to Jennifer to create Bee's Baked Art Supplies – a store that contains all her favorite brands of decorating supplies.

Every product that Bee's Baked Art Supplies carries have been tested and tried by Jennifer herself. With Jennifer's creativity and passion for innovation,  Bee's Baked Art always has something new to try! But don't worry the shop is also full of all your favorite brands too! https://beesbakedartsupplies.com/
Artfully Designed Creations was purchased by Jennifer Harris in spring of 2019. She's taken her love of sourcing products for cookie decorators and added a new creative element to her repertoire!
Artfully Designed Creations stencils are designed with cookies in mind! (But they've also been used on cakes, walls, fabric, and other crafts!) ADC stencils are made with 7 mil food safe plastic – making them durable for use with both airbrushes and royal icing stenciling. 
The Artfully Designed signature airbrush system is made in the USA exclusively for Artfully Designed Creations by Paasche Airbrush, an innovator in airbrush manufacturing in the United States for over one hundred years. This high quality airbrush is both sturdy and lightweight and portable. It's snap-button style trigger piston and integrated auxiliary lever gives our new airbrush gun a low-frustration build that allows pieces to be easily put back together after cleaning and the capped color cup helps to avoid spills. Most importantly, the smooth airflow is excellent for airbrushing with pearl sheen and whites.
To enter, just click the Easy Entry button. You can also earn additional entries by following the additional prompts below.
Giveaway ends at 11:59 PST on December 11, 2019, terms and conditions may apply. You must be 18 years or older to win. International entries welcome, but additional shipping, to be paid by the recipient, may apply. Void where prohibited. Separate winners will be chosen for each daily prize. One prize per person, per year. Winners will be notified by email within 24-hours of giveaway close. Prizes must be claimed within 48 hours or a new winner will be chosen. By entering this sweepstakes, you grant sponsors permission to share your email address and any other personally identifiable information with prize sponsors for the purpose of administration and prize fulfillment, including use in a publicly available winners list and announcement post.
Best of luck, and don't forget to hop on over to LilaLoa's post for a second chance to win!