The Fourth Annual Twelve Days of Giving with Lila Loa and Sweet Sugarbelle, Day Six
Welcome to day six of the Fourth Annual Twelve Days of Giving! We're halfway there, friends, and the prizes just keep on coming!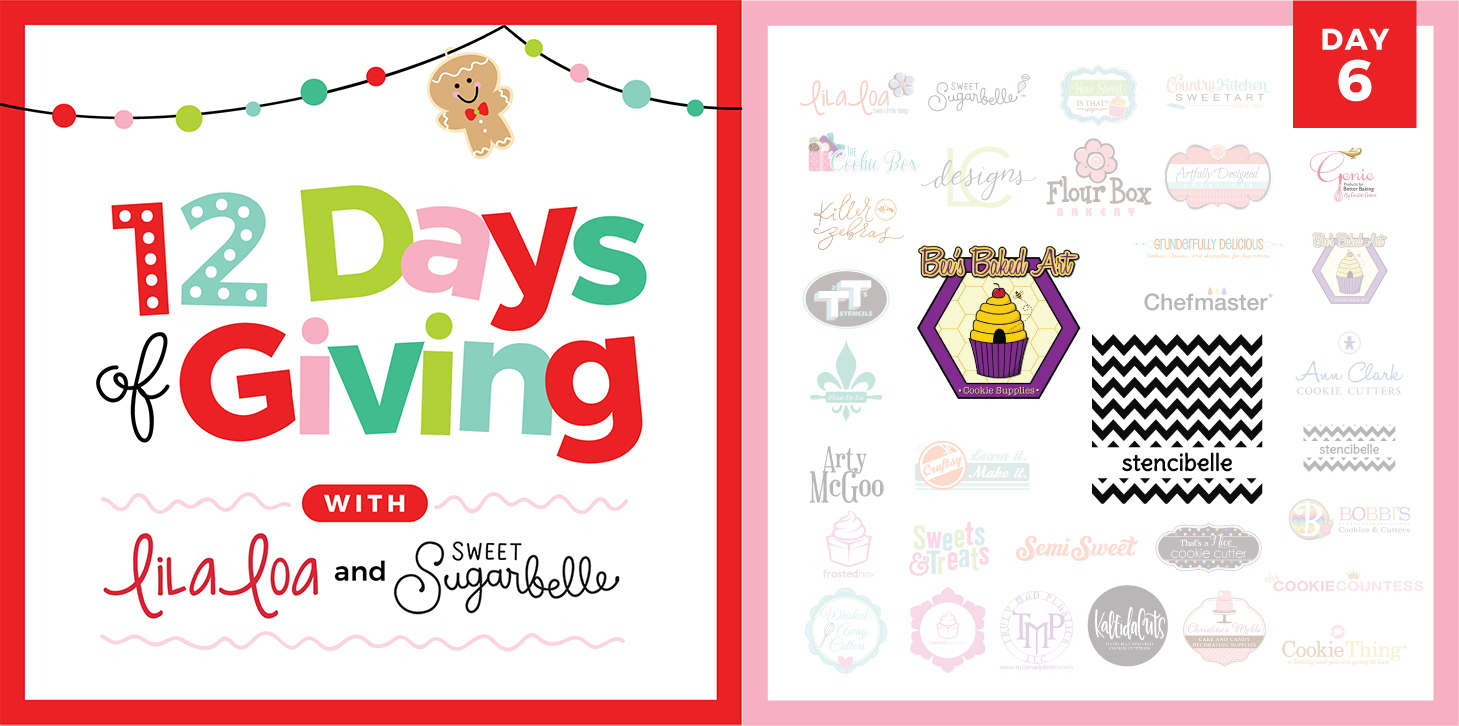 Today's prize is a $150 gift card from the amazing Stencibelle!
Stencibelle is an innovative, online stencil shop was founded in 2016 by Belle Harris, of Belleissimo Cookies.
Belle's desire for accessible stencils with her own creative spin inspired her to set up shop in her home country of Australia.
Stencibelle designs reflect Belle's signature style of using stenciled patterns to add texture and interest to cookie creations. In addition to her fresh, creative designs, Belle also developed Stenci-blockers, an innovative stenciling tool used to "block off" sections of ordinary cookie stencils to create more intricate, multi-dimensional designs. You can check them out here.
This year, Stencibelle introduced "tall" stencils, which work perfectly in the largest configuration of the Sweet Sugarbelle Stencil Snap, allowing cookiers to airbrush multiple cookies at once, therefore increasing efficiency and productivity.
In addition to a $150 Stencibelle gift card,  Ann Clark Cookie Cutters is giving away all forty-four cutters released in 2017, which includes the Designer Collection, featuring cutters by Lila Loa, Flour Box Bakery, Sweet Ambs, and Tunde's Creations, along with eight exclusive sneak-preview cutters!
Entering is easy, just follow the instructions below!
The giveaway ends at midnight on December 12, 2017 and you must be 18 years or older to win. Winners will be notified within 24 hours of giveaway close. You must respond within 48 hours or a new winner will be chosen. International entries welcome!
After you've entered here, don't forget to hop on over to visit Lila Loa for your chance to win a $100 gift card from Bee's Baked Art Cookie Supplies and More!
SaveSave
SaveSave
SaveSave