I hope you're sitting down, because day twelve is finally here, and the grand prize is sure to blow your mind!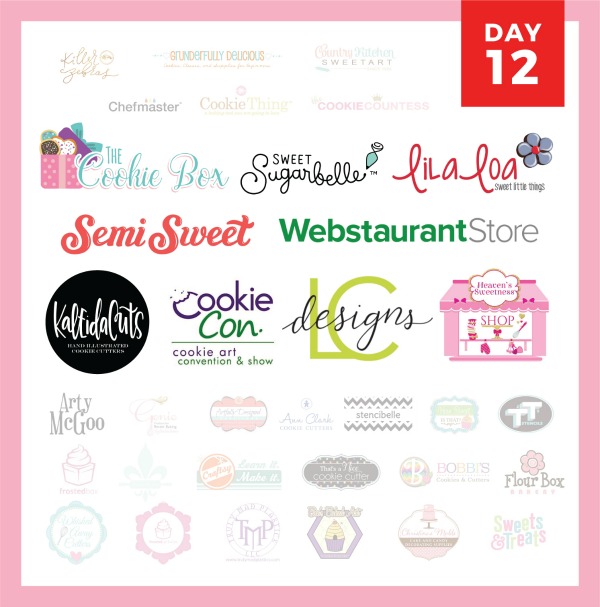 Today's prize is too big and awesome to list here, so keep on scrolling, and make sure you're sitting down…because one person is about to win all of these amazing things!
CookieCon 2018
 will be take place September 12-15 in Indianapolis, Indiana, and is the place where all your cookie dreams come true! With an International Sugar Show, presentations, open decorating, vendors, and optional Pre-Con classes, there really is something for everyone. Whether you're a professional decorator or just starting out, this three day party is just for you!
Let me break it down for all you cookie cutter fiends…this is like winning the cookie cutter lottery. The lucky winner of day's grand prize will receive: all 44 new shapes from 2017, plus 8 never seen before designs. In addition, you will also receive a Shape of the Week for all of 2018 in twelve monthly shipments. That is 104 glorious cookies cutters in all.
I recently had the pleasure of spending a few days with Ann, the founder of  Ann Clark Cookie Cutters, and I am proud to support this family-owned business. The values on which Ann's company was built shines though in both the products and their exceptional customer service.
Prize 3: A $100 Heaven's Sweetness gift card
Lydia Carter single-handedly made cookie decorating cool! In addition to creating an endless variety of creative cookie designs, she also makes cutters and teaches classes…when she's not busy inventing things likeThe Cookie Swivel, a small turntable that's just the right size for cookie decorating. And if you're not already exhausted from the sheer amount of things she accomplishes in a day, be sure to check out her shop here.
I jokingly refer to Jennifer Webb, owner of The Cookie Box, as my supplier, because she lives nearby and is constantly feeding my cookie cutter addiction. The Cookie Box, founded in 2016, Jennifer, and her husband, Jason, create their own unique cutter designs, while also collaborating with talented cookie decorators, like Miss Doughmestic, to produce quality cutters that you're sure to love!
Prize 6: $75 Kaleidacuts Gift Card
Mike Tamplin, of Semi Sweet Designs has long been one of my favorite cookie decorators, so I was over the moon when he opened his own cutter shop in 2016. Each cutter is meticulously designed, resulting in sturdy, easy-to-use masterpieces. Mike also creates how-to tutorials for every cutter he designs, eliminating the need for guesswork.
Prize 8: A ten pan, half-height bun pan rack from Webstaurant Store
The last prize is one final thank you from Georganne and I, for all of your support and encouragement over the years. It means more than words can express and we are eternally grateful.
Because this is such an awesome grand prize, we're giving you as many chances as possible to win! You can enter every single day the giveaway is open.  As always, you can enter instantly by clicking the Easy Entry button below, or complete the steps below for even more entries!
Giveaway ends at midnight MST December 15, 2017. Must be 18 or older to win. Winners will be notified within 24
hours via the email address used to enter below and must respond within 48 hours or a new winner will be chosen. The winner's name will be displayed on the Rafflecopter widget below as soon as the prizes gave been claimed. International entries are welcome!
SaveSave
SaveSave