The Third Annual Twelve Days of Giving with Lila Loa and Sweet Sugarbelle, Day Ten
We've made it to day ten of the Third Annual Twelve Days of Giving, hosted by Lila Loa and yours truly, and we have so many great prizes that we will be holding giveaways on both blogs for the remaining three days! How exciting is that?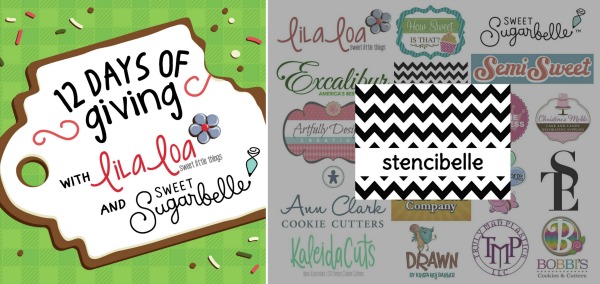 Today's giveaway is sponsored by the Stencibelle online stencil shop. Founded in 2016 by Belle Harris of Belleissimo Cookies,
Stencibelle was born out of a need for an Australia-based culinary stencil supplier and Belle's desire to add her own creative spin to the world of stenciling.
Belle's stencil designs reflect her signature style of using stenciled patterns to add texture and interest to her cookie creations. In addition to her fresh, creative designs, Belle also developed Stenci-blockers, an innovative stenciling tool used to "block off" sections of ordinary cookie stencils to create more intricate, multi-dimensional cookie designs. You can check them out here.
For your chance to win a $100 Stencibelle shop credit , just follow the steps below. And don't forget to head on over to Lila Loa for a chance to win a $100 (CAN) How Sweet is That? gift card.
a Rafflecopter giveaway
To see a full listing of the Third Annual Twelve Days of Giving, click here.
SaveSave