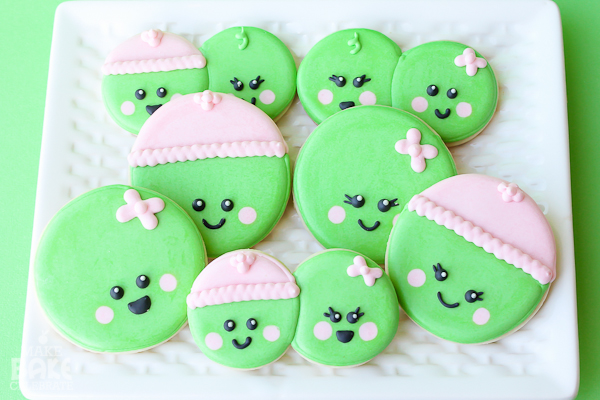 Hello there! I'm Toni sprinkle obsessed baker/blogger over at Make Bake Celebrate, and today I have the privilege of hanging out here while Callye is taking care of things way sweeter than cookies. In case you haven't heard she just recently welcomed her newest little addition to the world, seriously, she's like the cutest little thing EVER. To celebrate her and her mama I made cookies, I mean really it may have been awkward if I showed up to Sugarbelle's with some cupcakes, right?

But before we get to the cookies I think a big CONGRATS are in order! Welcome little Liv!
Callye actually gave me the idea to make these cookies months ago, she just didn't know it! They are based off of some adorable "Peas Be My Valentine" printables by Angela over at Hello,Cuteness. Angela and I teamed up a few months ago to make some cake pops and treat sacs for Valentines' Day with the printables and the cake pops came up in conversation in one of Callye and I's late night crazy chat sessions and she said I just HAD to make them into cookies, she even demanded it, true story. From that moment I just knew I had to turn these into little sweet pea cookies when Liv was born! So I made a subtle change to Angela's original peas by adding little pink hats inspired by Callye's baby girl cookies and BAM the sweetest easy little baby cookies were born!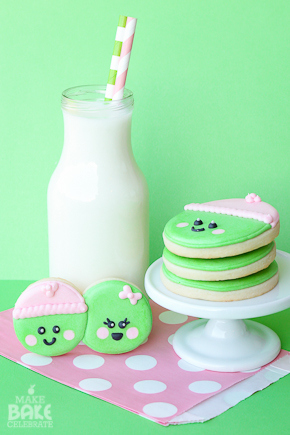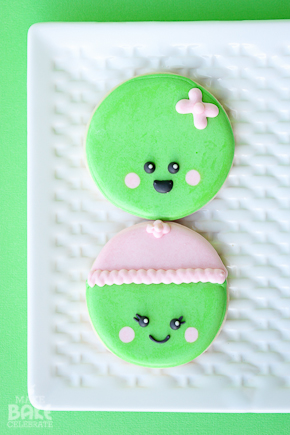 Callye's done such a great job of teaching you guys all about cookie decorating, you probably don't even need a tutorial! But just incase here's how I you can make some of your own little sweet peas!
You will need:
Green Piping Icing
Green Flooding Icing
Pink OR Blue Piping Icing
Pink OR Blue Flooding Icing
Black Piping Icing (a little on the thin side)
White Piping Icing (very little)
Circle Cookies
I baked large and small circles and then fused some of the small circles together by cutting out a piece and then baking them together, like Callye has shown you many times before.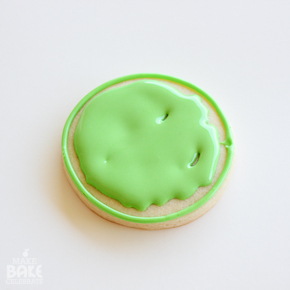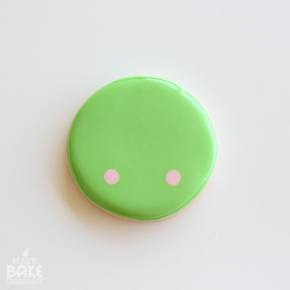 For cookies without hats start off by simply outlining and filling with green icing. Immediately after while the icing is wet drop in little drops of pink flood icing for the cheeks.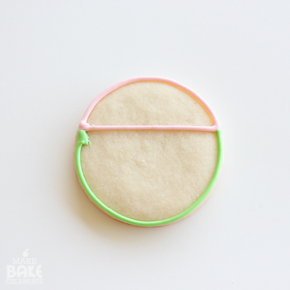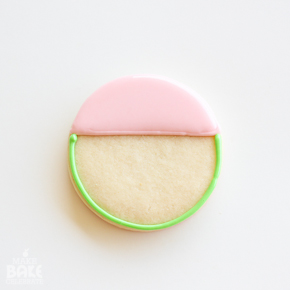 For the cookies with hats, start by using pink outline icing to pipe a line across 1/3 of the cookie and the top edge. Then outline the rest with green piping icing. Fill the green area first with flood icing then using pink flood icing drop in little dots of pink for the cheeks then fill the pink hat outline.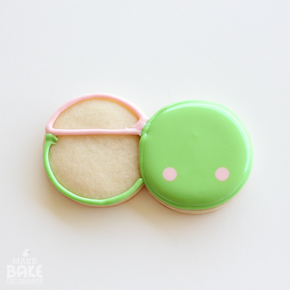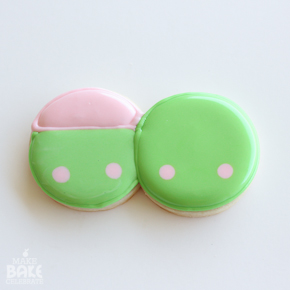 For the "joined" peas it's the same process in two steps. First outline, fill, and create cheeks of first pea. Let it crust over for about 15 minutes and then proceed to outline fill and drop cheeks of second pea.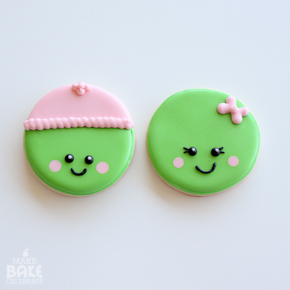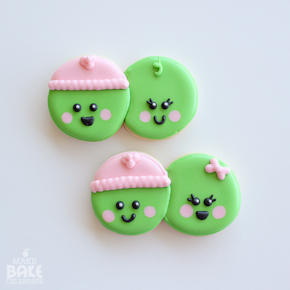 Once your cookies have all crusted over a bit (about an hour) you can now gently add the details! I piped all of my faces with small round tips using piping icing. First you will want to pipe on the trim and pom poms of the pink hats and bows. I did my trim by piping a close zigzag across the seam, then the pom pom was done by layering 5 dots of icing. The bows were done by piping and dragging four dots together, then allowing to crust a few moments before piping a center dot.
Next I piped on all the eyes and then the mouths so I could line them up together. Once the eyes had crusted over just a bit I added little white "specks" to them. Feel free to get creative! I added some eye lashes to a few like in HelloCuteness' original design. And I added some little curly q's to others.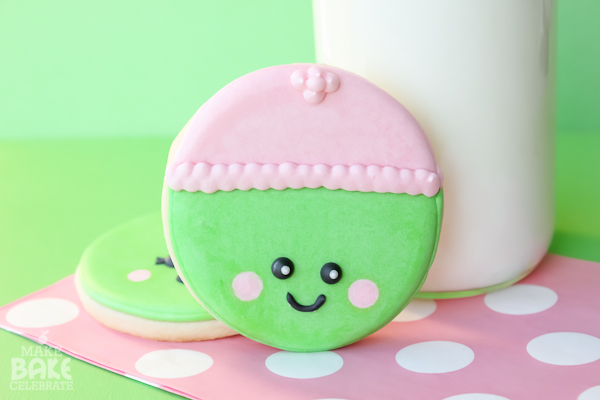 I hope you guys enjoyed these cookies as much as I did, and even give them a try! A big thanks to Callye for letting me hang out today and share them with all of you. I can honestly say it's a privilege having her as a friend, she's as sweet as the come! There's a reason they call her Sugarbell, and it has nothing to do with powdered sugar – she's been not only a huge inspiration to me as a baker/blogger she's also been a crazy sweet encourager. Thanks again! Well I guess it's bye for now, if you're ever in the mood for some cupcakes or sprinkles – come on over to my blog and say hi!