Today, I'm excited to welcome another favorite cookie artisan, the talented Miss Cuit.  I've been following Yamina's work for a couple of years now and I am always excited to see what she comes up with.
Follow along as she demonstrates one of her signature techniques of combining two mediums, 20-secong icing and edible marker, to create adorable cartoon bunny cookies.

I'm pleased to share this easy technique, which also happens to be a personal favorite, the combination of wet-on-wet icing and edible markers. It's a fun way to use leftover cookies and icing and it does a fantastic job when you don't have much time to dedicate to cookies or if you only want a single layer of icing. It's great with intricate patterns but it works perfectly with simple designs as well.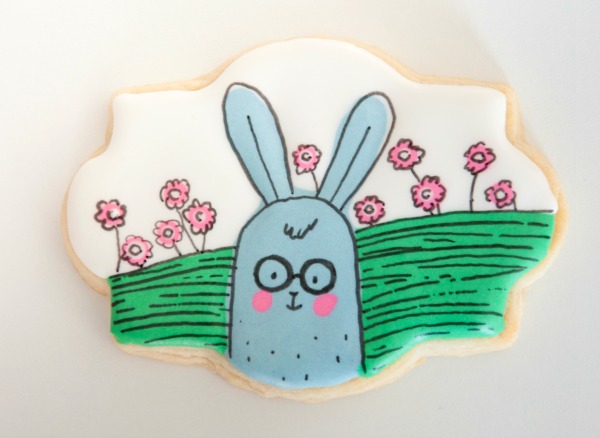 Today, I'm showing you how to make a cute cartoony bunny. I sketched the drawing this time, but you could use a printed image if you prefer.  To make these cookies you will need:
Cookie of the shape of your choice (I used a plaque cutter from Plastics in Print)
White, green, pink and blue icing, 20 second consistency
Fine tip black edible marker
To guide you on where to stop with each color, copy the main lines of your drawing on your cookie with an edible marker. You could use a kopykake if you own one, but I prefer freehand for a whimsical look.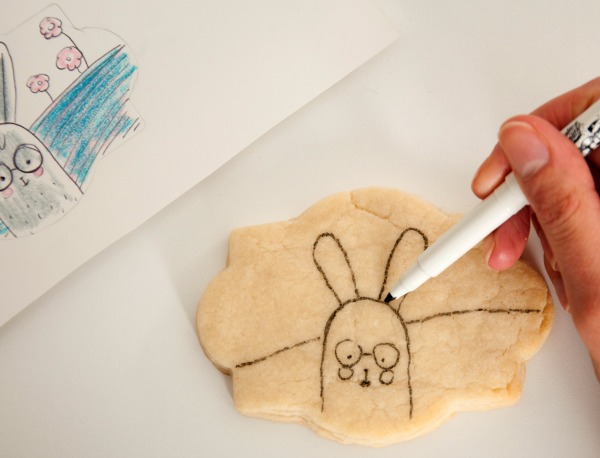 Starting with the background, fill each section with royal icing. I used white for the sky and green for the ground. In the upper part, I immediately piped pink dots with a tiny white center. Then I filled the bunny shape with blue and added two pink dots for the cheeks. Make sure you quickly fill the entire cookie so you don't have any bumps or gaps between each color.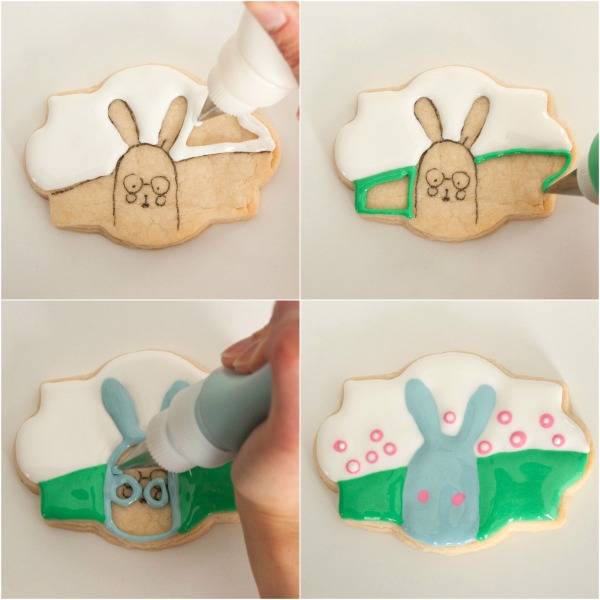 Once your cookie has completely dried, outline the bunny and the flowers with a fine edible marker. Draw his eyes and nose. Finally, add lines and create simple patterns to add texture on some sections.I used a black marker for this tutorial, but colored ones also give interesting results.  Be creative and have fun!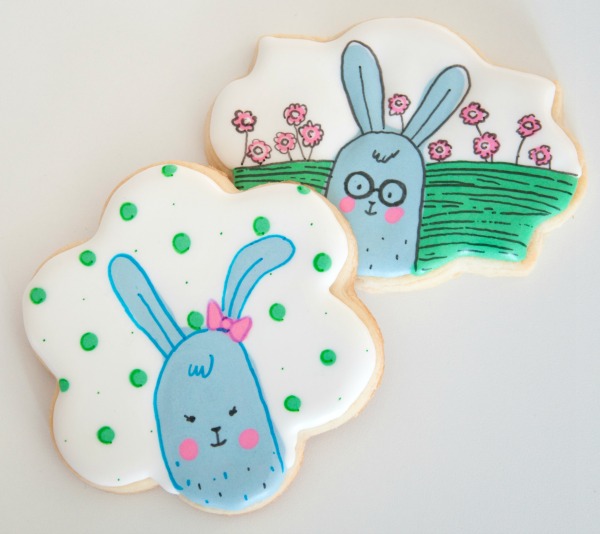 Be sure to keep up with Yamina's latest creations.  Read her blog, Miss Cuit, here, or follow her on Facebook.
For more Easter cookie ideas, be sure to check out the following posts: