I love decorating Chrsitmas cookies.  In fact, most of the time, I have more way more ideas than time…except when it comes to more elegant, traditional themes.  In that department, I usually come up empty.  That's why I love this Christmas topiary created by my friend, Melissa, of Simply Sweets by Honeybee.
Not only are they beautiful, they're inspiring.  I cannot wait to try them myself!

Hi I'm Melissa from Simply Sweets by Honeybee and I'm so excited to be here today. When Callye asked me to guest post I immediately said yes but tried to play it cool. I didn't want her to know that I was jumping up & down and screaming. You see Callye is my idol. She is the reason I started making cookies back in early 2011. While searching for how to make decorated cookies I found her blog and was instantly obsessed. I had to learn how to make cookies like her. I officially became a stalker follower. Nearly three years later she continues to inspire me and surprise me with her creativity.
Naturally when your idol asks you to guest post you become really nervous. I kept thinking what can I create that would be worthy of being on her blog? I decided to take the approach of honoring Callye and what she has taught me over the years. One of those things is to look at ordinary cutters differently. How can it be turned into something unique? Armed with a plan I took one of her 20 cutters every cookie decorator should own, the snowman, and combined it with a flower pot to create Christmas topiaries.
You too can make these cookies. Here's what you'll need:
gold piping and flood icing
red icing in a very soft consistency (or piping and flood if you prefer)
green piping icing (not too soft, needs to still hold it's shape)
leaf tip (I used a #66 tip)
gold luster dust (optional)
First, using a snowman cutter (I used this one) and a flower pot cutter combine the two as seen below. I purchased my flower pot cutter at a local store called Sur La Table. If you don't have a flower pot cutter you can use a cupcake, hat or perhaps a cauldron. Any of these cutters will give you a slightly different look but still be great.
When piecing dough together I don't like to decorate my cookies the same day I bake them. I decorate them the next day because I feel they are more stable.
Using gold piping icing outline the pot and fill the bottom section first. Allow this part to dry for 15-20 minutes before moving on.
Then flood the rim of the pot. Allowing the time in between will give the cookie a bit of dimension. By the way my favorite golden yellow color is achieved by mixing equal parts of Americolor gold and lemon yellow.
After the pot dries for a while you can outline the bottom of the rim to make a sharper line. Then begin adding the leaves using a leaf tip and green piping icing. Start piping around the outer edge of the cookie and then work your way in holding the tip at different angles so the leaves are not all flat. The consistency of the icing for this step is a stiff piping icing so it holds it's shape but not so stiff that you struggle to get it out of the piping bag. I have a video demonstrating how I pipe leaves here. You can also see Callye work with leaf tips here and here.
You don't have to wait for the leaves to dry to add the red berries but I did. I like to work in an assembly line fashion so I saved the red parts for last so they could be done at once.
Before I added the berries and bow, I aged the pot by painting on Aztec Gold luster dust mixed with a little vodka. The pot must be completely dry before you do this step. You can read Callye's post about making metallic icing here. I wasn't going for a full gold color but if you would like the pot solid gold then you may have to do a few coats.
I won't go into too much detail about how I added the bow. I learned how to make bows from Ali Bee's Bake Shop using this tutorial. I'm a lazy decorator so I use one consistency of icing to make mine. It's a very soft, pudding like consistency. When you put a spatula in your icing and lift up it won't immediately fall off but it will pull down. This consistency has enough shape for me to pipe with it but is soft enough to smooth out evenly.
Now sometimes after I make cookies I have an aha moment and think of another way that I can make the same cookies. That happened to me after I made these. I saw this picture on Pinterest and a lightbulb went off.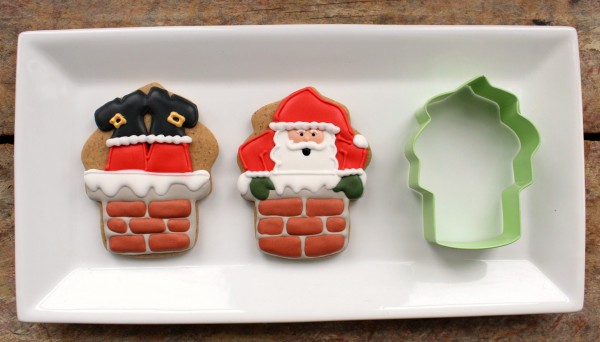 It's another cutter from the twenty cutters every cookie decorator should own. An ice cream cone cutter. It would be perfect for topiaries. You see how smart Callye is! She knows a useful cutter when she sees one. I think you totally need to make these stuck santa cookies too this year.
Well that's it folks! I hope that you will give these topiaries a try in whatever fashion you put them together. I'm totally an idea person. I get great enjoyment sharing ideas with others. That's why I admire Callye so much. She is the queen of ideas. Just when I think that there is nothing new that can be done in the world of cookies she surprises me and inspires me to come up with new things too. We are kindred spirits.
Callye, thank you so much for allowing me to hang out on your blog today. It was an honor and a pleasure to be here. I'm still pinching myself. Was this all just a dream?
Be sure to find Melissa's Facebook page, and follow her blog, Simply Sweets by Honeybee.  For more inspirational cookie ideas, check out these posts: